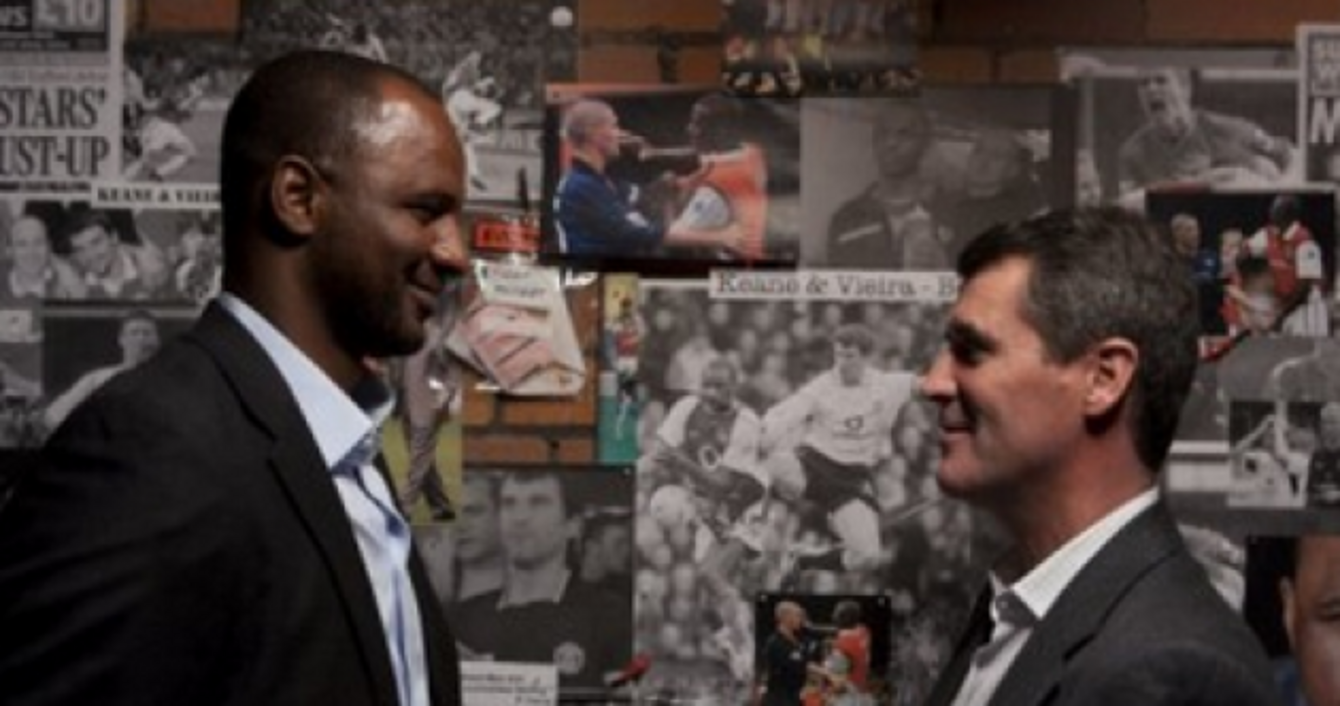 Image: ITV
Image: ITV
1. Keane didn't think Vieira was as tough as him
When asked to name Vieira's biggest weakness, Keane said that he felt he was tougher than the Frenchman. Vieira, when asked the same question, said that Keane's tendency to "lose his head" was his biggest flaw.
2. Keane hated Arsenal more than any other team
Keane revealed that the Gunners "brought something out in me". He also recalled how both managers were happy for such a fiery atmosphere to exist between the sides, and claimed that Ferguson seldom encouraged him to be calm ahead of the game.
3. The greatest moment of Keane's United career was "signing for them"
The Corkonian described joining the club as "a dream come true," suggesting it didn't get any better than that moment despite all he achieved there.
4. Giggs, Scholes and Neville may feel hard done by watching it
None of the three players made Keane's all-time United XI of players he played with, though he did say that if he was to swap anyone, it would be himself for Scholes. Meanwhile, on Giggs, he quipped: "Having a great career doesn't mean you're a great player".
When it was pointed out that many of the players on his team fell out with Ferguson, he said: "You don't win the league title with choirboys… Maybe that's why we were winning titles."
Keane's all-time XI: Peter Schmeichel; Paul Parker, Gary Pallister, Jaap Stam, Denis Irwin, David Beckham, Paul Ince, Roy Keane, Cristiano Ronaldo, Eric Cantona, Ruud Van Nistelrooy.
5. He initially didn't think he deserved his Champions League medal
Keane revealed he at first felt he didn't deserve his Champions League medal after missing the final through suspension. But he added that his views had "softened" on the matter in recent years though.
6. He was "offended" by Ferguson's praise of him
After being quoted back Ferguson's first autobiography in which the manager said he "covered every blade of grass" in the Champions League semi-final, Keane said he felt "offended" by the description. "It's like praising the postman for delivering letters. What did he expect me to do? Give up?"
7. Keane does have some good words to say about Ferguson
The former United captain said that the manager "had a good feel for what the group needed… He generally got that right."
8. If he could change one thing about his career, it would be to "play in the [2002] World Cup"
(INPHO/Andrew Paton)
When McCarthy asked him how he can play for a manager he doesn't respect, he said he should've responded: "I wasn't playing for him, I was playing for my country." He explained that, in Saipan, he "wasn't looking for perfection," he was "looking for progress" and for the Irish team to "train like Germany or Italy".
9. Keane was driven by "fear"
Keane was obsessed with "fear of losing, fear of letting people down, fear of letting my neighbours down, fear of letting my family down". He said that enjoyment after games was "very brief, too brief" until the fear "creeps back".
10. He didn't go out to "injure" Alf Inge Haaland
Keane admitted he went out to "hurt" players because that was "my job". However, he claims he never sought to intentionally "injure" Haaland or anyone else.
11. Vieira started their infamous Highbury row
Keane revealed he was incensed when he saw Arsenal players picking on Gary Neville because he was the "weakest link". Vieira also described how the argument started after Neville taunted Robert Pires and the Arsenal midfielder intervened to defend his teammate.
12. Keane was "tempted" to play abroad
Keane said he held talks with clubs such as Bayern Munich and Juventus as his contract was running out, but never felt "strongly enough" to make the move "because I was happy at United." He added that he partially does "regret" not availing of the opportunity.
13. His warmth for Man United has returned
Keane says he lost his warm feelings for the club for a few years after leaving them, but has since regained his love for United — to the point where himself and his son are now season-ticket holders there.