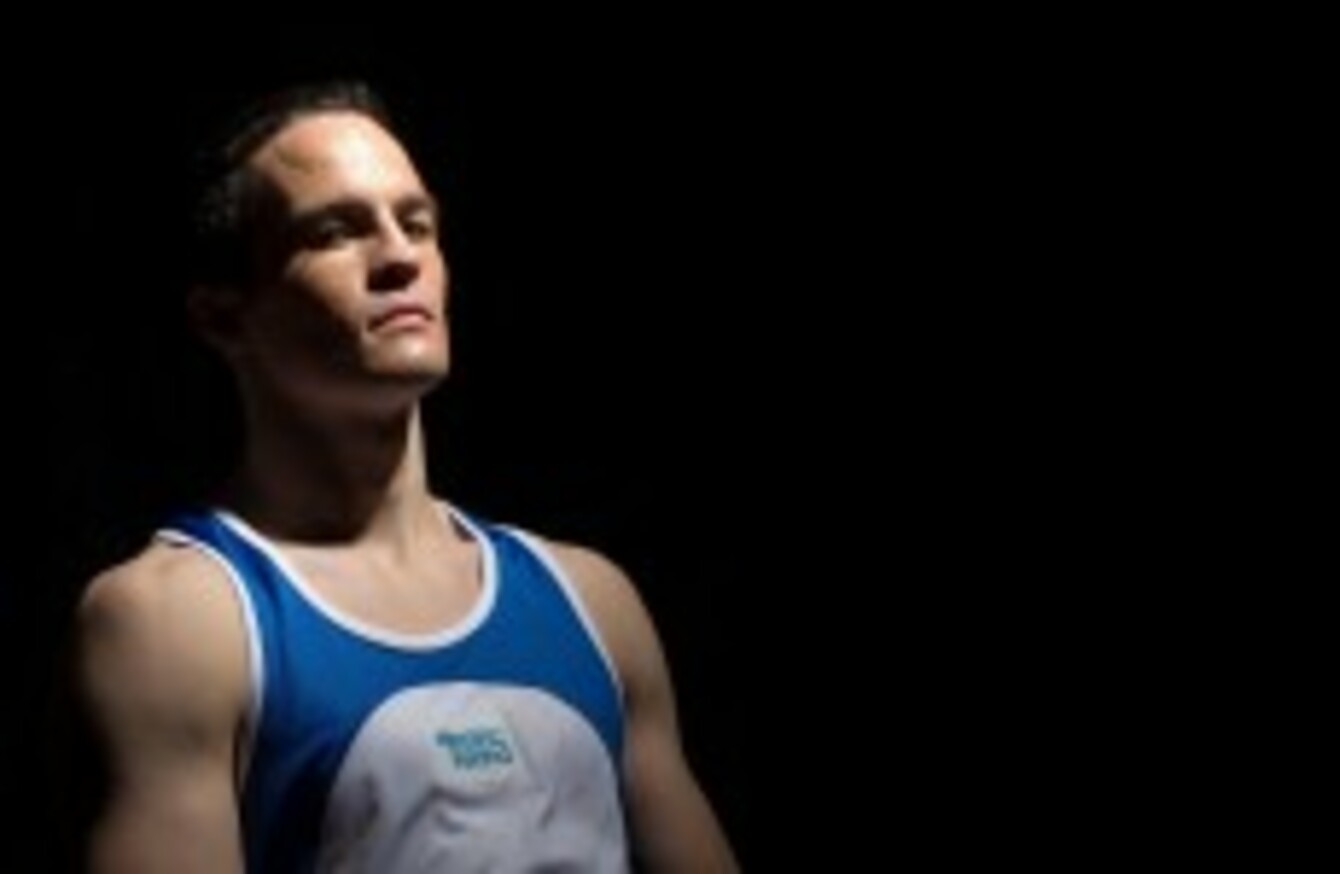 Darren O'Neill, speaking at an Electric Ireland event last month.
Image: Brendan Moran / Sportsfile
Darren O'Neill, speaking at an Electric Ireland event last month.
Image: Brendan Moran / Sportsfile
WHILE MOST OF Ireland's top boxers were fretting over their Olympic dreams at the final qualifying tournament in Trabzon last month, Darren O'Neill was hanging around putting on make up, posing for the camera, chatting.
Relaxing.
Along with Mick Conlan and John Joe Nevin, O'Neill was one of the lucky trio who booked his golden ticket to London last October when he stormed through to the quarter-finals of the World Amateur Boxing Championships in Baku, Azerbaijan.
And so with one eye carefully trained on the progress of those team-mates caught up in a drama of heroes, villains and unjust decisions, the Kilkenny middleweight had the relative luxury of decamping to Ardmore Studios in Bray to tick off his latest round of sponsorship obligations.
It was a brief respite in what has been a hectic few months for O'Neill, who has taken leave from his day job as a teacher to focus on getting himself into top condition for the biggest fights of his life.
The successful defence of his national middleweight title in January was followed by an intense army training camp in the Curragh, then by another camp in Cologne which ran into the beginning of the Chemistry Cup Multi-Nations tournament in Halle.
Before he knew it, O'Neill was beaten, caught cold by Danabek Suzhanov of Kazakhstan in the quarter-finals. Looking back on it, he feels losing that fight might be the best thing that could've happened to him.
"It wasn't that I was poor or anything," he explains. "It was just that I was beaten by a better boxer at the time. My performance wasn't as good as it could've been, and I've been working hard to get back into good technical shape.
When I was away in Germany and training for a few days, I realised to myself that I'd maybe set out with the wrong mentality. I was doing a lot of developmental stuff and maybe not enough to keep myself technically sharp and drive on.

I had a realisation out there that I needed to be back in the same shape that I was in for the World Championships and then be improving for the Olympics, so I've been working hard since then."
Early bird
That luxury of tinkering to find the right balance and making sure that he believes completely in his preparation regime is something that O'Neill is lucky to have. After all, if he was caught up in the last-chance saloon hype of Trabzon, his focus would only be fully switching to London now.
"Different boxers are different, so for some of them, it would probably be better for them to qualify now than to qualify early. But I think it was to my advantage to qualify early because it meant that I was able to get that realisation in Germany that I wasn't training in the correct manner. It's great that I've had time to realise that and get myself back into good shape."
But although he's half a world away from that final Olympic qualifier, working in his own zone to his own rhythm, he's tuned in to every punch in Turkey. Once you step into the ring and touch gloves with your opponent, you're on your own in boxing, but the bonds that hold the Irish camp together mean that a sucker punch for one is felt by all, although maybe not quite as keenly.
At 26, O'Neill is now one of the elder statesmen in the senior squad, able to reflect on the setup with a mature eye.
"We've often joked that it's maybe not the same setup that you'd recommend to a team, taking the mick, but it's great."
There are different dynamics within the team and it's constantly changing. A lot of the younger lads have been in the system a long time. They've been in the Elite Performance squads and they've come up through the teams together so when they come onto the team together, they've already got their own dynamic going on.

It's the likes maybe of Ross Hickey or Adam Nolan who are a little bit older and maybe haven't been in the system that — I won't say need to be tucked under a wing — but that you'd have a bit of chat with. Maybe it's us public servants sticking together.
Main man
Behind the boxers and away from the limelight, the team's head coach Billy Walsh is the man who keeps it all ticking over. Ask O'Neill about Walsh's influence on him personally and on the sport's success in the country and it's practically impossible to stem the tide of effusive praise, superlative after superlative.
"Technically, he's gifted. You have some coaches who have all the techniques and they'll show you that but they're showing you what they'd do. Billy always takes into account your style and what works best for you. He keeps things simple.
"The fact that he's been through so much in his own career — he's won seven seniors as far as I know, he's been to the Olympics, he's been beaten for medals at Worlds and Europeans — so he knows the downfalls and he knows the mentality of a boxer and what you're going through. He has that insight into you and he's able to empathise with you. He's constantly trying to improve himself which is phenomenal."
The hardened, determined steel of O'Neill's words are a far cry from the man who nearly gave it all up four years ago, his Olympic dream shattered and seemingly beyond repair. In the run up to Beijing, he lost in the Irish box-off against the man who would go on to win a bronze medal that summer, Darren Sutherland.
The decision that night baffled O'Neill, and still does slightly. Dejected, he wasn't sure he could gee himself up to go through it all again for another four years.
I'm not cribbing about the decision. If it had been different in the first round or two, it might have changed the fight but then again, who's to know? I was gutted in the end not to be going, and I was fit to chuck it to be honest.

At that stage when I looked at the Olympics, there was Kenny winning his silver — it was kinda him that kept me at it because he had failed and failed, in Europeans and in Worlds, and so had I.

Thankfully I stuck at it and four years later I have four seniors, a European Union gold, a European silver and the Olympics on my resume.
Dream
Even now, he still wonders about Beijing  and what it would have been like to take to the biggest stage of all in such an exotic and enchanting setting. But giving up on boxing would've been the biggest mistake of his life, and though London is only a short hop across the water, this summer means the world to him.
"Either way I was going to be thrilled, it's a lifetime achievement.
"If you look at the Europeans where I won the silver [in 2010], the fight where I won the medal was against a Ukranian who was gold medal favourite, you could see how much it meant to me that time. I just dropped to my knees and the tears were rolling down my face. It meant so, so much.
I had two goals: one was a major medal and one was to be an Olympian and I have both of those now.