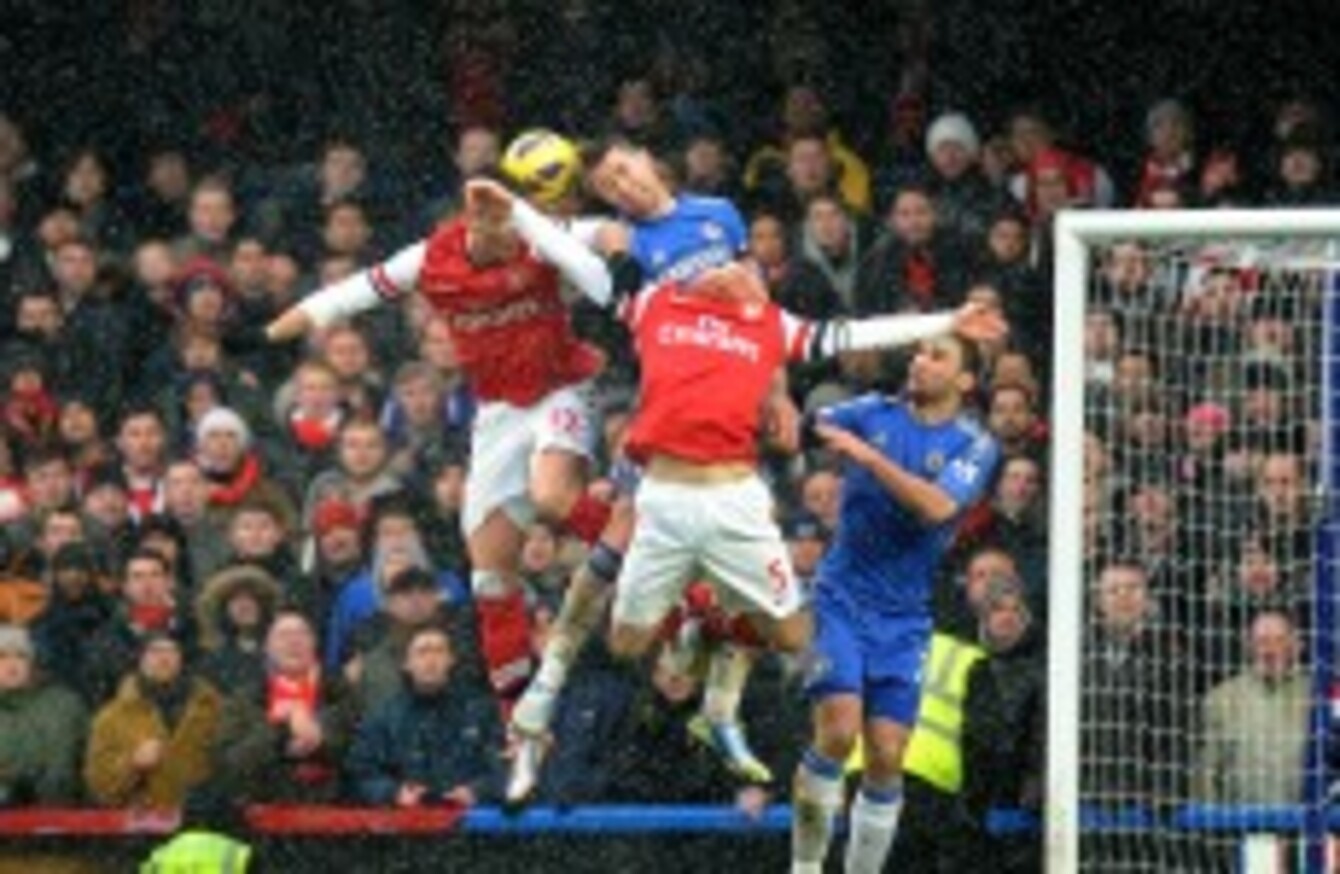 Chelsea's Gary Cahill and Arsenal's Olivier Giroud (left) battle for the ball.
Chelsea's Gary Cahill and Arsenal's Olivier Giroud (left) battle for the ball.
1. Can Arsenal appease the doubters?
It's incredible how much can be read into one result in football — having been regarded as contenders for the Premier League title, critics are now beginning to speak dismissively about Arsenal following their 6-3 loss to Man City.
Yet Manuel Pellegrini's side didn't exactly play like Premier League champions in waiting at the weekend, as they laboured to a victory over lowly Fulham.
Arsenal, by contrast, have a far more solid record against the smaller clubs, yet have struggled when confronted by a significant test this season.
For all the exceptional football they have played this year, they were made to look fairly ordinary in their encounters with both Manchester sides and even Everton, to a degree.
Consequently, against Chelsea tonight, they will be desperate to prove that they are more than just Premier League flat-track bullies.
2. Will Wenger finally overcome his Mourinho hoodoo?
Amazingly, Arsene Wenger has come up against Jose Mourinho nine times as a manager and failed to win once.
Wenger-managed teams have four draws and five losses in nine league and cup games against Mourinho, but both coaches have dismissed the relevance of this statistic ahead of tonight's match.
"I just feel that we played better, we deserved more and we won these matches,"

Mourinho told reporters

.

"In my time I remember just one game where we were close to losing, which was a game at home where [Michael] Essien scored the equalising goal in the last part of the game."
Yet if Mourinho's side do prevail again this evening, the suspicion will linger that the Chelsea coach knows how to counteract Wenger and Arsenal's style.
3. Can Arsenal cope without Koscielny?
(Arsenal's Laurent Koscielny [pictured above] — a key member of the side — will miss tonight's game through injury)
After a somewhat shaky start to life at the club, Laurent Koscielny has probably been Arsenal's best defender in the past few months, and arguably one of the best centre-backs in the Premier League to boot.
Prior to last week's 6-3 loss to Man City, the Gunners had an extremely impressive defensive record, and it was hardly a complete coincidence that Koscielny missed much of that game through injury.
Thomas Vermaelen will likely come into the team in his absence, with the Belgian international not so long ago regarded as Arsenal's best defender.
However, injuries and a loss of form meant he slipped down the pecking order in terms of team selection, hence tonight's game will ostensibly give him a rare chance at redemption.
Meanwhile, Jack Wilshere is also out after being given a two-game ban for misconduct, however Arsenal's wealth of options in midfield means that, unlike Koscielny, he is unlikely to badly missed.
4. Are Chelsea a soft touch away from home?
In an oddly similar manner to their fellow title contenders Manchester City, while they boast a formidable home record, Chelsea have frequently looked vulnerable on their travels.

In all competitions, they have lost four of their last six away games — an issue they will be hoping to alleviate tonight.

Arsenal, by contrast, have just lost once at home in the league all season — as they were defeated 3-1 on the opening day against Aston Villa.

However, Chelsea did manage to beat Arsenal 2-0 at the Emirates back in October, albeit in the League Cup.
5. Will Arsenal be able to stop Eden Hazard?
Hazard has surely been Chelsea's best attacking player in recent times, especially given the less-than-glowing form of their strikers.
In addition to being Chelsea's top scorer with six goals this season, he also has the joint highest assists (15) in the Premier League since the beginning of last season — only Steven Gerrard and Wayne Rooney have emulated this record.
Yet Hazard probably won't be the only danger man Arsenal have to worry about this evening.
Provided he starts, Juan Mata has the ability to do some damage — the Spaniard has four goals from his last four starts against the Gunners.