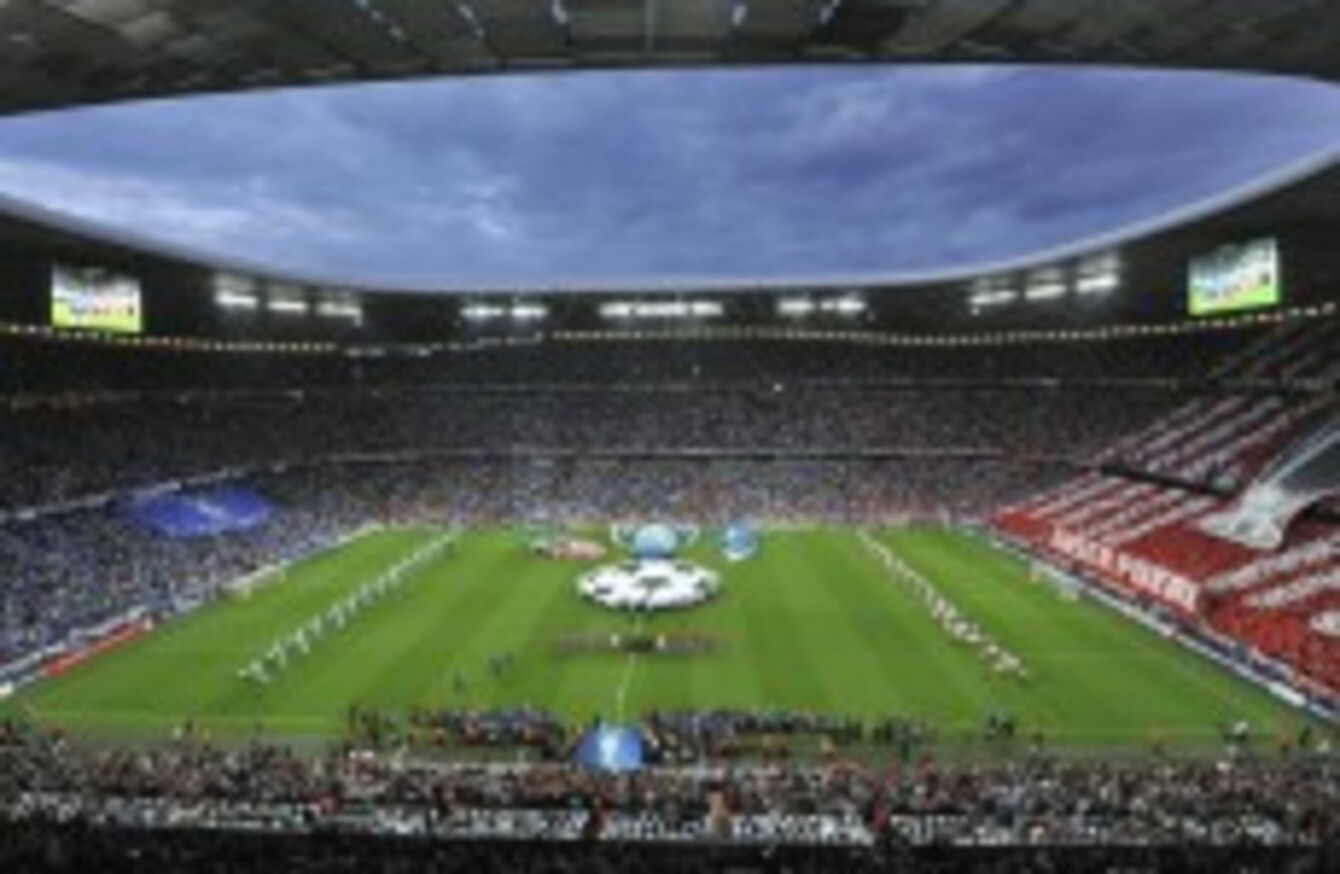 The Allianz Arena awaits
Image: PA
The Allianz Arena awaits
Image: PA
2pm, Marianplatz – the weather is very warm. The city centre is packed. And the atmosphere is absolutely crackling.
In truth, you couldn't but have known a Champions League final taking place in Munich in the week leading up to Saturday but there's something very special about day itself. In the quaint little market just south of Marianplatz, there are Bayern fans everywhere, cooling their bottles of beer in the fountains all around.
The Chelsea fans have only started to arrive in strength in the last few hours but there's a very notable presence around the city now. Not least when three of them rip off all of their clothes and run through the massive water feature on the way up to the Theatre district. Cultural.
3pm, Tor S-Bahn station – soaking up the atmosphere is great. The only problem is the t-shirt is soaking up something else. A mixture of plus-25-degree heat, a heavy laptop bag, baggy jeans and a touch of a hangover make it less than comfortable.
So it's off to the stadium itself.
Rather than get a train near Marianplatz, though, it's decided to make the short walk to Tor, the stop before. It proves a wise decision. Aside from the fact there are still a few seats at that point, by the time the train lands at the central station there are hundreds of Bayern fans looking to cram in… almost six hours before the match. And it only gets worse.
One colleague of The Score who was only in Munich as a fan said he had given up making the start of the game because, having tried to get a train an hour and a half beforehand, he simply wasn't able to get on a series of S-Bahns. The police were even stopping people going down to the platform, it was so busy. It's about a half-hour trip from the city centre to the Allianz Arena and, in the end, he just about makes it to see the teams come out to the pitch. In the meantime, though, it's amazing how much this final has captured the attention of all of Germany.
On the train, there are a couple that have come down from Saarbrucken and are desperate for tickets. Near them, there are teenage girls with 'FCB' and hearts painted on their faces. Otherwise, there is red everywhere… apart from on the face of The Score.
Thankfully, we've started to cool down.
4.30pm, Allianz Arena media centre – it's starting to get very busy here too. And, if you're not overloaded with work or trying to prepare a few different match reports for a few different scenarios (most of which are always discarded), one of the more interesting things about the media centres at these events is the who's who of people.
At the entrance, there's Andy Gray. No Richard Keys though. Sitting down watching the play-off final on a laptop screen are a number of celebrated British writers like Jonathan Wilson, Henry Winter and Jonathan Northcroft.
Milling about near the bistro, then, is Paolo Rossi. Suddenly, in walks the BBC radio team with co-commentator Steve Bruce. He gives all of the main writers at the English papers big handshakes. There is some commotion, however, about the fact there are only two unisex cubicles in the media centre. The catering area – which allows accredited journalists two free meals before they have to start paying for things – is also unfeasibly small. There are about 700 accredited journalists and only 10 tables. "It wasn't like this at Wembley," says one. "Madrid two years ago much better," says another.
5.00pm, Allianz Arena media centre – John Brennan of the Sunday World ambles over. He's looking for somewhere to watch the Heineken Cup final. He's the first person I've heard mention it. Without wishing to turn this into some kind of rugby-versus-football thread or to diminish Leinster's magnificent achievement — or a superb rugby tournament — in any way, it is interesting that the Heineken Cup simply isn't on the radar. The English journalists such as Wilson are keeping tabs on the cricket, if anything, but most don't seem to realise another final is on. Again, this is not to criticise rugby. Its showpiece event is much younger. But, when you're at the Champions League final, you get a proper sense of just how global the 57-year-old event really is. At the press conferences on the Friday, the managers and players fielded questions from Sudan, Mexico, Moldova and Malaysia. It's probably — at least — the third biggest sporting event in the world right now.
6.30pm, Allianz Arena media tribune – with talk of fans beginning to filter into the ground and gossip like John Terry talking to Fabio Capello on the pitch, we decide to take our laptop to the stand. In the build-up, there's often a lot of anxious comparing of media tickets between journalists. Because, despite what you might think, there are a premium on desks. And, unless your organisation is from one of the countries of the teams involved, you're not guaranteed one. Fifteen minutes from the end of a game, it's not uncommon to see journalists of all ages sprint from their seats to see the end of the match on the screens in the media centre just so they can type and send their reports. Fortunately, TheScore has a desk. But, once we get to it, we find the news has been untrue. Fans haven't been filtering through. They've been flooding through. Over an hour before the game, the Bayern end is absolutely packed. And the show of colour and noise is hugely impressive.
8.00pm, Allianz Arena media tribune – finally, the Chelsea fans are beginning to fill up their end. And it gives rise to some interesting musical battles as both sets strive to make their songs heard. With much stronger numbers, there's no doubt Bayern are winning every round. Some impressive choreography and colour, too, as they unleash a huge mosaic and a massive banner with a picture of the European Cup on it. As good-natured as they are, though, there is an element of assumption about the Bayern fans. Chelsea could be set to spoil the biggest party ever.
8.30pm, Allianz Arena media tribune – this is the fourth final I've has been to. There have certainly been better teams. There have arguably been better cities. There's definitely been better locations. But, in terms of atmosphere, nothing has matched this. It's simply a wall of sound. In truth, the opening ceremony can't really compete. And duly, other than a Robbie Savage lookalike playing the violin, it's quite simple, stripped down and enjoyable enough. Unlike last year's effort at Wembley with Bowler Hats, there's no messing about. Straight to the football.
10.22pm, Allianz Arena media tribune – finally, it's happened. Bayern score. The ground explodes. The announcer more than anyone. He whips the crowd into a fervour with his chant and response of Thomas Muller's name. The atmosphere takes something of a turn, however, when Muller is taken off. Suddenly, this feels like a procession… what an oddly flat way to end the game.
10.28pm, Allianz Arena media tribune – that's not just the sound of the Chelsea end finally celebrating. That's the sound of so many journalists thumping their laptops. There's a ton of rewrites now as Drogba does what every match reporter fears – scores a game-changing late goal. What a moment, though, because – at least – it feels like the 2012 final has started. Again, the atmosphere turns. This is open now.
11.20pm, Allianz Arena media tribune – Chelsea have done it! They're the champions of Europe at last! The reactions, obviously, are absolutely jubilant as befits the ending of an obsession. Most journalists, however, won't see those celebrations. Our heads are buried in laptops trying to meet deadlines. The Score, for example, is just three seats from the steps up to the podium. Other than a few glances up – in which we see Drogba high-fiving people and Bosingwa going crazy, we have to concentrate on getting our copy out. The lifting of the trophy and all the commotion over Terry is, at that moment, irrelevant to us and may as well be happening somewhere else. One thing we do notice though: half the Bayern fans have stayed to watch. Despite their earlier arrogance, that is of huge credit to them.
11.40pm, Allianz Arena press conference room – finally, we file our main pieces and get down to the press conferences. Given the necessities of both managers' team talks – either commiserations and emotional support or simply being unable to get away from your gleeful squad – they're late coming out. First is Jupp Heynckes, who is in bright enough form despite the nature of the defeat. Then comes Drogba who behaves and talks like an absolute gentleman but refuses to be drawn on his future. He's clapped out. Finally, an unflappable Di Matteo is clapped in. He also gives nothing away and even engages in a bit of a debate about style. He's also – rather stupidly – asked when he knew Chelsea were going to win. "When Drogba scored the penalty," he deadpans.
12.45am, Allianz Arena mixed zone – it's the final stage of the night. And it's probably the area of sports journalism that says most about the human condition, bring out the best and worst of us. One Irish sports journalist once described it as "mostly middle-aged men trying to get a 19-year-old millionaire to describe the choreography of a two-yard tap-in". And that's not far off. For one, we realise how the players mostly look at us with utter disdain. Two, we retain hope that – maybe, just maybe – they'll stop and give us four minutes of barely usable quotes. Granted, none of that really applies to occasions like the Champions League final. Given the extremes of emotions it involves, players are often very happy to get things off their chest or simply to celebrate and praise people.
By the time TheScore reaches the mixed zone after the managerial press conferences, the Bayern players have all been and gone. First out for Chelsea, though, is John Terry. By now, he's wearing a suit with his medal around his neck. He's very happy to talk. "It's not about me," he insists. Lampard is next. One journalist says from behind, "let's talk to the real captain". In between, meanwhile, John Obi Mikel walks by. He seems desperate to talk, even almost stopping without being asked. English Journalists stare on blankly. Mikel walks on, until a group of Nigerian journalists stop him. The English boys then get a taste of their own medicine though. Fernando Torres completely ignores them before going straight to the Spanish press.
2.00pm, somewhere near Munich – finally, we're done. A group of us try and hail down a taxi in the absence of running trains (cue line about German efficiency).
We get back into the city to begin another search… that for an open bar and just a few late-night drinks.