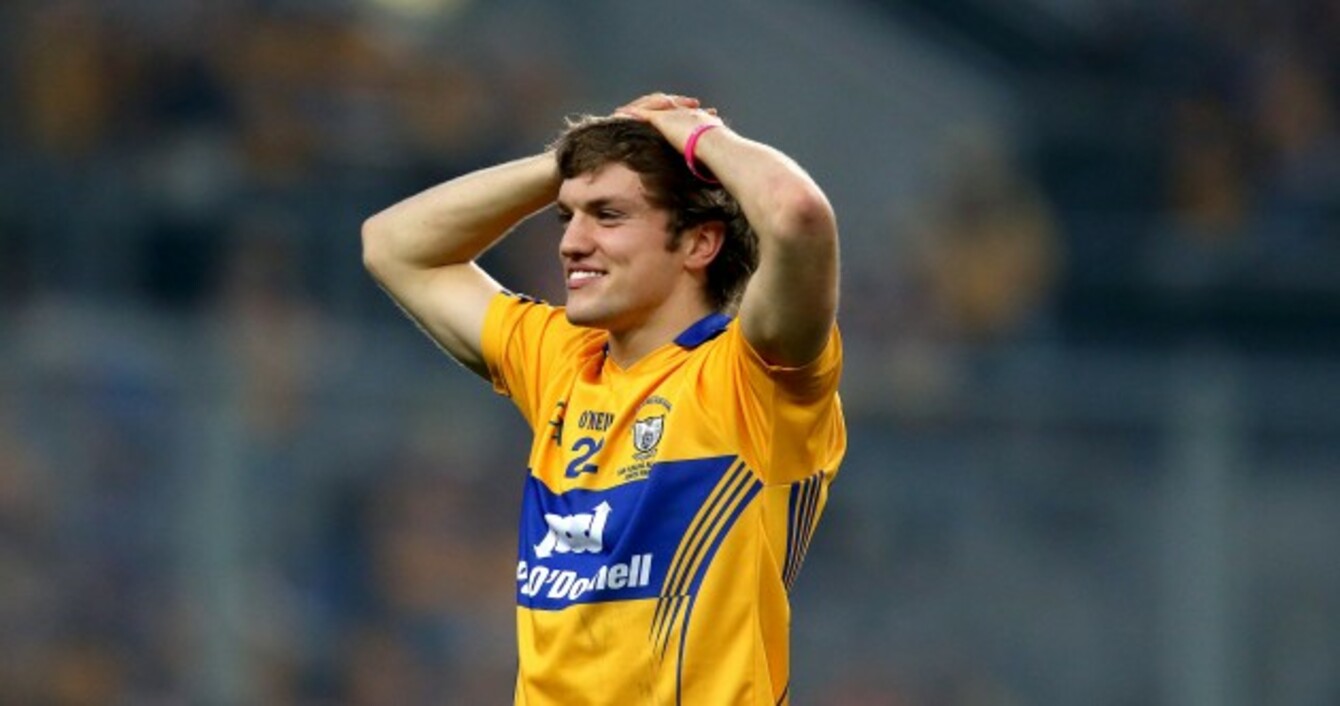 Clare's Man of the Match Shane O'Donnell takes a break from the All-Ireland celebrations.
Clare's Man of the Match Shane O'Donnell takes a break from the All-Ireland celebrations.
Updated at 23.34
A – All Blacks: It was only a few weeks ago, but who could ever forget the Ireland-New Zealand game? Surely, it will be remembered as both the best and worst match of the year from an Irish perspective.
B – British and Irish Lions: From an Irish rugby viewpoint, the experience may have been somewhat soured by BOD's exclusion, but for many, the victory was no less satisfying, especially due to the emphatic manner in which the team ultimately beat the Australians.
C – Cricket: 2013 was another excellent year for the Irish team, as they qualified for the 2015 World Cup. The past 12 months will also be remembered for the retirement of an Irish cricketing legend — Trent Johnson.
D – Dublin footballers: For the second time in three years, the Dublin footballers claimed the All-Ireland title, showcasing an array of exciting talents and some brilliant football along the way.
E – Egan: Olympic silver medallist and 10-time Irish champion Ken Egan announced his retirement back in February, as a long and distinguished career came to an end.
F – Ferguson: Legendary Manchester United manager Alex Ferguson announced his shock retirement in May, after guiding his side to yet another Premier League title. Unsurprisingly, it didn't take Ferguson long before he was back in the headlines, after his controversial autobiography leveled strong criticism at Roy Keane, David Beckham and Wayne Rooney among others.
G – German Football: Will 2013 be remembered as the start of an incredible era in German football? The Champions League final was an all-German affair, with Bayern eventually overcoming Dortmund. Can the national team further confirm their dominance by winning this summer's World Cup?
H – Hawkeye: The much-discussed system was in place for this year's All-Ireland Championship, however after it made an obvious error during the minor hurling semi-final, it was controversially stood down, only to return shortly thereafter.
I – Irish cycling: An excellent year in all, as both Dan Martin and Nicolas Roche performed exceptionally, with the latter winning stage two of the Vuelta and coming fifth overall, while Martin became the first Irishman to win a stage at the Tour de France since since Stephen Roche in 1992. Elsewhere, Pat McQuaid failed to secure a nomination from Cycling Ireland in his ultimately unsuccessful UCI Presidential re-election bid. And of course, not forgetting Martyn Irvine's fantastic achievements in track cycling.
J – Jason Quigley: The Irish boxer secured a silver medal as his unbeaten run was agonisingly brought to an end in the final of the World Championships.
K – Katie Taylor: 2012 was always going to be a tough act to follow for Taylor, but she didn't disappoint this year, winning gold at the European Union lightweight final among other achievements.
L – Lance: The disgraced American cyclist finally admitted to using performance-enhancing drugs and gave some other intriguing insights in interviews with both Oprah and The Daily Mail.
(Lance Armstrong's interview with Oprah was one of the most talked-about TV events of the year — George Burns/AP/Press Association Images)
M – MONKeano: The unthinkable occurred as Martin O'Neill agreed to become Ireland's new manager with Roy Keane as his assistant, after Giovanni Trapattoni stepped down following the side's failure to qualify for the 2014 World Cup.
N – Niamh Briggs: The Irish women's rugby team won the Six Nations Grand Slam for the first time ever, with Briggs scoring the all-important try against Italy and subsequently being named Player of the Year in recognition of her performances.
O – O'Donnell and the rest of the Clare hurlers: Clare won a classic All-Ireland hurling final, beating Cork 5-16 to 3-16, and claiming the trophy for the first time since 1997. The man of the moment was undoubtedly 19-year-old Shane O'Donnell, a late call-up to the team, who scored an incredible 3-3 on the day.
P – Paralympians: Team Ireland had a tough act to follow after their incredible success at the 2012 Paralympics, but they did more than enough to ensure 2013 was similarly memorable, with Jason Smyth and Michael McKillop (among others) once again excelling.
Q – The Queen: Her horse Estimate won the Ascot Gold Cup and the video of her reaction is deadly. It was also a memorable year for the Irish in horse racing, with both Joseph O'Brien  and Tony McCoy creating history.
R – Rob Heffernan: Following his Olympic heartbreak, Ireland's Rob Heffernan showed remarkable character to secure a gold medal at the World Championships.
S – Sailing: Like Heffernan, Annalise Murphy also went a considerable way towards making up for her Olympic disappointment with a gold at the European Championships in Dublin.
T – Te'o: The sporting scoop of the year arguably took place at the very start of it, with the bizarre story of American football player Manti Te'o and a fake girlfriend h0ax.
U – UFC: Ireland's fascination with the world of MMA increased in 2013, with Conor McGregor putting in some impressive performances before a bad injury put a premature end to his year.
V – Vonn: The ski racer's relationship with Tiger Woods was officially announced in March, as the American golfer went some way towards rehabilitating his image.
W – Wozzilroy: It was a difficult year for sport's golden couple with both underachieving in their respective games. However, McIlroy did at least show some evidence of improvement towards the end of the year.
X – X-Ray: The picture of Tommy Bowe with his X-ray and his remarkable comeback to play on the Lions tour was a sight to behold. Ditto, Rory Best.
Y – You: Because TheScore.ie always remembers its loyal readers and is in no way looking for a way around a tricky letter.
Z – Zebo: The young Irish winger became a bonafide star in 2013 thanks partially to his outrageous flick in the Six Nations match with Wales. His equally outrageous miming to 'Otis' als0 caught the eye.
What have we missed?