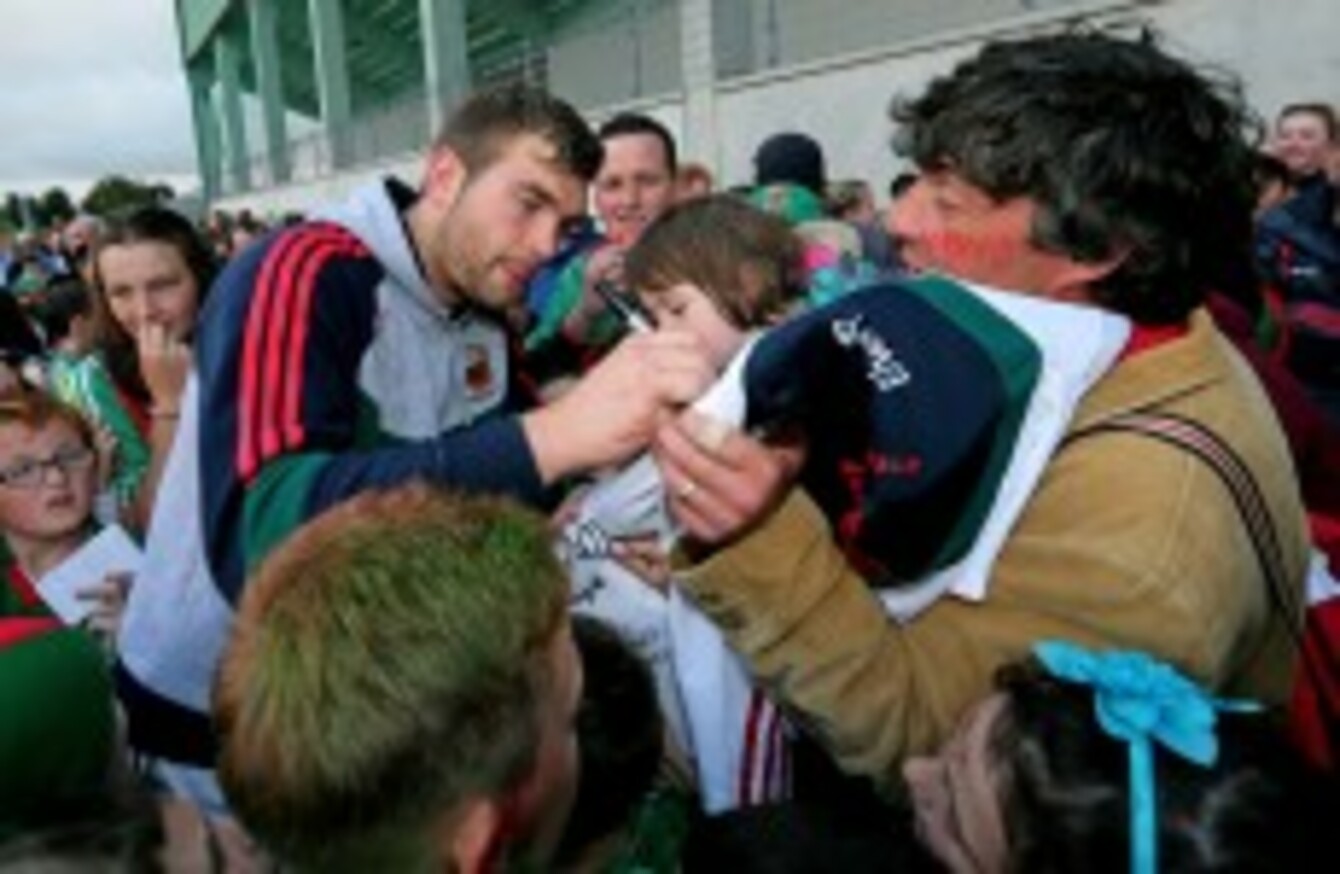 Aidan O'Shea signs autographs for Mayo fans.
Image: INPHO/Lorraine O'Sullivan
Aidan O'Shea signs autographs for Mayo fans.
Image: INPHO/Lorraine O'Sullivan
Build-up to Sunday…
"It has been quite muted here in Mayo by standards on previous times in '04 and '06. I remember being a 14-year-old and a 16-year-old at the time and the hype was huge. Coming into the Dublin game, it was quiet around the place. Anyone that's in the county would have realised that.
"In the last few days, since the hurling, that a lot of bunting has went up and flags. I haven't been in town (Castlebar) much but when you go in there's a few people who want to have a chat. Like James (Horan) said there you can gain energy from it and if you don't want to talk to people, you can put the phone up to your ear and pretend you are talking to someone. That's just the way you gotta deal with it."
Donegal's midfield challenge…
"If you look at the Cork v Donegal game, people can talk about systems all they like, but the reason Donegal won that game is because they absolutely wiped Cork at midfield. Neil Gallagher probably cemented his All Star from that game.  They like you to go short so they can retreat behind the ball. We'll have a battle there with Rory Kavanagh and Neil Gallagher. Whichever way they want to play, we'll be ready for it."
Facing Dublin in the semi-final…
"There was a lot of talk with Andy (Moran) out and that Dublin were going to turn it on against us. I was quite confident going into it that we were going to hold them defensively straight away because we've got top-class defenders and that we could impose our game on them.
"We don't call it a system but we play a hard, attacking running game with huge pace and strong lads down the middle. All you can ask for is to put your stamp on it and that's exactly what we did.
Gaining confidence…
"We gained strength from the start of the year, that we've been putting in the work from a strength and conditioning point of view. We won the FBD, we said we wanted to make the play-offs of the league, we did that and then we won the Connacht Championship, the first team to do that back to back in ten or fifteen years. They're the little victories that are important.
"If you break it down as well six of the team who started against Dublin had a great year in '06, they won the U-21 All-Ireland.  Mickey Conroy has some record, he has played three years of championship football and Mayo have been in a final every year.  We knew from the outset that we needed to win five games to win the All-Ireland. We've won game four and we're moving onto game five."
Preparation for games…
"I'm very relaxed going into these type of games. Last year we (himself and his brother Seamus) were rooming but not this year. Myself and Big Barry [Moran] over there are rooming together. Barry leaves me on his own, he goes off with Cillian (O'Connor) watching The Wire for some reason."
Third-level studies…
"I'm studying Supply Chain Management and Logistics in Dublin IT. It's a degree course. It's my last year so we've gotta try to win the Sigerson."