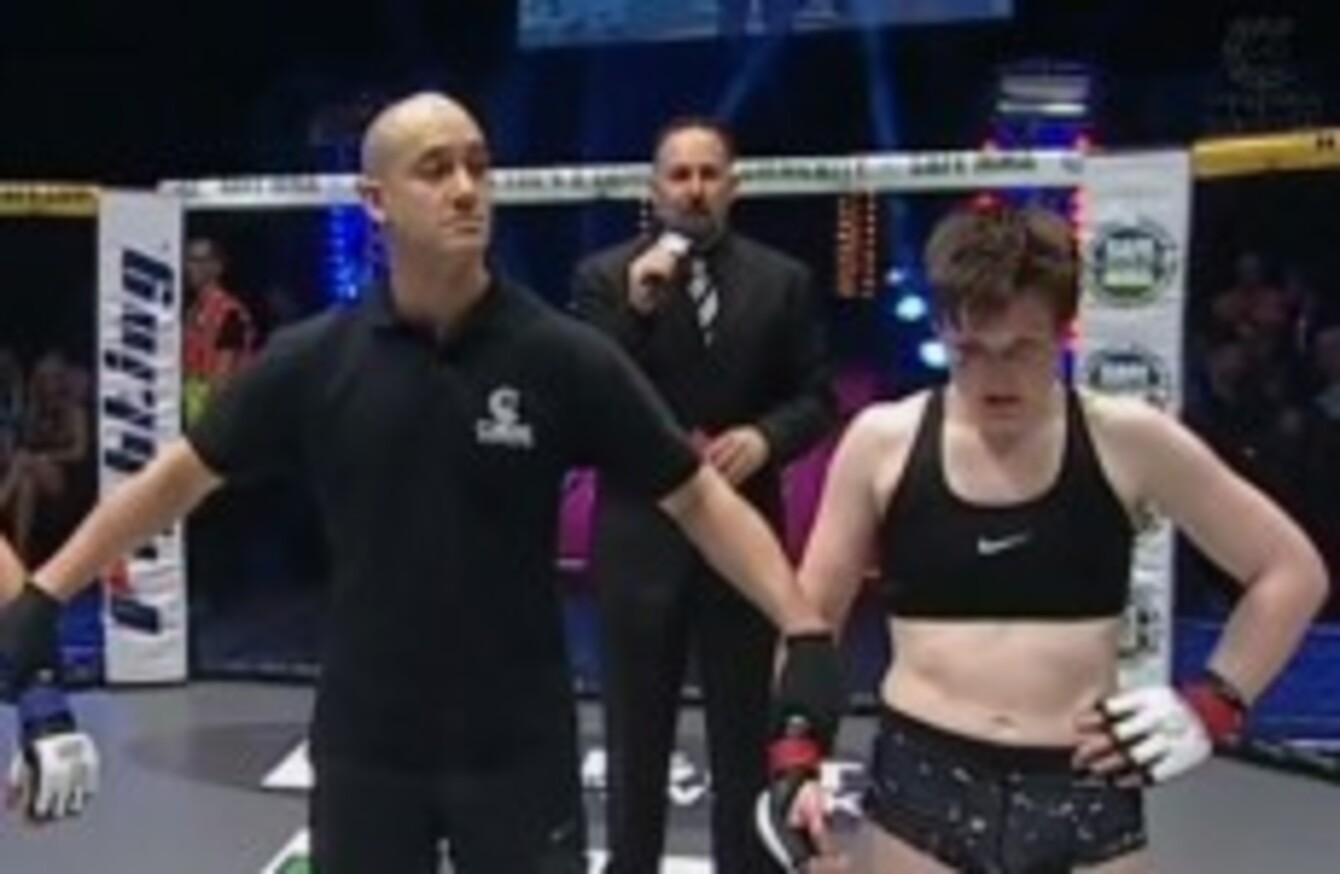 Daly winning her most recent Cage Warriors fight against Karla Benitez last December.
Daly winning her most recent Cage Warriors fight against Karla Benitez last December.
THE SHEER DEMAND for tickets to next month's sold-out UFC event in Dublin's O2 Arena suggests there is a real appetite for mixed martial arts in this country right now.
Head down to any of the top MMA gyms and you're bound to find a new generation of fighters who have recently taken up the sport as it continues to go from strength-to-strength.
The exposure received by fighters such as Conor McGregor, Cathal Pendred, Chris Fields and Neil Seery will have helped in no small part.
Such recognition may be slow in coming for the women's side of MMA, but their SBG team-mate Ais Daly is happy to fly under the radar.
The 26-year-old flyweight is Ireland's top female fighter with a career record of 14 wins and 5 defeats. Having fought in promotions such as Cage Warriors, Bellator, NAAFS and Cage Rage, the Dubliner has now set her sights on the UFC.
"For me, fame was never anything I was looking for," Daly told TheScore.ie this week. "I love the competition of fighting but I would be happy to turn up in this gym and fight the best in the world behind closed doors, then go home and know that I won that fight.
"I'm just constantly focusing on improving. I just want to be the best that I can be, I want to improve my skills everywhere, be the best in the world.
"Obviously the best in the world is UFC and that is based on fans. People are going to buy tickets to go see you and it's just something that comes along with it but it's not something I'm looking for."
Ais "The Bash" began karate classes at the age of 10 before coming across Brazilian Jiu-Jitsu. At 16, she was fascinated by a seminar given by SBG founder Matt Thornton and linked up with John Kavanagh of SBG Ireland after getting her blue belt.
At the time, the gym was based in a school hall in Dolphin's Barn. She admits having to work extra-hard to initially persuade Kavanagh and others in a male-dominated environment that she was serious about fighting.
"At the start, John may have been a little bit sceptical of girls getting into the sport as I'm sure he had people turning up to train MMA and they had no intention of training and just wanted to hang out with the guys or whatever," she explains.
He really did make me jump through hoops to even have an amateur fight. By the time I had one, I was already a blue belt for BJJ and I had been training SBG for two years. I definitely had higher standards than most to get my first fight.
"And I'm kind of happy it happened like that. I was at such a good level starting off that I was way ahead of the competition at the beginning. Even now, because of the high standards, I'm world class. I'm not just in there giving it a go… I'm one of the best in the world."
On having to prove herself, she adds: "You get a bit of a chip on your shoulder. Whether it's actually what people are thinking about you, or it's what you think they're thinking I don't know. Either way, you get stuck in a little more and feel you have to prove yourself.
"That lasted for a few years, then I realised I didn't want to get injured sparring too hard because you're up against a guy or somebody who is a little bit bigger than you.
"I did have that at the start but I grew out of it pretty early. John is a great coach and he would always say to me 'train smart'.
"If you want to have a long career, you've got to be intelligent about your training. You don't have anything to prove, we all know you're tough. Just get in there and train smart."
Watch her most recent Cage Warriors fight against Karla Benitez: 
Source: Cage Warriors TV/YouTube
Training and sparring with men has become second nature to Daly and she wouldn't have it any other way, insisting that she has the best amateur flyweight in the country and the best professional male flyweight in the country in team-mates Paddy Hoolahan and Blane O'Driscoll.
That said, she was delighted to get the chance to work with Amanda Loewen in Portland recently and now has former Irish boxer Sinead Kavanagh in the gym with her since her decision to switch to MMA.
She has often found it tough to find fights over the years with American promotions more inclined to take the cheaper option but it never seemed a worthwhile option to relocate to the States.
"Sometimes it can be difficult to come across fights. If it comes down to a promotion having a local American girl who's not going to have crazy Visa costs or expensive flight costs, even if I have a way better record, it's easy for the promotion to make a costs decision and say well she's going to be a lot cheaper.
"The visa alone for the States is expensive and can be three or four thousand dollars at a time. That's before a purse and before flights and accommodation for me and a corner.
"With the UFC taking off now and the 115lb division, money is no option to them really. They just want the best in the division. Hopefully it will be just UFC this year and I won't have to worry about smaller promotions and thinking about costs.
"I thought at one stage that there might be more opportunities if I was based there just for cutting down on costs.
"But the benefits of that wouldn't outweigh what I have here. There is such a great team here, with a family atmosphere, I've been here pretty much since the beginning of the climb for SBG since it has grown so I just feel at home here.
I can spend all day everyday in the gym and be happy with the people around. I know that I am looked after and the people care about me, the coaches care about me.
"To just go and join some random gym in the States, I'm never going to get that attention. Just last week, my coach John turned up last Monday and sparred me.
"I very much doubt Greg Jackson turns up on a Monday afternoon and spars Michelle Waterson or whoever is there. That is the kind of looking after I get here so I wouldn't move."
And in the SBG family, Daly admits to being a bit of a mammy to the other fighters:
"I do feel we have a family here and because I've been here so long, I guess I feel that I'm one of the heads of the family. With the amateurs guys who are up and coming I feel I want to look after them, take care of them and push them in the right direction.
"I do think I am a bit of a motherly figure. I'll be saying things like 'where's your head guard?', 'Put your gum shield in' and if somebody gets hurt on the mats I'm usually the one over checking it out."
Back in April, Daly flew out to Las Vegas for 'The Ulimate Fighter' tryouts ahead of the first ever all-female series of the reality TV show. 16 girls will enter the house to compete for the chance to become champion of the new 115lb strawweight division and while she can't talk about it having signed a non-disclosure agreement, she is hopeful of taking part in season 20.
A determination to win has always motivated her more than fame or money but entry into in the sport's premier promotion would give bring financial security after years of getting by thanks to the support of others.
The money to be made in MMA if you're not in UFC is peanuts. You're relying on your family and stuff to support you, you might do private lessons, I've got a little part-time job that I use to keep me going as you're really not making any money.
"It is a constant struggle. The money that you won't earn for fights probably won't even cover the cost of what you pay to get there.
"I know people have this crazy idea that people who do MMA are on good money, just because it might be on TV doesn't necessarily mean that.
"Guys on the team like Chris (Fields) and Cathal (Pendred) are getting loads of exposure but it is the worst thing in the world to be famous and broke. And that's the way these guys are.
"We're all struggling from day to day and only for John's generosity over the years, letting us train for free, helping us get to fights and covering food just so we could make it. If he hadn't done all that then a lot of us would've had to quit a long time ago.
"I want to be earning enough money to be comfortable but I was never really obsessed with money. If I had those intentions in the first place I wouldn't have got into MMA. I would have been in some other profession that you get paid for a lot less risk."