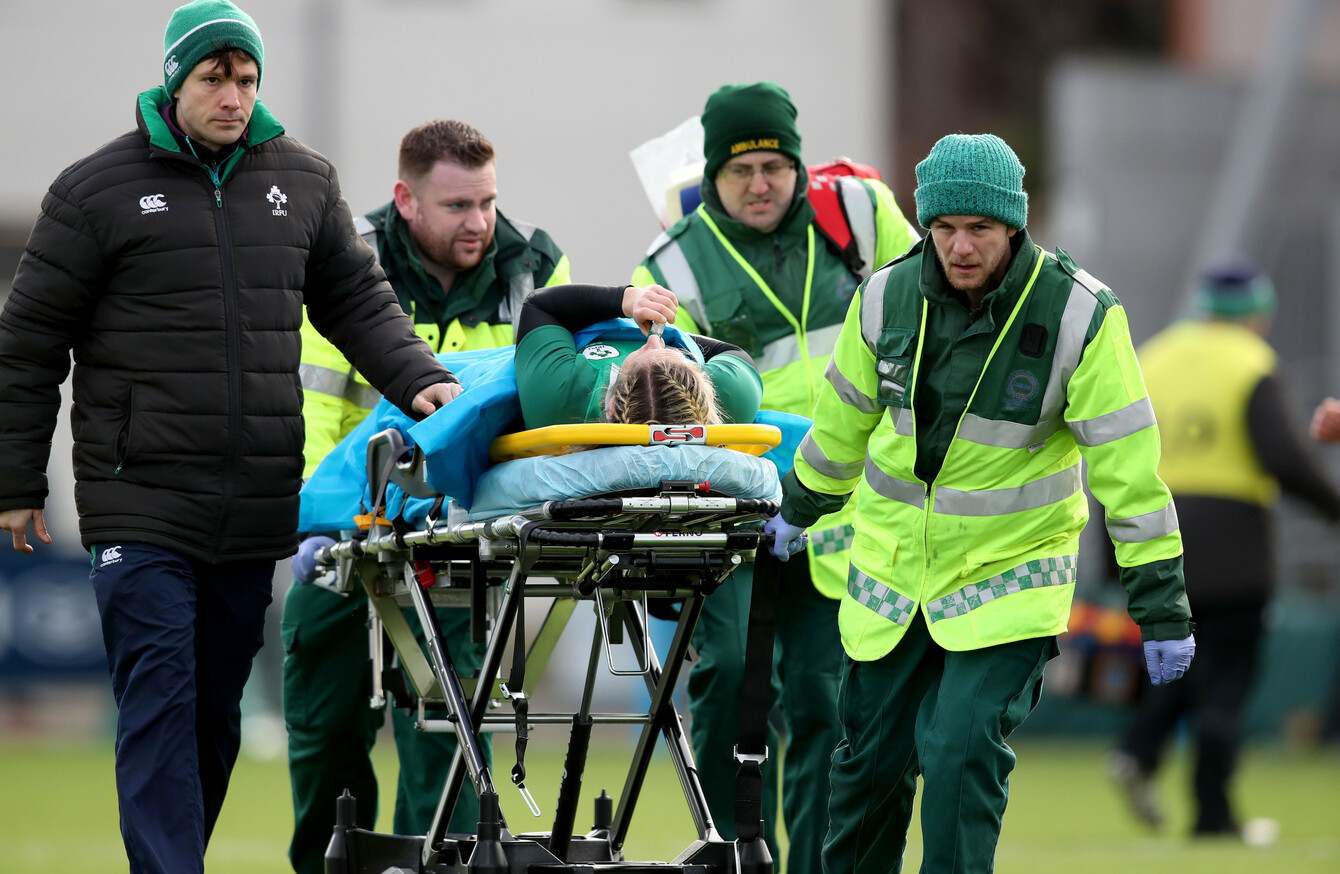 Miller received treatment on the pitch before being brought to hospital.
Image: Bryan Keane/INPHO
Miller received treatment on the pitch before being brought to hospital.
Image: Bryan Keane/INPHO
IRELAND WINGER ALISON Miller is facing into an extended period out of the game after undergoing surgery earlier in the week to stabilise three broken bones in her leg.
The 33-year-old suffered the horrific injury just minutes into Ireland's Six Nations win over Italy at Donnybrook last week, with women's scrum coach Mike Ross describing it as one of the worst breaks he's seen.
Miller fractured her fibula and tibia, as well as sustaining a compound fracture, and the Connacht wing's early departure took the gloss of victory for Adam Griggs' side.
"I kind of ran past her and I could hear her before I could see her," Ross tells The42. "It looked innocuous but it was a bad, bad leg break. It was one of the worst I've seen.
"I'm just glad I'm not a medical person and didn't have to deal with it up close because some of the drugs they were giving her seemed to be making no difference and you don't like seeing anyone in that amount of pain."
Miller immediately underwent surgery to have pins and plates inserted and while the lengthy rehabilitation process has begun, there is no exact prognosis on recovery time because of the nature, and severity, of the injury.
It means Ireland will have to plan without one of their most experienced backs for the remainder of the Six Nations, and indeed the foreseeable future, as Griggs' side begin preparations for the visit of Wales.
A heavy defeat to favourites France was a chastening experience for the young Ireland squad, but with two more new caps fielded against Italy, there is certainly a sense that things are moving forward positively.
The new coaching team have played a key role in that and Ross, who has been working with the forwards for the last number of weeks, says it has been hugely enjoyable so far.
"It's interesting being on the sidelines as you can't directly effect what's going on but can come on and give messages depending on what you've seen," he says of matchdays on the touchline.
"I enjoyed it. The scrum went fairly well [against Italy] and it's good to see the work they've put in getting rewards.
"The great thing is you're back in a team environment. There's not a whole lot of difference between the men's and women's game in that perspective.
"I enjoy being in a team environment again. When you go away from it, you don't realise the affect that has on you. It's a very close-knit thing when you're in the Ireland and Leinster dressing room, and you lose that.
"It's been really good, I can't complain."
The42 is on Instagram! Tap the button below on your phone to follow us!