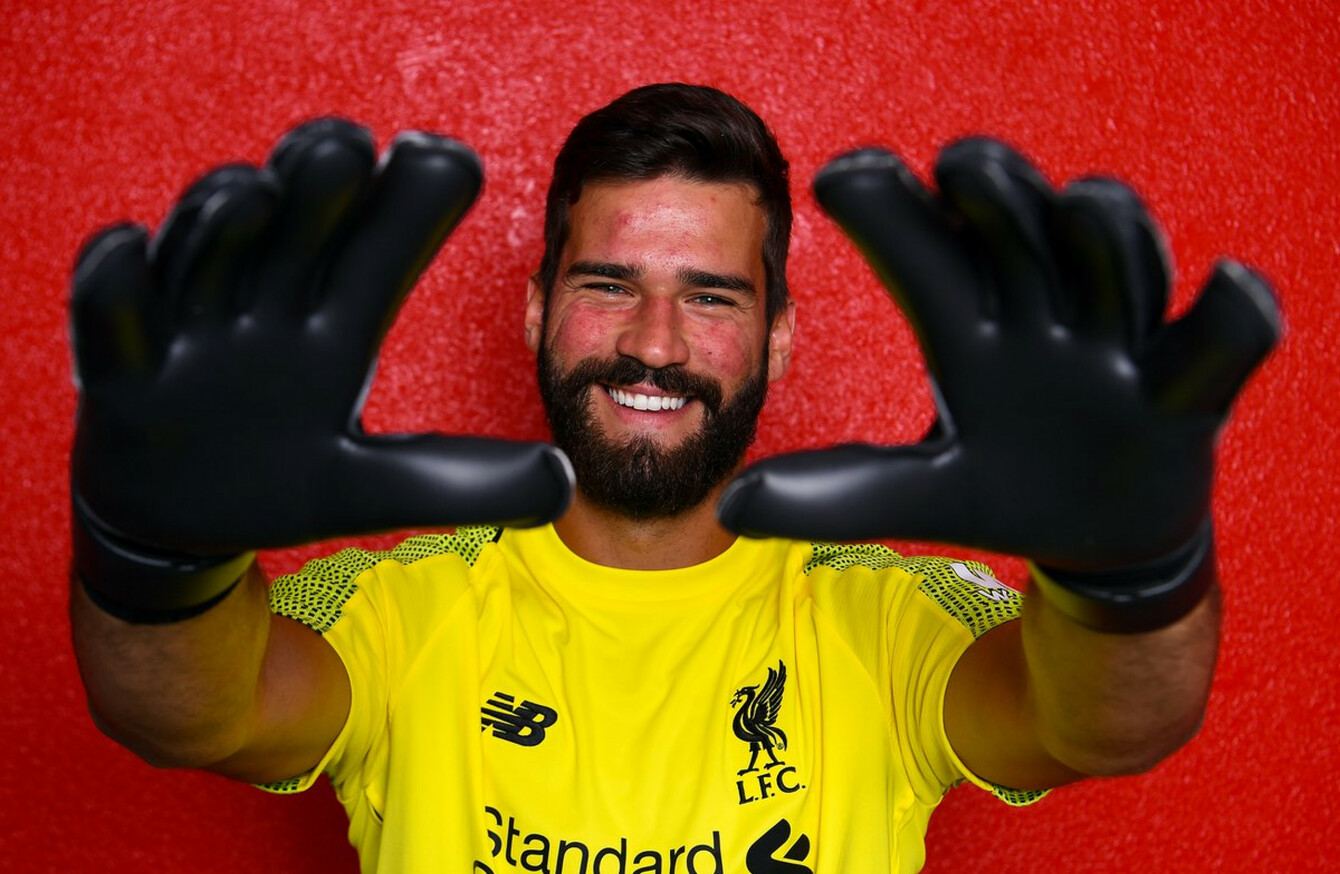 LIVERPOOL HAVE SIGNED goalkeeper Alisson from Roma in a €72.5 million deal.
The 25-year-old signed a long-term contract with the Reds following a medical and the completion of formalities at Melwood today.
The Brazil international told the club's website: "I'm really happy, it's a dream come true to wear such a prestigious shirt for a club of this size that is used to always winning.
"In terms of my life and my career, it's a huge step for me being part of this club and this family.
"You can be certain that I'll give my all."
🇧🇷 x 🔴https://t.co/t4msWAm2sU pic.twitter.com/jTq9gqOFI4

— Liverpool FC (@LFC) July 19, 2018
Roma confirmed the value of the transfer for Alisson who featured at the World Cup in Russia.
"AS Roma can confirm that Alisson Becker has completed his move to Liverpool, in a deal that could be worth up to 72.5 million euros," the Serie A club said on Twitter.
Alisson told LFC TV that his former team-mate at Roma, Mo Salah, fired the Brazilian a text yesterday inquiring as to why his move was taking so long, to which he responded: 'I'm on my way.'
While #LFC and @OfficialASRoma finalised the details of his transfer on Wednesday evening, @Alissonbecker received a text message...

The sender?? @MoSalah. 🤔

Full story: https://t.co/pYzqxpZlXC pic.twitter.com/hmdng8M7gJ

— Liverpool FC (@LFC) July 19, 2018
Alisson is a key signing for Jurgen Klopp who was desperate for a new goalkeeper to replace Loris Karius following his calamitous Champions League final performance against Real Madrid.
Chelsea were also linked with Alisson who began his career with Internacional before moving to Roma two years ago.
'He's one of the world's best' 👊 

Jürgen Klopp simply could not pass up the chance to sign @Alissonbecker: https://t.co/gN0qvFl8QO pic.twitter.com/EEZv5MYTGT

— Liverpool FC (@LFC) July 19, 2018
Klopp told Liverpoolfc.com: "At one point in the last few weeks it came up, the opportunity to sign one of the world's best goalkeepers – then it's not a long thought, to be honest, it's only that you need to have a little talk with the owners! They were quite excited, so we did it.
I think it's something we have to do. He has nothing to do with the price, we have nothing to do with the price, it's the market, that's how it is and we will not think a lot about it.
"It shows the value of goalkeepers, of course, in this moment. It will happen a lot in the next few weeks I guess and that's it, so we are really happy to have him here now.
"His English is surprisingly good and he is a real personality. He has, meanwhile, a lot of experience in the last few years, in Europe and in Rome: he's played there on an outstandingly high level and he did the same at the World Cup.
"It was for Brazil not too lucky – that's how it is – but then he played a really good World Cup. So it's just a good moment."
Klopp also insisted that his new recruit will need time to adapt to life in the Premier League, and still has room for further improvement.
"How we all do, he needs to adapt to the English Premier League, that's how it is," Klopp said.
"The league is different, the refs are different, the goalkeeper life is different in the Premier League.
"But that's not important now because again, we got him here because of his existing strengths, which is in all goalkeeper departments the highest level.
"But of course he still has to adapt and age-wise he can improve, the best years are coming in the goalkeeper life, so it's all good."
© Agence France-Presse