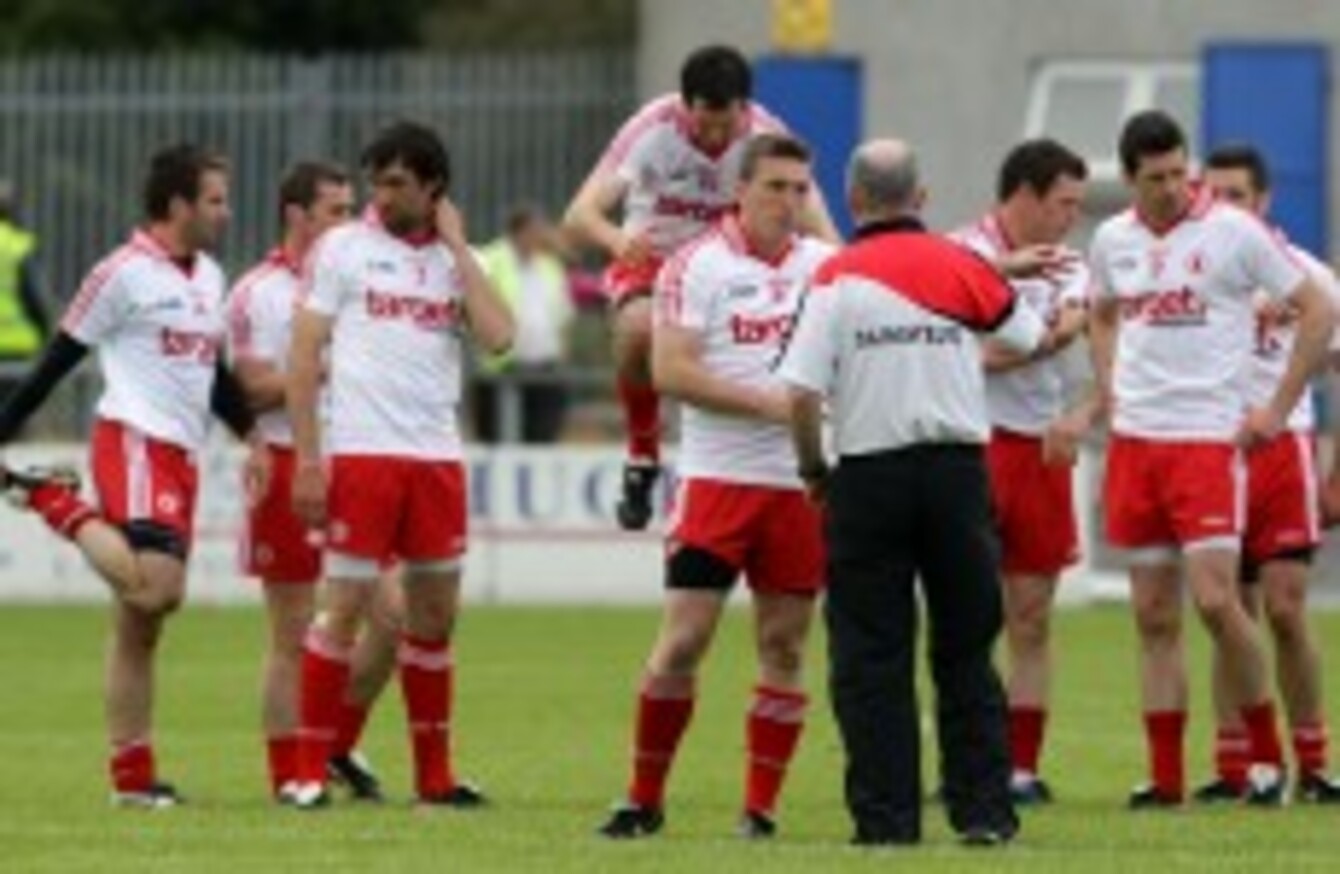 Tyrone boss Mickey Harte with his players.
Image: INPHO/Cathal Noonan
Tyrone boss Mickey Harte with his players.
Image: INPHO/Cathal Noonan
TYRONE
2012 was…pragmatic. Championship wins over Armagh and Roscommon illustrated the level of talent that the county possesses but the defeats to Donegal and Kerry demonstrated that they have slipped away from the top tier.
Their heart-warming moment…The Ulster quarter-final success against Armagh. Travelling to the Athletic Grounds represented an awkward obstacle to surmount yet Tyrone managed to do so by 0-19 to 1-13 in a thrilling test of endurance.
Their gut-wrenching moment…The defeat to Kerry in the All-Ireland qualifiers was convincing and meant Tyrone had to accept they were second best. But the Ulster semi-final loss to Donegal was more wounding as they were only two points off their opponents with Martin Penrose coming desperately close to a late match-winning goal.
They discovered that…they need to rebuild. Ryan McMenamin joins the cast of legendary figures in retirement with Mickey Harte's recent squad announcement for next year confirming an overhaul to their makeup.
Turning to 2013…Division 1 football will be a good test for their emerging talents while Mickey Harte will then have to pit his side against All-Ireland champions Donegal in their opening Ulster bout.
WATERFORD
2012 was…difficult. Division 4 of the league did not bring any promotion joy while the Munster championship, which had a favorable look to it this year, saw them bow out on the opening stage against Limerick.
Their heart-warming moment…Their performance against Wicklow in the qualifiers. There was much to admire in the display of the 14-man Waterford team in normal time as they nearly thieved a win. But ultimately they were pegged back before suffering a loss after extra-time.
Their gut-wrenching moment…Their second-half showing against Limerick in the provincial quarter-final. At the break they only trailed by a  point but collapsed after that as they failed to score in the second-half and ultimately lost out by 11 points.
They discovered that…the John Owens management era would draw to a close after three years. Former Kildare selector Niall Carew is now the incumbent.
Turning to 2013…Division 4 football beckons once more while in the Munster championship they await the winners of Tipperary and Kerry at the semi-final stage.
Wicklow's Peadar Burke and Anthony McLoughlin tackle Paul Whyte of Waterford. Pic: INPHO/Lorraine O'Sullivan
WESTMEATH
2012 was…heartbreaking. Westmeath's championship defeats created anguish. In Leinster they lost out to Louth by a point when they conceded a goal deep in injury-time. In the qualifiers, they came so close to toppling Kerry in Mullingar as they enjoyed a handsome lead at one juncture but eventually fell to a one-point defeat.
Their heart-warming moment…The professionalism they displayed in getting the better of Louth by six points in their All-Ireland qualifier clash and in the process exacted revenge for their loss to the Wee County in Leinster.
Their gut-wrenching moment…That defeat to Kerry. When they moved clear by 1-9 to 1-3 during the second-half, their supporters started to dream of glory before they suffered an agonizing loss.
They discovered that…they have hope for the future. And that hope is encapsulated by the sparkling play of John Heslin who gave some towering performances this year.
Turning to 2013…They need to build on the potential they displayed in that clash with Kerry. Division 2 football is a good testing ground for the spring.
WEXFORD
2012 was…frustrating. Dublin proved their nemesis in Leinster again and once more in a game that Wexford could have prevailed in. The hangover from that loss was felt in the qualifiers when they fell to Tipperary in Thurles.
Their heart-warming moment…The Leinster quarter-final replay win over Longford. After losing out to Glenn Ryan's side in Division 3 league final, Wexford's victory in the championship was a testament to perseverance.
Their gut-wrenching moment…The loss to Dublin. Given that Dublin were reduced to 14 men and Wexford spurned several second-half scoring chances, the defeat was galling.
They discovered that…it is time to refresh their setup. Jason Ryan opted to depart after a progressive spell of charge with Aidan O'Brien having taken over the managerial reins.
Turning to 2013…O'Brien's first task is to preside over a Division 2 campaign which should be of assistance to his team and they will meet either Laois or Louth in their first clash in Leinster.
WICKLOW
2012 was…average. Their Division 4 football league success was a rousing one but they fell short in Leinster against Meath. Redemption came in the qualifiers at home to Waterford before they slumped to a loss away to Leitrim.
Their heart-warming moment…The Division 4 victory in Croke Park against Fermanagh. Claiming silverware was enthusing with the likes of Rory Finn and Seanie Furlong giving terrific performances.
Their gut-wrenching moment…The loss in Leinster to Meath. The Royals were in a state of flux before the game and Wicklow would have been hopeful of springing a surprise.
They discovered that…the qualifiers can always provide minefields. Leitrim had never won a qualifier game before this year which may have left Wicklow to be optimistic traveling to Carrick-on-Shannon but their hopes were thwarted.
Turning to 2013…They will be occupying a higher level next spring when they face into Division 3 football and consolidation will be the main aim there for Harry Murphy's side.