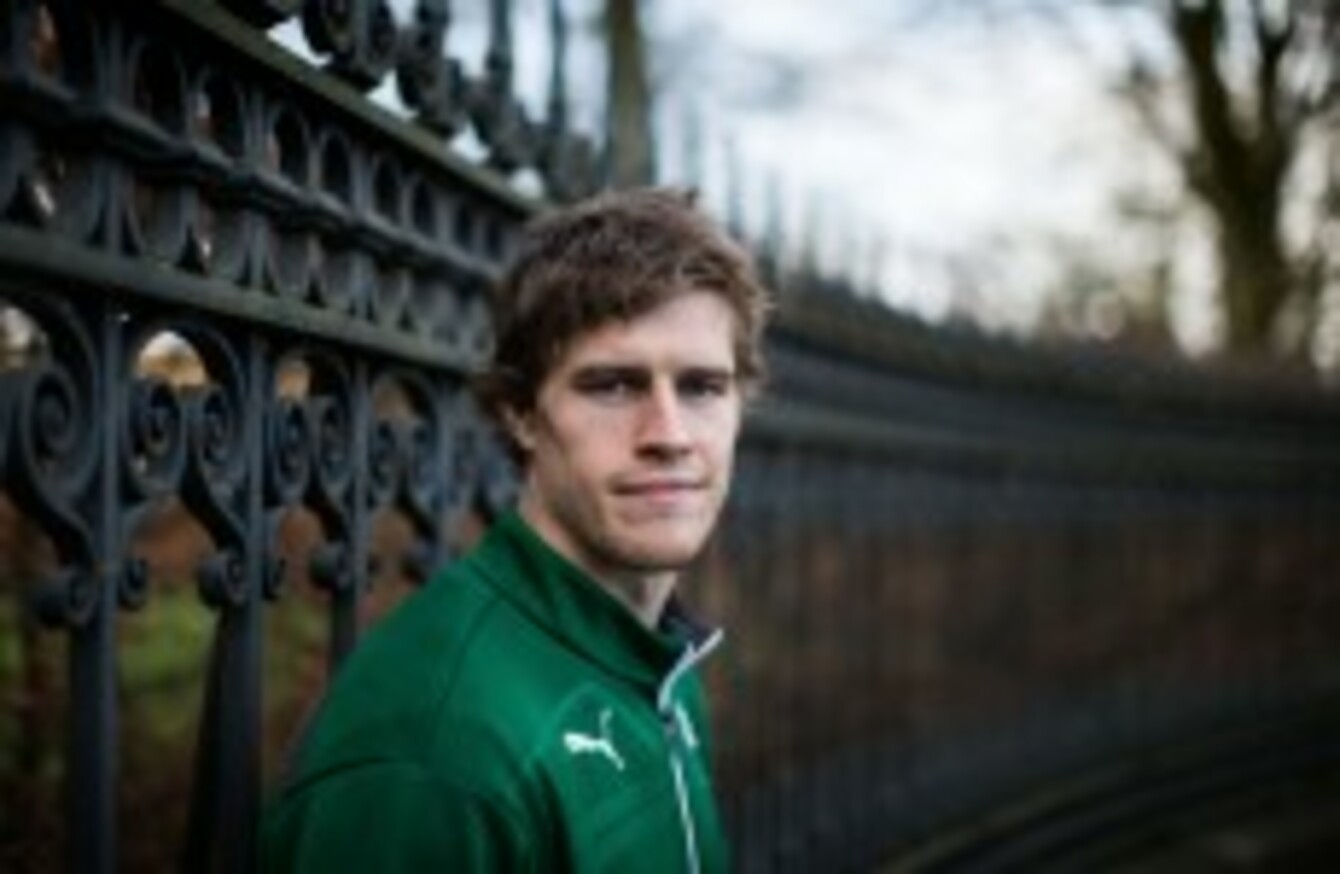 Andrew Trimble was named IRUPA player of the year last season.
Image: Dan Sheridan/INPHO
Andrew Trimble was named IRUPA player of the year last season.
Image: Dan Sheridan/INPHO
"HE'S ACTUALLY QUITE funny, has a profound love for indie music, vintage polo shirts and rides a multi-coloured fixie."
This is my reply when I'm asked what Andrew Trimble is like, and it's often met with a puzzled crook of the neck and an 'are you serious" stare. Maybe it's because it has nothing to do with rugby, or because they are used to seeing the serious, physically imposing Irish winger who's on show most Friday nights at Ravenhill. It never crosses their mind that off the field, he might not be the stereotype that often blankets professional rugby players.
It's for these reasons, culminating in the fact he does not take himself too seriously, why I struck up a close friendship with 'Trimby' whilst at Ulster and why he is one of the most popular members of the squad. For me, he is the prime example of the 'split personality' of a rugby player. Had I met him on the street, unbeknown to who he was and had a conversation, the thought of him being a rugby player would never cross my mind.
He would be more interested talking about something else than listing his past achievements and success in his chosen sport. But change the location of a Belfast side street to the hallowed turf at Ravenhill, and you'll witness the transformation of the quiet and quirky to the uncompromising and brutal.
The redeveloped home ground is where the golden locks of his fabulous blonde mullet flap in the breeze as he strides like a racehorse down the touchline for another try for his beloved Red Hand. His Ulster teammates call it the 'red mist', a fictional bubble of gas that consumes him for 80 minutes once a week. Where the polite, conscientious and patient persona is shelved and the angry, fierce, abrasive 'take no prisoners' attitude takes over.
While some professional players find it hard to navigate between their on-field and off-field personas, Trimble seems to have found the perfect balance. He does this by keeping busy off it, through studying, maintaining external interests, as well as giving up his free time to support businesses, charities, and churches in the local community.
I caught up with him the day after he had completed his last exam for the Business Management course he's been partaking in for the last year. Along with Tommy Bowe and TJ Anderson, Trimble took up the course provided by Hibernia College in Dublin. The course, which encompasses four modules, from an introduction of management right through to marketing, was intense and challenging.
He admits it has opened his eyes to how a professional business operates, and has given him a firm understanding and insight into the day to day running of a successful business. "It's quite a broad course, which gives you the options in the future to choose your personal direction. Having a mix of online and on-site tutorials meant that it worked in with my training schedule."
At the same time, he admits that it was tough, often spending late nights in and out of the library. This was compounded in the past couple of months, with the exams looming at the same time as crucial knock-out matches for Ulster in both the Heineken Cup and RaboDirect Pro 12. While predominantly a theory based course, Trimble mentioned that with the help of IRUPA, he will be able to put into practice what he has learnt through the course.
"With the help of Pamela Gilpin, our Player Development Manager, in the future I'll be able to get in touch with mentors and hopefully get a placement, although at the moment I'm not really sure what I want to get into, but it's nice to have options."
I reminded him that he always had the option of reviewing our business plan for a T-shirt business, set out strategically on the back of a Starbucks napkin a couple of years ago, but he politely declined, outlining that the course had given him bigger plans, and highlighted the many holes in what ultimately was a feeble and fragile business plan.
It's okay Trimby, I hadn't been holding onto that napkin for the past 24 months anyway…
Core Gym
As our conversation continued, all the while not mentioning the word 'rugby' at any stage, he spoke with passion about another venture that he has been involved in, in his home town of Coleraine. For the past few months, he's been helping kick-start a local gym within an estate in the area, aimed at promoting fitness, education, and an opportunity for all, but most importantly, the younger generation.
'Core Gym' is an independent training facility, recently opened, and Trimble sees it's potential as being a positive presence in the community, and why he gets up there as often as he can, to help promote the many social, physical, and mental benefits that education and exercising can yield. He said:
It's something that they have just started, and we are hoping that it will be a positive presence in the local community. At the moment I try to get up there to train every so often, but hopefully in the future, I'll take some personal training classes and have a more practical involvement within the gym."
You'd be forgiven to allow Trimble a few weeks off, with all the study and work away from the pitch he does, and especially after the year he has had which ended with a successful tour to Argentina. However he does not complain. He has undoubtedly had his finest year as a professional rugby player, in outstanding form for both province and country, which culminated him sweeping up the Ulster awards as well as the Hibernia College IRUPA Players' Player of the Year.
For myself, his teammates, the coaching staff and Ulster supporters, the personal success of this year had always been coming, it was just a matter of when. He has always been consistently one of the top performers at provincial level, but for whatever reason, form or selection, it had not translated onto the international stage, when everyone saw that he had more than enough in his locker to be one of the great Irish Test wingers. I asked him why this year was the year that it clicked, had he done anything differently this season than in the past. He responded:
I've been asked that question by a few people over the last couple of months, and I still haven't come up with a good enough answer. I guess in the past I have always had a bit of form around Christmas, then being in and out of the Irish setup forces you to lose a bit of form, but this season I was able to maintain it, with a consistent run in the team under Joe."
Many of the players who played under Joe Schmidt at Leinster, have made mention of his skills as a coach and the environment that he provides. One, that he is tough but effective in producing both individual and collective results. An environment that Trimble admits is difficult but ultimately rewarding.
"It's a tough, stressful and an unpleasant environment at times. The training is difficult but it prepares you for the intensity of a test match. It brings the best out of you, and when you take the field, you are confident that you have put in the hours to perform to your best on the day."
It's the liking that Schmidt has shown to Trimble, selecting him in all matches of Ireland's successful Six Nations campaign, that gives him the confidence that he is good enough to perform at this level. "Having a coach like Joe, who has a history of success in the game, like your style of play is a massive confidence builder, he has an astute way of getting wingers into the game, and it suits me perfectly".
So it's been a busy year for Trimble, and after such a long and enduring season, he has deserved a few weeks off after the tour to Argentina. The plan when we spoke, involved a trip to Machu Picchu in Peru. There is that perfect balance again. Rugby boots off, hiking boots on, and probably with a few business text books stuffed in the top of the rucksack, and a notepad, just in case there are a few pit stops along the way."
@adamdarcy played 54 times for Ulster from 2010 to 2013. He is currently with English Championship side Bristol. The article (above) appears in the latest edition of the @IRUPA magazine.