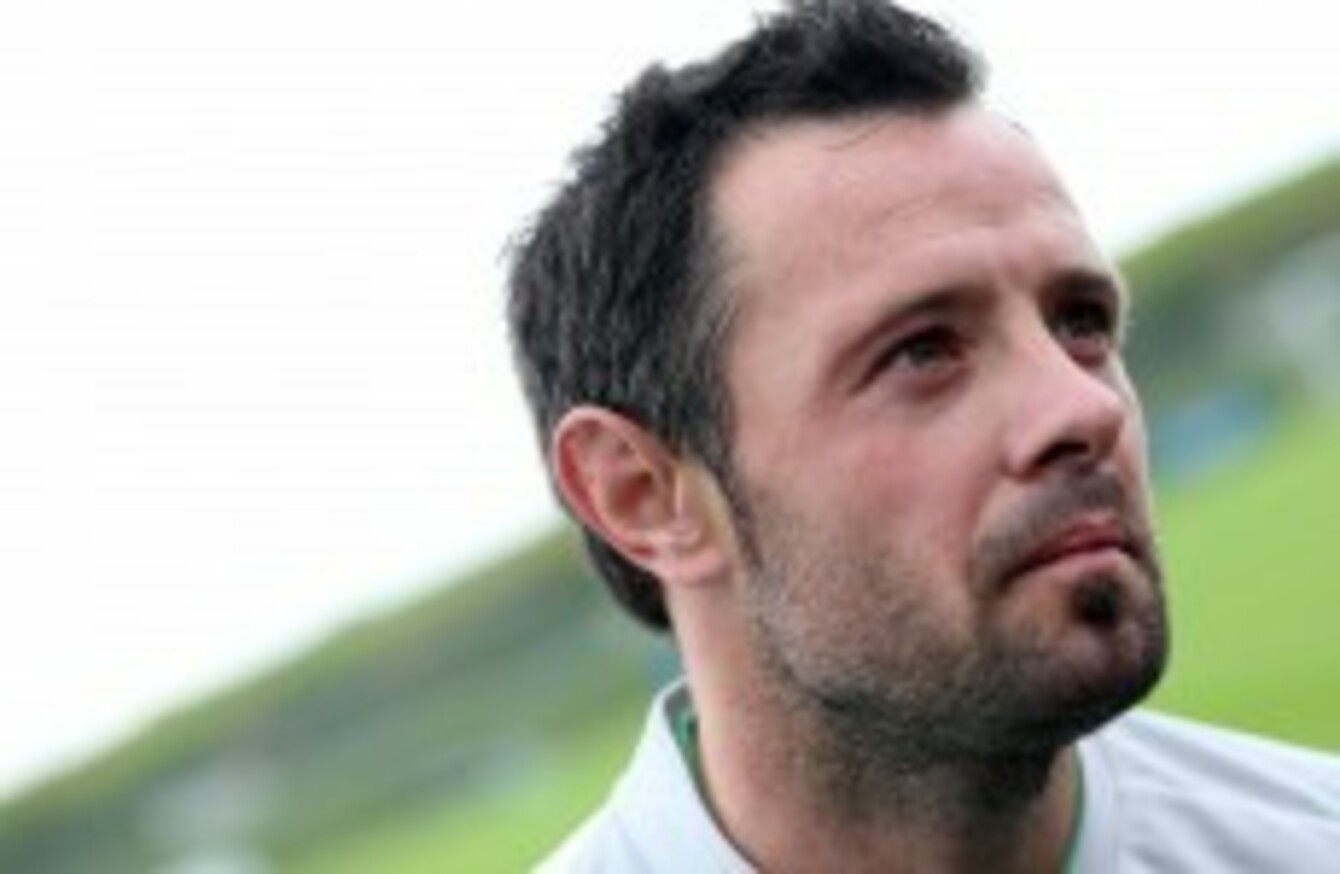 Andy Reid: hoping to win cap number 28 tomorrow night.
Image: INPHO/Donall Farmer
Andy Reid: hoping to win cap number 28 tomorrow night.
Image: INPHO/Donall Farmer
FIVE YEARS IS a long time for an international footballer to be left out in the cold with no possibility of reprieve.
It must seem even longer if, like Andy Reid, you feel that you are playing some of the best football of your career.
"Yeah it is frustrating," Reid admits, "but I came to accept that a long time ago."
When the call finally came from Noel King last month, few argued. The Dubliner has been one of Nottingham Forest's outstanding players this season, an ever-present in the league with five goals already to his name. He was Forest's Player of the Month in August, no small achievement as Billy Davies' side kicked off their promotion push with three wins and a draw.
The excess weight he often struggled with is gone. At training in Malahide this week, Reid looked slim and trim. As fit as he has ever been, he says himself.
INPHO/Donall Farmer
Gone too is the guitar which sparked this whole mess in the first place. When the matter was jokingly raised yesterday, there wasn't much of a smile.
All throughout his long-running disagreement with Giovanni Trapattoni, dignified silence was the default response.
"It has always been a massive honour to play for my country and after the long break that I've had, it is really good to be back with the group and preparing for an international game again.
I suppose there were probably times when I thought it might not happen.

It's never nice but after the first three or four months of not being in the squad I came to accept it and supported my country more as a supporter than as somebody playing.
"I feel I've been playing really well so I felt that I was in with an opportunity of being selected if it was being picked on merit and on performances. I felt I had a chance."
The only reasoned disagreement with King's decision to bring Reid back for the games against Germany and Kazakhstan was his age. At 31, the argument is that his best years are behind him at a time when Ireland should be looking for a fresh start and to the future.
Politely, and understandably, he disagrees.
"I feel I can contribute on the pitch. I feel I can contribute my experience to some of the younger lads coming through.
"Not just in international football, in all kinds of football you need a mix of youth and experience coming through. If I can help some of the young lads and put in some good performances on the pitch myself, I feel I can contribute as much as anybody."
INPHO/Donall Farmer
Whether or not he gets a chance to prove that point, and show Ireland what he feels they have been missing for the last five years, remains to be seen. Noel King won't name his team until shortly before kick-off tomorrow evening and Reid, like everyone else, says he's none the wiser about his starting chances.
You can sense that he doesn't want to field questions about Trapattoni, guitars and the wilderness years. He wants to talk about Germany, midfield shape, and the best possible way to get a result.
But when the questions come up, he answers them all the same.
A lot of lads have been recalled back into the squad and I think it's very important that we don't get wrapped up in all that.
"There's a very important game on Friday night and that's got to be the focus. If we lose focus on Friday night then we have no chance of getting the result that we need .
"If we get wrapped up in all the stuff that surrounds it, we'll take our eye off the ball. I just want to concentrate on the game on Friday night. That's the main thing."