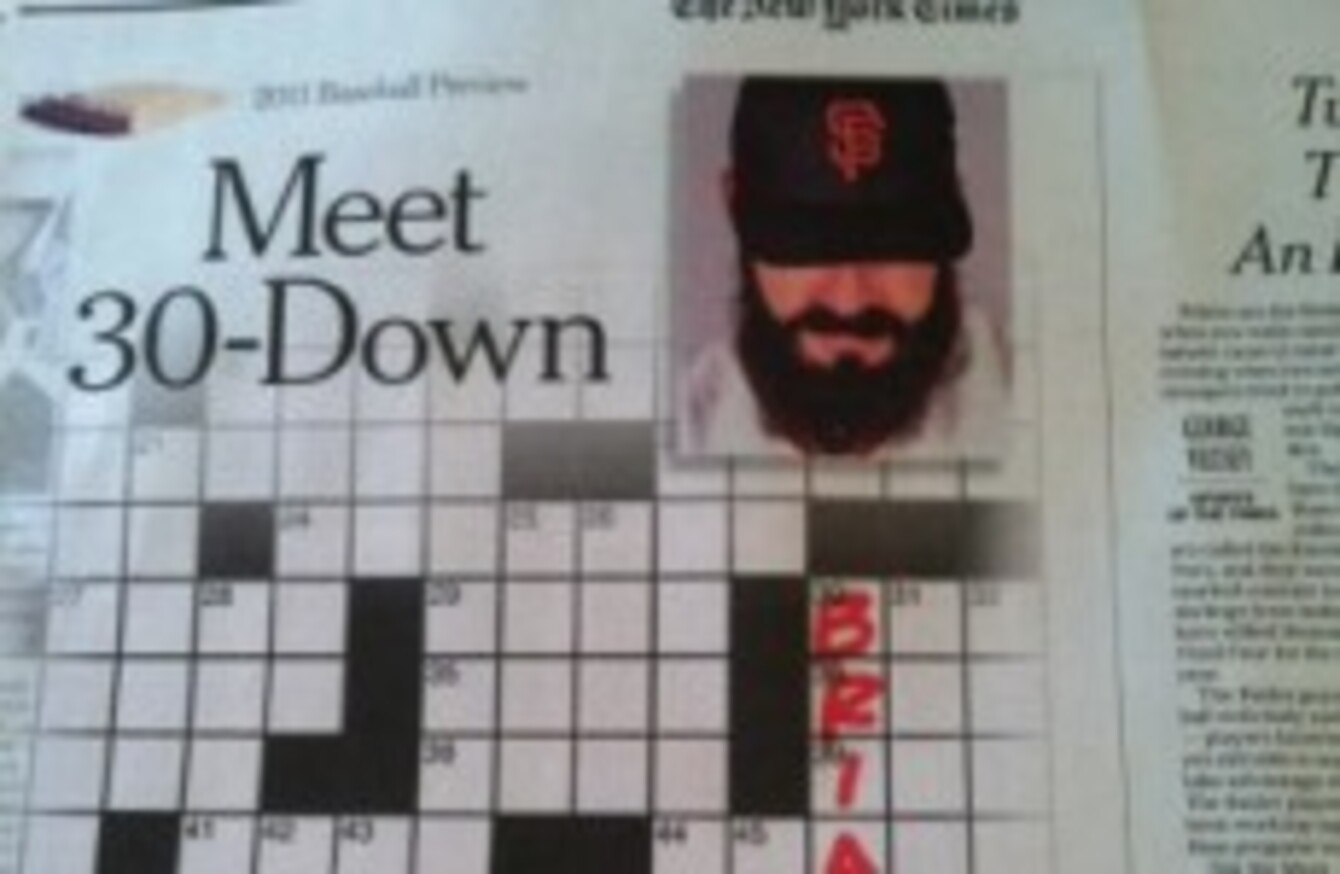 Image: New York Times
Image: New York Times
1. "We must not forget Gary Speed, but we must also acknowledge that his was a different death. Sportsmen pass before their time all too often: of illness, in accidents, by means that are readily explained. There has rarely been an end as painful, or a mystery as unfathomable, as this, however, which is why it must be handled with such care. Remember Speed fondly, by all means, remember the footballer and the man, but do not try to mine some great nobility or meaning from his passing. And, above all, as Doug Stanhope said: don't get any ideas."
Gary Speed's sudden death in early December took the world of football by surprise. In the Daily Mail, Martin Samuel explained why it is imperative that the public discussion surrounding Speed, suicide and mental health be handled with extreme care.
2. "The old man walks clumsily to a table. He has a story. The act of telling it, of having people hear it, keeps him from disappearing forever. One night, he says, he fought Muhammad Ali. Almost won, he brags. Some believe him. Some don't. Most don't care. He's just another wacko wandering the streets with some tale about how his life could have been different. They ignore him, pretending he's not even there. He's got to show them. The old man gets up and throws punches into the air. The people around him laugh. He sits back down, invisible again."
This one comes from the archives, but we were a little bit late to the party and only stumbled upon it this year. Muhammad Ali fought 50 men in his career; only one disappeared. ESPN's Wright Thompson tells the story of Jim Robinson.
3. "Seve Ballesteros was told by a friend: "When the bad times arrive you have to open the umbrella and wait for the rain to stop." Europe's most charismatic golfer died waiting for the rain to cease, and now it is sport that stands there reminiscing, forlorn. Notable sportsmen and women leave us every week, and stock phrases of sorrow are rolled out by people who never met them, but few will depart to so much anguish as Ballesteros, 54, who succumbed to a brain tumour after a three-year fight. His age is especially poignant, because Ballesteros is synonymous with precocity, with a fine bearing and youth.
Seve Ballesteros may have been sick for many years, but that didn't make his death in May any easier to deal with. In the Guardian, Paul Hayward penned a fine tribute to European golf's greatest hero.
4. "Gasore Hategeka bought his first bicycle in 2008. It was a heavily used, Chinese-made single-speed, and it cost thirty-five thousand Rwandan francs—roughly sixty dollars. Gasore, who was about twenty years old, had worked for nearly half his life before he could afford it. His father had once owned a bicycle, and although Gasore told me that he could not remember much from when he was young, he said, "I liked how the bike worked, the device. I remember him carrying me on the bike to work the fields far from our village, and when my father died I thought of the bike." So he felt a calling, or that is how he liked to explain himself. He said, "It was my dream always—it was always in my head, the bike."
We don't normally seek out the New Yorker or Philip Gourevitch for our sportswriting fix, but his profile of the Rwandan national cycling team from July is too good to gloss over.
5. "Arrive at some bar the name of which I still do not know. I see two guys from the golf course I work at, and they're at the best table in the house. We go and sit with them. Guy who was sitting near us at the game brings over a tray of Jägerbombs which we promptly slam. Jared makes himself the bar's official greeter. He stands at the door shaking hands with every person who walks in. People keep bringing us free drinks. Somebody hands me the strongest vodka-cran ever poured. We see a limo pull up to the bar and out steps Francesco Aquilini, the owner of the Vancouver Canucks, his two buddies, and the three hottest girls I have ever seen. They walk in and for whatever reason are drawn to us. We offer them a seat at our table and they sit with us."
As our regular readers will know, we really like US sports site Deadspin; stories like this one are the reason why. As the title says, it's the tale of a Vancouver ice hockey fan who drove 1000 miles for a game, partied with the team's owner, drank with beautiful women, nearly died, and got complimentary tickets for the Canucks' next game. Brilliant.
6. "There have been many occasions in the last few years when I've had cause to curse Brian Cowen, but this weekend, (on behalf of the rest of the Irish people, I'd like to think) I had a chance to even the score. Picture the scene – it's the press box in O'Connor Park, Tullamore.  Half-time between Offaly and Wexford in the Leinster senior football championship, and I fancy a quick cuppa.  On offer – one last remaining slice of chocolate swiss roll. Between me and the confectionery – one former Taoiseach, out supporting his native county.  I'll see you your Universal Social Charge, Brian, and I'll raise you one Central European chocolate delicacy."
All summer long, Newstalk's Ciaran Murphy penned a weekly column for us from his place on the sidelines of the GAA Football and Hurling Championships. He met some interesting figures along the way…
7. "Anton Hysén looks every inch the modern footballer. The 20-year-old Swede has his initials tattooed behind one ear and his parents' names on each forearm. On his left arm, in particularly elaborate lettering, is: "UNWA". This is Hysén's tribute to Liverpool, his birthplace, and the terrace anthem of his favourite club – You'll Never Walk Alone.Hysén, the son of former Liverpool defender and Swedish international Glenn Hysén, is currently walking very much alone. This month, the left-sided midfielder came out as Sweden's first openly gay male footballer. He is only the second high-level footballer to come out in the world, ever. The first, Justin Fashanu, revealed he was gay in 1990, found himself shunned by the footballing world, including his brother, John, and hanged himself eight years later."
In March, 20-year-old Anton Hysén — son of former Liverpool defender Glenn — came out as Swedish football's first openly gay player. Shortly afterwards, he met the Guardian's Patrick Barkham to tell his story.
8. "Brian Wilson, the one-of-a-kind closer for the champion San Francisco Giants, has an abiding interest in crossword puzzles. He said that he started doing The New York Times crossword when he was 12, that he remembered "there would always be a sports star in there" and that he thought that one day he might succeed as a baseball player and then maybe he could be a clue, too. Now he is, just in time for opening day. When Wilson's teammates take the field in Los Angeles on Thursday to begin their season with a game against the Dodgers, it will complete a day that began with his inclusion in The Times puzzle. And just as he requested, he is a down clue, not across, although not, as he hoped, as 38-Down, which would have corresponded with his uniform number."
Baseball's Brian Wilson is quite the unusual character; Google him if you don't believe me. In March of this year, he fulfilled a lifelong ambition; he appeared in the New York Times crossword. The man with the greatest beard in sport spoke to Jason Turbow.