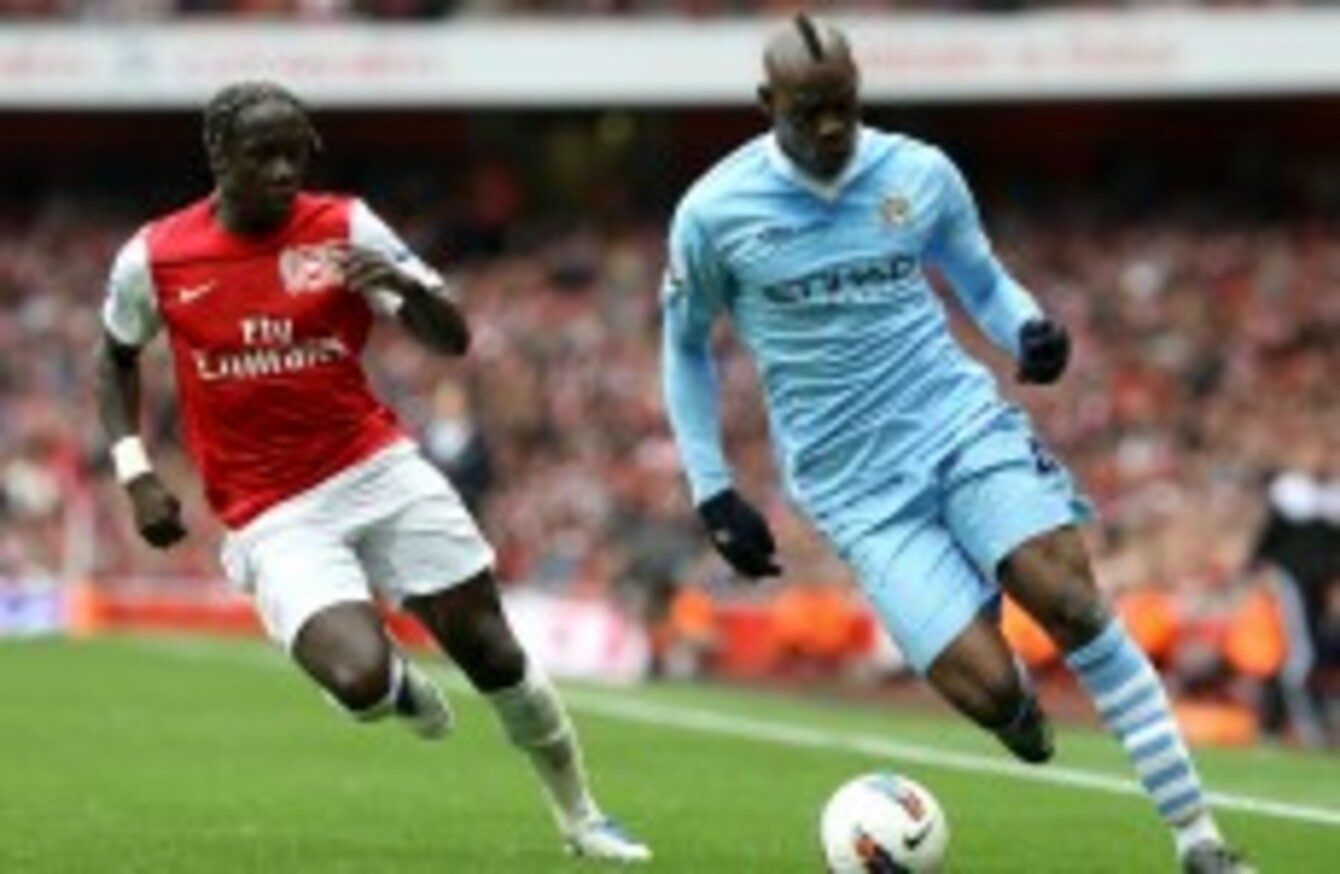 Image: Nick Potts/PA Wire/Press Association Images
Image: Nick Potts/PA Wire/Press Association Images
EVER THE CONTRARIAN, striker Mario Balotelli has pushed back against recent speculation that his most recent Premier League appearance, during which his indiscipline dealt a severe blow to Manchester City's Premier League hopes, would be his last in sky blue.
The Italian's performance against Arsenal culminated in his third dismissal of the season and led manager Roberto Mancini to criticise his impugn his professionalism in a series of charged press conferences.
Pundits and commentators remain convinced the 21-year-old will be jettisoned this summer, but an interview published in Italy's Gazetta dello Sport (parts of which are reproduced on the Guardian website) suggests Balotelli has no intention of leaving either Manchester City or the Premier League.
"My future? I am only thinking about winning the title at the moment. Why are you always talking about Milan and Inter? I am under contract with Manchester City and have no intention of leaving."
Though unsettled during his first year in England, Balotelli has since learned to embrace his independence and follow the example set by his more experienced teammates, even those who haven't always been paragons of professional virtue.
"The Premier League is an experience that is serving me very well. For example, when I was at Inter I called my Mum to solve every little problem. But now I need to work them out myself…

When I arrived here [in the summer of 2010 from Internazionale] I trained to have fun. But from him I have learnt to always give everything, every day. Carlitos is very special and as such we can say that he is very similar to Ibra [Zlatan Ibrahimovic]."
The youngster has also benefitted from the influence of agent Mino Raiola, whose intercession on his client's behalf proved crucial in reestablishing communications with Roberto Mancini following the debacle at Arsenal. Now, Balotelli claims the combustible pair are of one mind.
"I know that he believes in me. After my last sending off he feared a big suspension, so he spoke in such harsh terms [that Balotelli may not play again this season]. But we have sorted things out — I know that he believes in me. As always, after all."