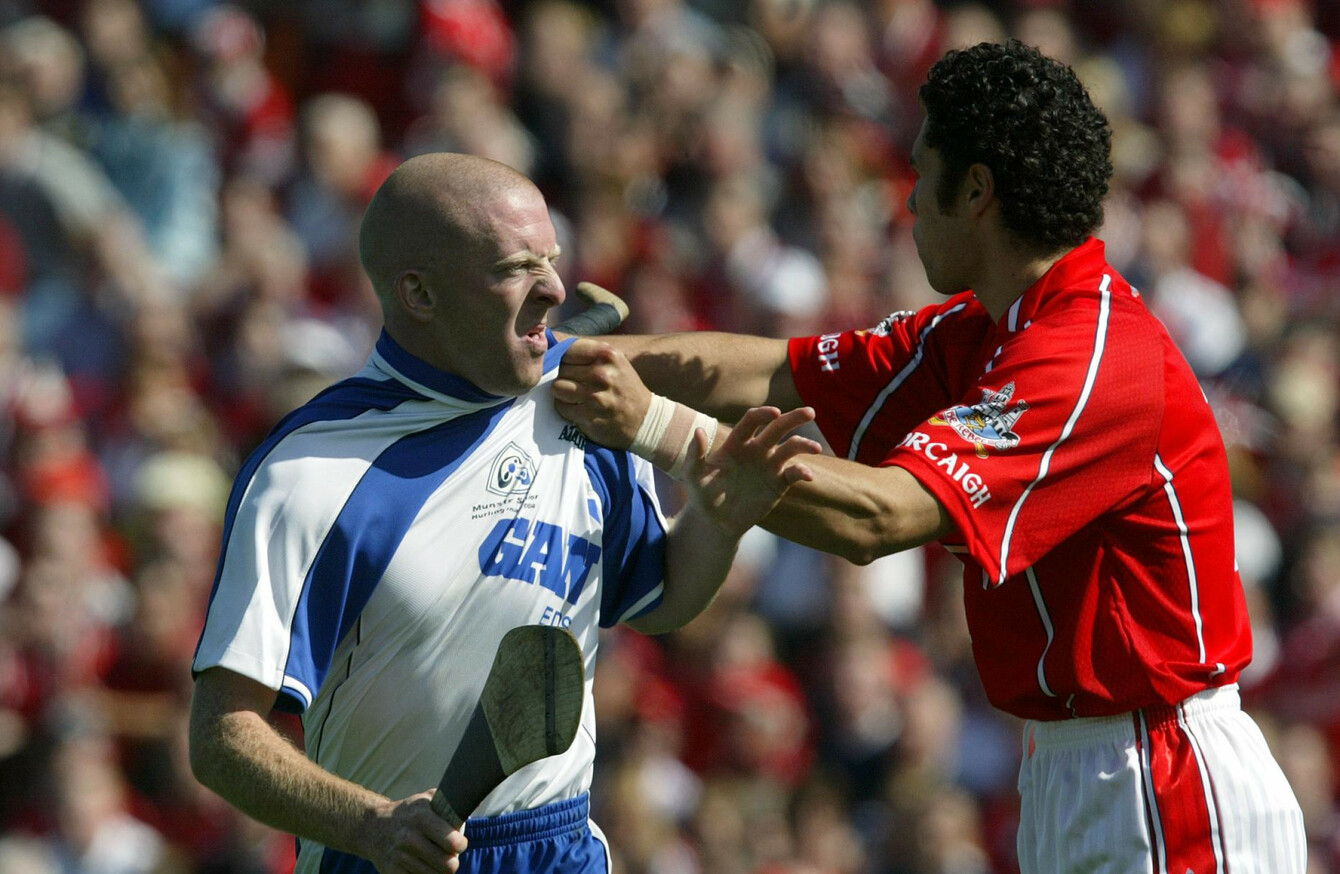 John Mullane before his sending off in 2004.
Image: INPHO
John Mullane before his sending off in 2004.
Image: INPHO
THEY'LL MEET FOR the 55th time in the past 100 years of All-Ireland Senior Hurling Championship action this weekend, so it's little wonder that Cork and Waterford form one of Gaelic games' great rivalries.
Here, we've selected our top-10 but, if you disagree, let us know in the comments section below.
And if you think either the Rebels or Déise will add to these unforgettable moments this weekend, you can put your money where your mouth is here.
1. 'I love me county'
Source: CR's Video Vaults/YouTube
John Mullane is currently making a name for himself as a colourful pundit on national radio.
However, you can probably trace his post-playing career all the way back to the 2004 Munster final when he spoke passionately after watching his team eke out a one-point win over the Rebels despite his second-half sending off.
2. Paul Flynn's long-range screamer
Source: DriftIRL/YouTube
"Only Paul Flynn could think of it" says Ger Canning in commentary and he's probably right.
What makes the effort from 40-yards in 2004 so special is that his side were two points and a man down when he opted to defy logic and go for goal.
But it worked and would prove to be the difference between the sides.
3. Brian Corcoran's ingenuity
You don't see many half-volleys raising the green flag in hurling but, then again, there weren't many players like Brian Corcoran.
A long ball into the Waterford square was kept in play by Joe Deane before he squeezed it back to his team-mate. Corcoran decided the only way he'd score was by dropping the sliotar and curling it into the bottom corner.
Somehow it worked and Cork went on to win the 2005 All-Ireland quarter-final by five points.
4. Super sub Cathal Naughton
It's hard to believe this All-Ireland semi-final was 11 years ago but it was a glorious time for Cork hurling.
On a streak of 12 championship wins in a row, they were going toe-to-toe, score-for-score with Waterford and it looked like the pair wouldn't be separated.
In came Cathal Naughton and, with his first two touches, scored 1-1 which would make all the difference in the end, sending Cork to the final.
5. Stephen O'Keffe's massive bruise
Anthony Nash had been scoring penalties for fun, lifting them at the 21-yard line before striking them at the 13.
In 2014, Waterford keeper Stephen O'Keeffe decided to stand his ground and while he saved his opposite number's effort in a game the Déise would go on to win, as you can see above, it came at a price.
6. Donal Óg proves hurling is a game of inches
Cork led 1-16 to 1-15, three minutes into injury time in their All-Ireland hurling championship semi-final and it didn't look like the Déise would find an equaliser.
However, referee Brian Gavin awarded Waterford a free just inside their own 65 and most of the ground thought Ken McGrath would have the range to level the game up.
But Donal Óg Cusack stuck his hurley high above the bar and stopped the ball from going over to win the game.
7. Dan Shanahan beats Cork and Father Time
He may have been just 33 in 2010 but, by the time Waterford's Munster final with Cork rolled around, Dan Shanahan was reduced to being a bit-part player for his county.
He was on the bench for the drawn first game, but stood up to the mark when the replay went to extra-time, firing home what would prove to be the winning goal.
After the Déise lost their semi-final with Tipperary, the Lismore man called time on his inter-county career.
8. 70 minutes of hurling heaven
The 2004 Munster final might go down as one of the great hurling championship encounters of all time so it should come as little surprise it features more than once.
With the Déise holding the slimmest of leads late on,  Diarmuid O'Sullivan pumped a long ball into the Waterford defence, only to watch McGrath pluck the sliotar from the clouds and secure the narrow win.
9. Aisake Ó Hailpín leaves the Déise defence for dust
Aisake Ó Hailpín may have been overshadowed by his brothers but few who saw this brilliant solo effort in the drawn Munster final of 2010 will forget it.
Having raced through on goal, Ó Hailpín sent Noel Connors into the next county with a hefty shoulder before firing a rasping shot past Clinton Hennessy in the Waterford goal.
10. John Mullane's hat-trick
Source: endadaenglish/YouTube
What better way to prove you love your county than with a hat-trick in a Munster final?
Sadly, Mullane's 2003 treble would prove to be in a losing effort as Cork came out on top by four points, thanks largely to Joe Deane's 1-4 in the game.
Fancy a bet on the All-Ireland SHC semi-final? Ireland's biggest bookmaker Paddy Power have the odds on every market. Check out our All-Ireland Senior Hurling Championship odds here, or simply download the Paddy Power app for iOS or Android. For more tips, insight and the odd star columnist, head over to Paddy Power News.