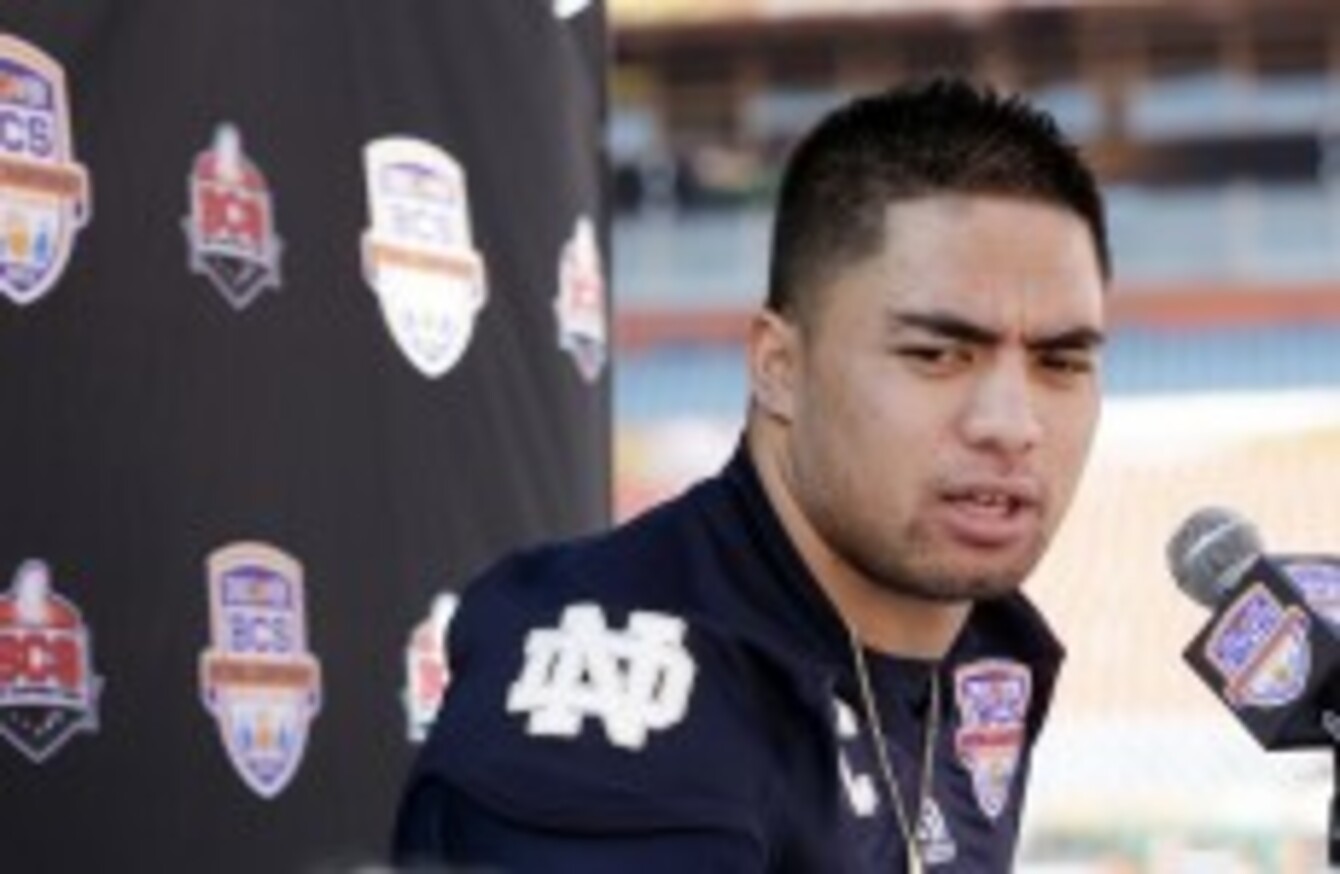 Manti Te'o -- the subject of one of the year's best sports articles
Manti Te'o -- the subject of one of the year's best sports articles
"Having to wear glasses in the first grade was a real turning point in my life. My mother had me tested, and it turned out I was nearsighted, so she made me get glasses. They were so bad. One day I was leaving school at lunchtime to go home and I had some meatballs from the cafeteria wrapped up in aluminum to keep them hot. This guy came up to me and said, "Hey, you got any money?" I said, "No." He started picking my pockets and searching me, and he tried to take my fucking meatballs. I was resisting, going, "No, no, no!" I would let the bullies take my money, but I never let them take my food. I was hunched over like a human shield, protecting my meatballs. So he started hitting me in the head and then took my glasses and put them down the gas tank of a truck. I ran home, but he didn't get my meatballs. I still feel like a coward to this day because of that bullying. That's a wild feeling, being that helpless. You never ever forget that feeling. That was the last day I went to school. I was 7 years old, and I just never went back to class."
"What I'm trying to say here is that we're watching too much football. When was the last time you were genuinely awe-struck in a televised game? Zlatan Ibrahimovic's long-range jujitsu goal against England, perhaps. Players are arguably more technically gifted than ever before – and certainly stronger and faster — but the crucial mystique factor has been diminished. The 1990s drip-feed of foreign talent — when we could only catch a glimpse of Serie A's finest by either watching Gazzetta Football Italia on Saturday mornings or playing Championship Manager Italia morning, noon and night — is unthinkable now, for there's a clasico somewhere on the planet every other night."
"Harry Redknapp delights in telling this particular yarn. Last time he told the story it was on TV show A League of Their Own, at Christmas last year. "There's a guy next to the dug-out," Harry told the host, "and he's got West Ham tattooed all over his arms and neck, he's got the earrings … After two minutes, he started on me." Today, speaking to me in his third one-on-one interview since taking over as QPR boss, he slips into storytelling mode.
'We ain't got that Lee Chapman up front do we – I ain't coming every week if he's playing,'" says Harry, doing his impression of Steve. "Half-time I made five substitutions, and we only had the bare 11 out – I was running out of players. Then we got another injury, so I said to this guy in the crowd, 'Oi, can you play as good as you talk?'"
(Manti Te'o speaks at a news conference – Denis Poroy/AP/Press Association Images)
"Here is what we know about Manti Te'o: He is an exceptional football player. He's a projected first-round NFL pick. He finished second in the Heisman voting, and he won a haul of other trophies: the Walter Camp, the Chuck Bednarik, the Butkus, the Bronko Nagurski. In each of his three seasons as a full-time starter, he racked up at least 100 tackles.
"We also know that Te'o is a devout Mormon. When asked why he picked Notre Dame over Southern California, the school he had supported while growing up in Hawaii, he said he prayed on it. "Faith," he told ESPN, "is believing in something that you most likely can't see, but you believe to be true. You feel in your heart, and in your soul, that it's true, but you still take that leap."
"I had been five months in my room now. I had watched the summer turn into the autumn and then to Winter through my bedroom window. One of the most difficult things was watching my teammates parade through the town after winning the U21 championship through it. That was the real world out there. In here in my room was a living hell. I was now on about 18 tablets a day and not getting better but worse. I was eating very little but the medication was ballooning my weight to nearly twenty stone. I was sent to see another psychiatrist and another doctor who suggested electric shock therapy which I flatly refused. It was obvious to me I was never going to get better. My desire for death was now much stronger than my desire for living so I made a decision."
"A few weeks ago, we finished a Baseball Hall of Fame voting process in which nobody was selected. Not a single guy. Keep in mind, the following stars were eligible: one of the greatest outfielders ever, one of the greatest starting pitchers ever, two of the most imposing sluggers ever, one of the greatest offensive first basemen ever, the single greatest offensive catcher ever, a member of the 500–home run club, and someone who reached base more than anyone in history except for 17 players. None of them made it to Cooperstown. Five were shunned because we were getting back at them — they cheated, they burned us, they let us down. Two were bypassed because of circumstantial evidence — we were pretty sure they cheated, and since they never defended themselves that passionately, they were out. The last guy missed out because of our anger toward the other seven guys, and because a few-dozen holier-than-thou baseball writers keep stubbornly protecting a fantasy world that no longer exists."
(A police car is parked outside the house of WWE professional wrestler Chris Benoit, Monday, June 25, 2007 – John Amis/AP/Press Association Images)
"Chris Benoit's body was ravaged by the strain of 20-plus years of wrestling, of steroid and HGH abuse, of a broken neck he'd had fused, of the relentless compulsion to prove himself. His brain was destroyed by years of diving headbutts that probably concussed him a little every time and of being hit in the head with steel chairs — Benoit was notoriously one of the only guys who would take shots to the back of his head, which is demonstrably more dangerous to your brain. His soul was ferrying the weight of Eddie's death, of Owen Hart's death, of a possibly dissolving marriage. The doctors eventually said that when he died he had the brain of an 85-year-old Alzheimer's sufferer. The weight of all that pain and stress on a dementia-stricken mind. You don't have to excuse what he did to try to make some sense of it.
"The night he killed himself, Benoit was supposed to win the ECW Championship. Which is to say that everything wrestling-wise was good. That nobody saw this coming."
"No one wants to live in fear. I've always been scared of saying the wrong thing. I don't sleep well. I never have. But each time I tell another person, I feel stronger and sleep a little more soundly. It takes an enormous amount of energy to guard such a big secret. I've endured years of misery and gone to enormous lengths to live a lie. I was certain that my world would fall apart if anyone knew. And yet when I acknowledged my sexuality I felt whole for the first time. I still had the same sense of humor, I still had the same mannerisms and my friends still had my back."
"I was carrying a lot of guilt and shame around inside me. On the outside I would put on a face for people around me and pretend everything was OK but inside I was falling apart. I had a lot of things going for me and to be 26 and have no direction on where my life was going was hard to live with. I considered myself to be a failure. I became so unreliable in a lot of areas of my life, let it be work, relationships or football. At the time I convinced myself that I was doing fine but looking back now I was fooling myself. But all the while in the midst of all the madness that was going on in my life I was still able to find time to go to the bookies. It had taken away so much of my life but in a strange way it was the place where I felt I was safe. No matter what was going on in my life this was the place where I could hide away from the world hoping that all my problems would disappear. They never did."
(Sam Vermeylen [Waasland-Bevere] and Mohamed El-Gabas [Lierse SK] pictured during the final of a tournament of the Fifa 2012 computer game — LAURIE DIEFFEMBACQ/Belga/Press Association Images)
"EA expected to sell almost 300,000 copies of FIFA across Europe. But Neil T believed they could do more, and he was right. The game only launched in December, but still shifted almost half a million copies in just four weeks, becoming the best selling game of the year.
"The story doesn't end there, of course. Over the next 20 years, FIFA would go on to become the biggest video game series in the world."
"When you crest a hill half a mile from the warehouse, you pause, turn, and notice the quality of the light, how even in the hard, cold days before Christmas, the weak morning sun turns the smokestacks and factories of downtown Rhinelander into friendly things, peaceful and benign. You think about the most beautiful light in the world, the sunrise behind the barn due east of your mother's house, 65 miles away. No one knows what you think about the quality of light. Few know that you love horses, or that you have plans to breed chickens, or that you long for love, or that you have hardened yourself to never receiving it."
"Frankly, I don't care if I never see a 15-a-side game in Europe. We have difficutly enough getting facilities and sponsorship as it is, so 15-a-side pitches with goals and nets are a long way off.
"I'd much rather see the GAA and the rest of us accept that the way forward is the 11-a-side game that we currently play."
"Why do so many of the world's best distance runners come from Kenya and Ethiopia? The answer, Epstein explains, begins with weight. A runner needs not just to be skinny but—more specifically—to have skinny calves and ankles, because every extra pound carried on your extremities costs more than a pound carried on your torso. That's why shaving even a few ounces off a pair of running shoes can have a significant effect. Runners from the Kalenjin tribe, in Kenya—where the majority of the country's best runners come from—turn out to be skinny in exactly this way. Epstein cites a study comparing Kalenjins with Danes; the Kalenjins were shorter and had longer legs, and their lower legs were nearly a pound lighter. That translates to eight per cent less energy consumed per kilometre. (For evidence of the peculiar Kalenjin lower leg, look up pictures of the great Kenyan miler Asbel Kiprop, a tall and elegant man who runs on what appear to be two ebony-colored pencils.) According to Epstein, there's an evolutionary explanation for all this: hot and dry environments favor very thin, long-limbed frames, which are easy to cool, just as cold climates favor thick, squat bodies, which are better at conserving heat."
(Former Real Madrid coach Jose Mourinho pictured during a press conference — Arturo Rodriguez/AP/Press Association Images)
"How did Rodríguez become Mourinho's American good luck charm and end up meeting Sir Alex Ferguson, Cristiano Ronaldo, Diego Maradona, Mesut Özil, Kaká and Javier (Chicharito) Hernández? For the past seven years, Rodríguez has taken two weeks of vacation every summer to work for free chasing down errant balls and doing support work for Mourinho's teams when they train in Los Angeles in the preseason.
"It's no small effort. Every day during his unpaid "vacation," Rodríguez leaves his house in Fontana, Calif., at 5 a.m., drives to the UCLA training site and spends the rest of the day setting up the practice field and helping with anything Mourinho and his staff need. He arrives home at 11 p.m., gets a few hours of sleep and starts over at 5 a.m. the next morning."
"Brolly is different too in his attitude to the game on which he expounds. Hook and Dunphy claim to be great lovers of the game, and make much of having seen an exceptional display by a brontosaurus at stand-off half/the hole behind the front two back in old God's time, and it's a perpetual disappointment to both men that none of these modern Jessies can fill that brontosaurus's admittedly enormous boots.
"Brolly doesn't really do that schtick. Brolly talks about football and he knows about football but he keeps it in its context, as only a game. As only one part of the rich tapestry of life. And Brolly's donation of a kidney to someone he hardly knew last year is proof that Brolly does see the big picture and, in that big picture, surely walks with the angels."
"So what's next when you're 25 and every one of the races on the wish list you drew up as a youngster has been won and crossed out? You dream up a new challenge. Last year Jornet began what he calls the Summits of My Life project, a four-year effort to set speed records climbing and descending some of the world's most well known peaks, from the Matterhorn this summer to Mount Everest in 2015. In doing so, he joins a cadre of alpinists like Ueli Steck from Switzerland and Chad Kellogg from the United States who are racing up peaks and redefining what's possible. In a way, Jornet says, all of his racing has been preparation for greater trials. This month, he is in the Himalayas with a couple of veteran alpinists. They plan to climb and ski the south face of a peak that hasn't been skied before in winter.
"But bigger challenges bring bigger risks. Less than a year ago, Jornet watched as his hero and friend Stéphane Brosse died in the mountains. Since then, he has asked himself, How much is it worth sacrificing to do what you love?"
(Lamberto Boranga is interviewed after a game — YouTube screengrab)
"Boranga was born in 1942, just like Italian goalkeeping legend Dino Zoff, who was, and still is, the oldest-ever World Cup winner when he lifted the trophy in 1982 at age 40. Both Boranga and Zoff retired in 1983, but while the latter left the pitch for good, the former made a comeback three times, and now regularly plays in Italy's regional division.
"The first time Boranga was asked to put his gloves on again was at the age of 50. Bastardo, a tiny team from a town near his home town of Foligno, had both their regular goalkeepers out injured, and Bongo couldn't refuse. He played well, conceded a single goal, and realised he was still in good shape."
"Vince has this saying, and I hate when I quote him because it makes me feel like he's right, but everything we do is storytelling. You can't keep people way up here the whole time. You've got to sit people down to make them stand back up. Otherwise they get tired of just standing up. There's a reason there was a popcorn matchup during intermission during the old days, to get people back in their seats. It's crowd interaction. When you don't have that, when you give them a match where they are physically screaming for 30 minutes, you can't keep it going. They have to exhale at some point. And if you don't give them that, you hurt the overall flow of the show. Nothing we do exists by itself."
"Historically, cricket was the game that British writers learned at public school. On a summer's Saturday in London around 1900, you could have stood on various boundaries watching Arthur Conan Doyle (creator of Sherlock Holmes), AA Milne (of Winnie the Pooh), PG Wodehouse (of Jeeves), EW Hornung (of Raffles) and JM Barrie (of Peter Pan as well as of the Allahakbarries cricket club) playing for overlapping teams. The teatime repartee over cucumber sandwiches must have been decent. Decades later, Harold Pinter and Tom Stoppard played together on those same London fields.
"Yet none of them wrote about cricket in a serious fashion. Neither did Samuel Beckett, a life-long cricket nut who played two first-class matches for Dublin university. Philosopher AJ Ayer did write football match reports for The Observer in the 1950s, but he seems to have treated this as a vacation from thinking. His favourite opening line: "The match kicked off at 3.00pm prompt."
(Neymar celebrates winning the Confederations Cup with his teammates — Victor Caivano/AP/Press Association Images)
"At 21, Neymar has already scored 161 goals for Santos, Brazil, and now Barcelona. It's a phenomenal number: twice as many as Romario had scored at the same age, and three times as many as the 21-year-old Cristiano Ronaldo.
"Neymar, the prodigy, is also ahead of where Messi was at 21. He has played with successful teams, winning his state championship, his continental championship, and most recently the Confederations Cup with Brazil. He was named best individual player at that tournament, adding to a hoard of individual awards: top scorer in Brazil, Brazilian player of the year, twice South American player of the year, FIFA's Puskás Award for the best goal scored anywhere in the world in 2011, a finalist for that same award in 2012."
"This was the first big prize fight I had ever seen in person, and I loved everything about it: the smell of cigar smoke, the palpable tension surrounding a big event, and the growing buzz of the crowd in anticipation of what was to come, as one fight after another on the undercard concluded, all leading to the main event. There was the dramatic ping-ping of flashbulbs popping, and the silence that befell the huge arena as everyone waited for the fighters to make their way down their respective aisles, toward the elevated ring and its plush ropes. All of it felt irrecoverably, deeply primal, though I feel pretty sure that, at the time, I didn't know what "primal" meant. But I would soon find out."
"In 2007, when Spain's economy was at the height of its construction-led boom, around 2,700 official bullfights took place across the country. This year, Rueda reckons, there will be fewer than 500.
"Big cities such as Madrid, Seville and Valencia are maintaining their traditional summer festivals, albeit with fewer ticket sales. But for the thousands of smaller towns that also have bullfighting traditions, such as Moralzarzal, it's getting harder to justify paying for the bulls, bullfighters and all the organization that accompanies a week-long fiesta.
"The local authorities happily subsidized the events several years ago, but now fewer and fewer can afford to."
"Breasts have taken a metaphorical beating from the sports world ever since women first entered the arena. Greek folktales spun the myth that a race of all-female Amazons lopped off the right breast in order to hurl spears and shoot arrows more efficiently. (In Greek, a-mazos means "without breast.") Centuries later, in 1995, CBS golf analyst Ben Wright controversially told a newspaper that 'women are handicapped by having boobs. It's not easy for them to keep their left arm straight. Their boobs get in the way.'
"Wright's commentary wasn't exactly the result of careful scientific review. ("Let's face facts here," he opined in the same interview: "Lesbians in the sport hurt women's golf.") But what if he had a point? Research shows a typical A-cup boob weighs in at 0.43 of a pound. Every additional cup size adds another 0.44 of a pound. That means a hurdler with a double-D chest carries more than 4 pounds of additional weight with her on every leap. And when they get moving, the nipples on a C- or D-cup breast can accelerate up to 45 mph in one second — faster than a Ferrari. In an hour of moderate jogging, a pair of breasts will bounce several thousand times."
(Karen Walton and Peter Robinson, the mother and father of schoolboy Ben Robinson, speaking to the media in Belfast city centre after an inquest into his death — Paul Faith/PA Wire/Press Association Images)
"The coroner said Ben was the first person in the UK to die of Second Impact Syndrome while playing rugby. Karen, whose life has been shattered, says she is certain Ben will not be the last. "Will this happen again?" she asks. "Yes. I would say without a doubt another family will go through what we have been through." Since 2006, at least five children and one adult have died, worldwide, from brain injuries suffered while playing rugby. Second Impact Syndrome is rare. Concussion is not. Neither are the injuries it causes.
"Karen's house is silent, but the silence speaks. It tells its own story. Of a boy's death and a family's grief. It tells the story of a sport in denial about the risks being taken by those who play it, struggling to square the blood, guts and glory attitude of its amateur days with the brutal power of the professional game, and riven with disagreement about how to deal with its single most important issue — concussion."
"King speaks of himself as a transformative figure, someone who through sheer intellect, hard work, and determination overcame racism, both overt and institutional, and brought millions of dollars and international adulation to the young black men he promoted. All of this is undeniably true. But Don King's PR problem is that we don't see him as a civil-rights pioneer. We see him as a gangster — and as a gangster, he must adhere to the strict ethics of a gangster movie. He stole, without a hint of mercy or contrition, from his own people.
"There is no forgiveness for the hypocritical gangster."
You can read numbers 26-50 tomorrow on TheScore.ie