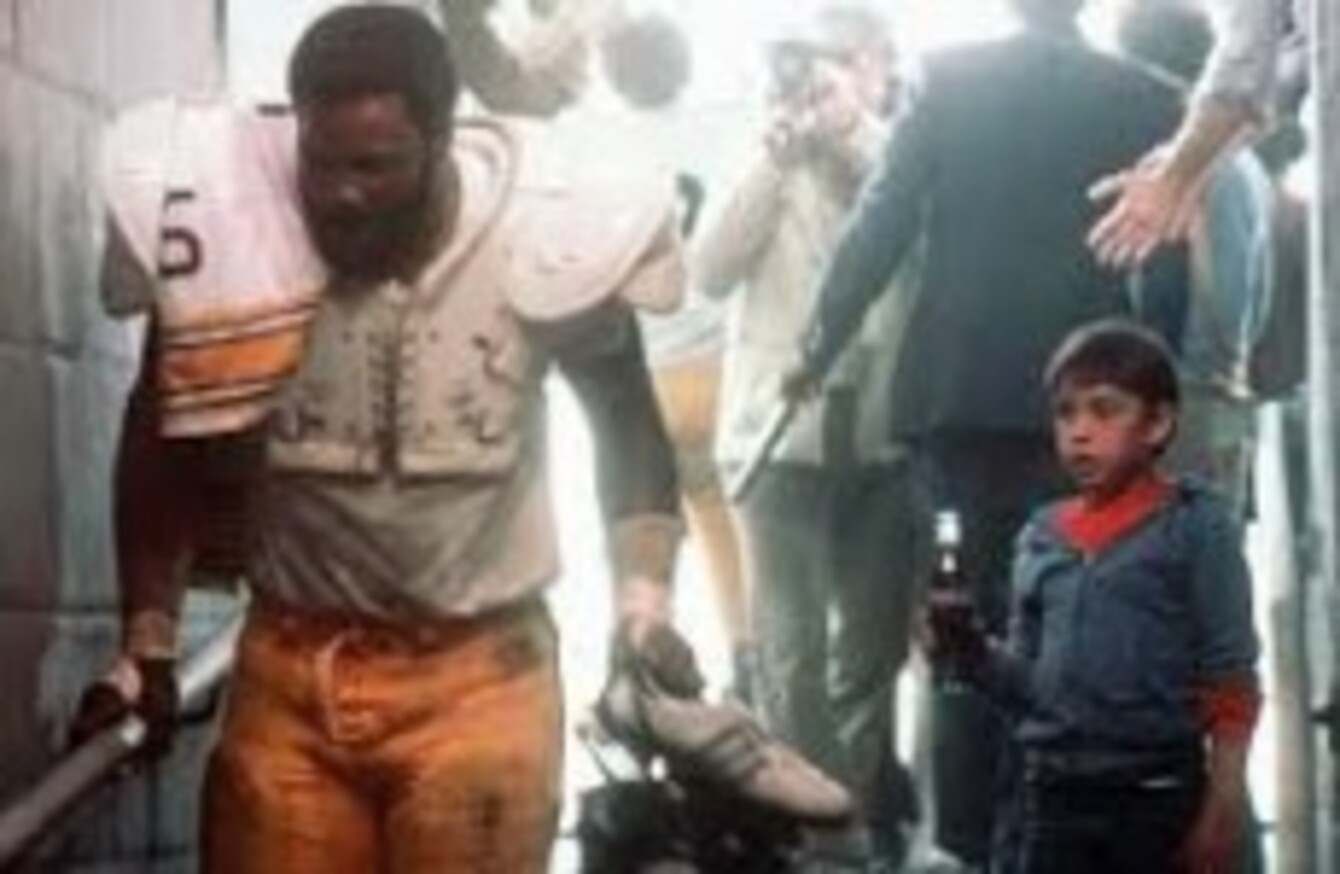 Hey kid, catch!
Image: YouTube Screengrab
Hey kid, catch!
Image: YouTube Screengrab
FOR THOSE OF us who love the NFL, the Super Bowl is about football. However, the NFL's showcase event is also a pop-culture phenomenon and as many people care about the entertainment — from who is performing the half time show to how long the US national anthem is going to be — as they do the game.
One particular side of the Super Bowl that seems to capture the imagination of the general public are the adverts that air during it.
These ads aren't cheap — a slot this year is reported to cost $4 million — so the production values tend to be higher and storylines more developed than a normal commercial.
So here, after much deliberation, are TheScore.ie's favourite Super Bowl ads of all time.
5. Apple Macintosh — 1984
YouTube: Robert Cole
This is terrifying. To quote Charlie Brooker, in 1984 Apple introduced a nightmarish version of the future in which a mute population gwaps hypnotised at giant screens. And, thanks in part to Apple, that future never arrived and now their adverts depict a nightmarish version of the future in which a mute population gwaps hypnotised at small screens.
4. Budweiser — 2013
YouTube: lily baumont
Of course it's Budweiser and they've had loads of ads with horses over the years but this one is brilliant. Celebrating the lost love — not that kind — between a man and his horse, the final scene has left many in TheScore.ie asking who was chopping onions.
3. Pepsi — 1992
YouTube: vish79
This ad couldn't be more early-90s if it tried. Obnoxious sports car? Check. Jean shorts? Check. Cindy Crawford? Check. And yet, for a generation of American football fans, this is one of the most iconic Super Bowl commercials thanks, in part, to the unexpected twist at the end.
2. Volkswagen — 2012
YouTube: FeaturedBestVideos
This was one of those ads that permeated the general populace to the extent that most of the people who watched the Volkswagen kid try to channel his inner Darth Vader probably had little or no idea that it was the German car brand's Super Bowl spot. A lot of people are, rightly, quite cynical about the use of Star Wars in commercials but this was almost perfect.
1. Coca Cola — 1980
[embed id="embed_5"]
YouTube: stiggerpao
Debate raged over whether or not this actually qualified for inclusion — it originally aired a few months before the Super Bowl — but it came to worldwide attention during Super Bowl XIV — and I'm writing the list so I'm including it. Over the years the 'Mean Joe Greene' ad has been parodied by shows as diverse as House and Sesame Street showing it's almost universal appeal.
Notable mentions to Reebok's Terry Tate, Office Linebacker, McDonald's Michael Jordan v Larry Bird Showdown and the Budweiser frogs.
What have we missed? Loads I'm sure. Let us know your favourite Super Bowl ads in the comments below.