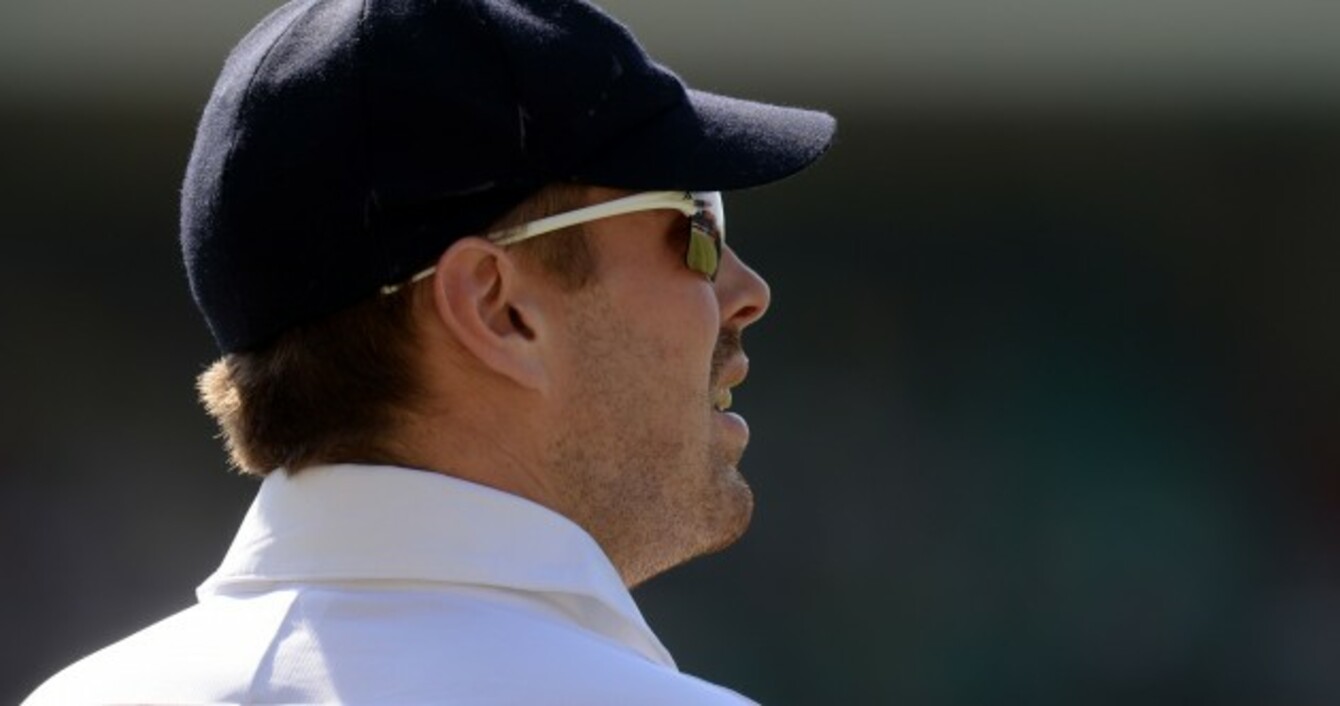 After playing eleven times for England, Boyd Rankin is back in the green of Ireland.
After playing eleven times for England, Boyd Rankin is back in the green of Ireland.
DEFECTION. BETRAYAL. DESERTION. Call it what you want, cricketer Boyd Rankin has heard it all before. He's learned to take no notice of it and doesn't care much for outside opinion.
It's the second week of January and he's just returned to Birmingham, where pre-season training with his county side, Warwickshire, has resumed after the Christmas break. There are only a handful of weeks until the new season starts so fitness testing begins on Monday.
Rankin will have little to worry about. He spent the festive period on the family farm in Bready, managing the herd of cattle and sheep and lending a hand wherever needed. If he's home, he's out in the fields at seven in the morning.
He's proud of where he comes from and has made no secret of his desire to return to the farm when his career comes to an end. Home is very much where Rankin's heart is.
And home has always been Ireland – and Rankin has always been a proud Irishman. There are those who think otherwise and it can be hard to dispel those beliefs given the path his career has taken.
Rankin's decision to follow the trail blazed by Ed Joyce and Eoin Morgan and switch allegiances to England caused controversy, and fueled the condemnation.
As was inevitable, those on the outside looking in, branded him a traitor for turning his back on his country. The sight of Rankin wearing the Three Lions rankled with some, it still does, as the fire was stoked by political and Anglo-Irish undercurrents.
But above all it was frustration. Frustration that he needed to abandon his dreams with Ireland to pursue his ambitions of playing the sport at the highest level. Frustration that England, the governors of the game, are allowed cherry pick Irish born and nurtured players to enhance their own cause.
Yet for Rankin, and indeed Morgan and Joyce, the motivating factor was, and has, been to play on the game's exalted stage. Put simply, Ireland couldn't offer that. England could.
There will be some who understandably question a player's motives for switching allegiances and then performing a u-turn but rightly or wrongly, cricket allows that. The option was always there for Rankin to return to the green of Ireland, once he served a two-year requalification period.
His form last summer hinted at a possible recall to the English side and he always maintained hope of working his way back into the reckoning. Those hopes were abandoned when another squad announcement came and went and the door opened for Cricket Ireland.
"I felt it was the right time to come back to Ireland," Rankin admitted to The42. "It's been in the pipeline for a while and I always knew I wanted to return but it was a matter of when and waiting for the right moment.
"It's an important couple of years for Irish cricket and I love wearing the green jersey. People can think what they want and I know I can't please everybody. I've always said from the start that I wanted to achieve the most I could and that was play Test cricket.
"That chance was offered to me by England and every true cricket person and fan will see that and understand the motivations. Some people will be unhappy with me coming back but so be it."
Shortly after his switch was confirmed, the 31-year-old expressed his delight on Twitter. He also thanked those who helped him during his two years in the English set-up but not everyone was as amicable.
At 6 foot 8 inches, not many of the detractors would dare say anything to Rankin in person. His high, bouncy action and searing pace instills fear in opponents yet he is a gentle giant in every sense of the word.
At no point during the conversation does he convey any sort of irritation towards those sending him nasty comments on social media or others who criticise his motivations and loyalty.
Rankin is an unassuming, humble character of a level-headed disposition. A wise head on strapping shoulders, he doesn't flaunt his money or launch himself into the public domain. He's remained grounded and always been the boy from Bready.
It's either farming or cricket in the Rankin household. His family is steeped in cricketing tradition with his father heavily involved in the nearby Bready Cricket Club for decades.
Indeed cricket is like a second religion in the north-west of Ireland. Rankin was first introduced to the sport at a young age and showed early promise. He would move to England at the age of 18, although the primary reason was to study for an agricultural degree at Harper Adams University in Shropshire.
He would play 82 times for Ireland between 2003 and 2012 but after his England debut in Dublin in September 2013, few would have envisaged a return so soon.
He would take four wickets on that occasion and along with Morgan, who scored a consummate century, deny Ireland another landmark win. It was an afternoon when all the realities were laid bare and the faults of the system were highlighted.
"It was surreal, the most bizarre feeling ever," he recalls. "I would never want to be in those circumstances again. I was trying to take all the emotion out of the occasion and just bowl but it's hard to forget who's at the other end."
From there, it went downhill. He was thrown into the deep end during the ill-fated Ashes tour Down Under, entering the furnace at the Sydney Cricket Ground, and wasn't given a second chance to prove his worth.
By his own admission, it couldn't have gone much worse. He wasn't fully fit and suffered a back spasm on the eve of the game and was afflicted by nerves and cramp during it.
In the aftermath, he questioned his future in the game, wondered if there was any way back.
"It wasn't a nice experience," he recalls. "It was a setback. The couple of months after I was left to reflect on it. It was more disappointment that I didn't show what I could do and I knew I had a lot more to offer.
"It happened though and it was the way it was meant to be. I learned from it and have moved on. I would love to change what happened because I feel I didn't get a fair crack of the whip.
"I do look back and think what could have been but I have no regrets. I always believe things happen for a reason."
As Rankin found himself in the international wilderness, Cricket Ireland maintained a channel of communication with him. John Bracewell identified bringing him back into the fold as one of his priorities when he succeeded Phil Simmons as head coach last May.
"From the moment I spoke to John, I knew they were keen to have me," he explains. "I spoke to Porty [William Porterfield] a lot about it and only heard good things about what was going on.
"I love Irish cricket. I'm still friendly with many of the lads, I know all the faces and have experienced the best moments of my career in that dressing room."
On Tuesday, Rankin will join the rest of the Irish bowlers on a flight to Australia. His first assignment back in Ireland colours will be the Intercontinental Cup fixture against Papua New Guinea later this month.
"Things have changed but I'm confident I can slot back in easily," he says. "There are a few younger lads now who I've never met and hopefully I can lend them advice too. I know what I can offer and if I didn't feel passionately about it I wouldn't be back.
"It's no secret the team has been lacking something in the bowling department for a while so I hope I can bring something different and use my experience to help Ireland.
"I've learned a lot from my time within the England set-up and have matured over the last few years. I've moved on from what happened and now my focus is on Ireland and getting them to where we want to be.
"I've always given 100% in whatever game I've played. I take a lot of pride in my performance and I have nothing to prove to anybody. It doesn't matter what England do anymore, it makes no difference. I've moved on."
Rankin will spearhead Ireland's bowling attack, which should also include Tim Murtagh who recently came out of T20 retirement. After emphatic wins over UAE and Namibia, Bracewell's side are in a strong position in their quest for Test cricket.
Rankin's return, with the new ball in hand, is a major fillip for Ireland at a time when their pace bowling has undoubtedly been their weakest suit.
"I don't know how I'll feel," he says of wearing the shamrock for the first time again. "I feel more comfortable playing for Ireland. There is a great unity in that dressing room and always has been. It's different to any other team I've played in.
"Everyone is in it together and I can't wait to get back into that environment. There's more pressure now but I don't feel I have to make it up to anyone or I'm not going out to show anyone what they're missing.
"I'm going out to do what I do every day. I love cricket and love playing for Ireland. One of the primary reasons why I came back was to get this team to where we wanted to get to when we started this journey back in 2007.
"There's still work to be done and there's a carrot there dangling for us but we're all working towards ensuring that the situation I found myself in doesn't happen again."