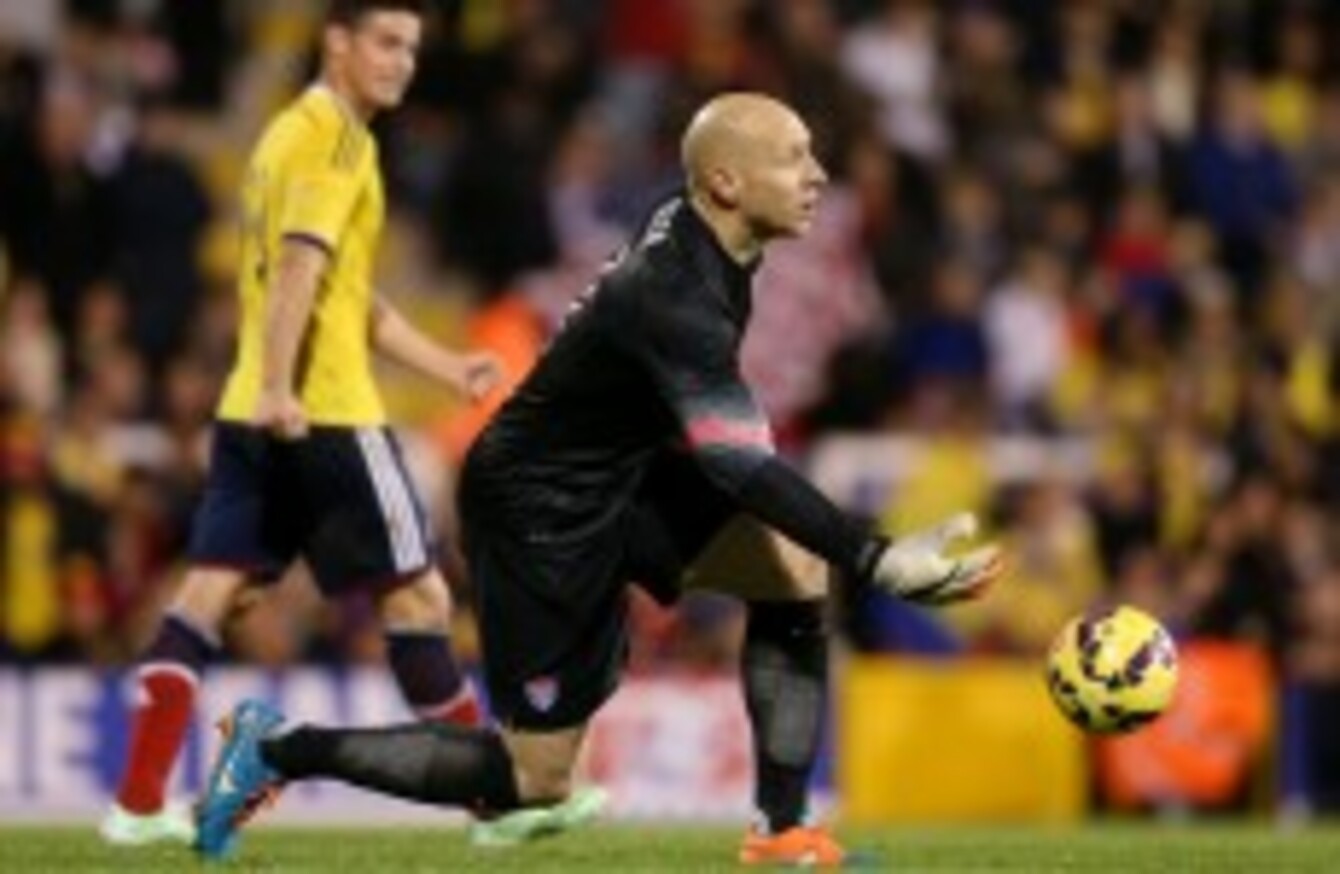 Guzan during Friday's 2-1 defeat to Colombia.
Image: Scott Heavey
Guzan during Friday's 2-1 defeat to Colombia.
Image: Scott Heavey
US AND ASTON Villa goalkeeper Brad Guzan believes the Premier League club are lucky to have Roy Keane as part of their backroom staff.
Guzan and Keane know each other well from working at Villa this season but will be in opposing dressing rooms tomorrow evening when Ireland host Jurgen Klinsmann's team at Aviva Stadium.
Yesterday, the Ireland and Villa assistant was caught up in a row with members of the press after being asked whether he was becoming a distraction for the international set-up but he is highly-regarded by Guzan, who has praised his winning mentality.
"He's a passionate person," Guzan told reporters today. "He wants to win and be successful so for me working with him at Villa for the last couple of months (has been good).
"It's all about having good characters in the dressing room and people that want to win. I think when you put those people in a room, good things come from it.
"We all know the type of person that he is. For me I've been lucky to work under him and some other great managers and assistant managers. You want winning characters and people that want to be successful — especially coming from the coaching team.
"He brings his passion and his intensity, whether it's in training or matches. And that's important because you need that, especially in the Premier League. With one slip-up or mistake you get punished. So you try to continue to get better and he brings that to our team."
Guzan has also been able to watch the development of club mate Jack Grealish closely this year and he is hopeful that the young Ireland U21 winger can fulfill his potential.
"I think he has got all the quality and all the attributes to continue to push on in the right way," he added. "I think eventually he will start to show that.
"You see glimpses of it in training down at Bodymoor Heath and that's exciting but at the same time he's still a young kid. If he continues on the right path, he'll be just fine."