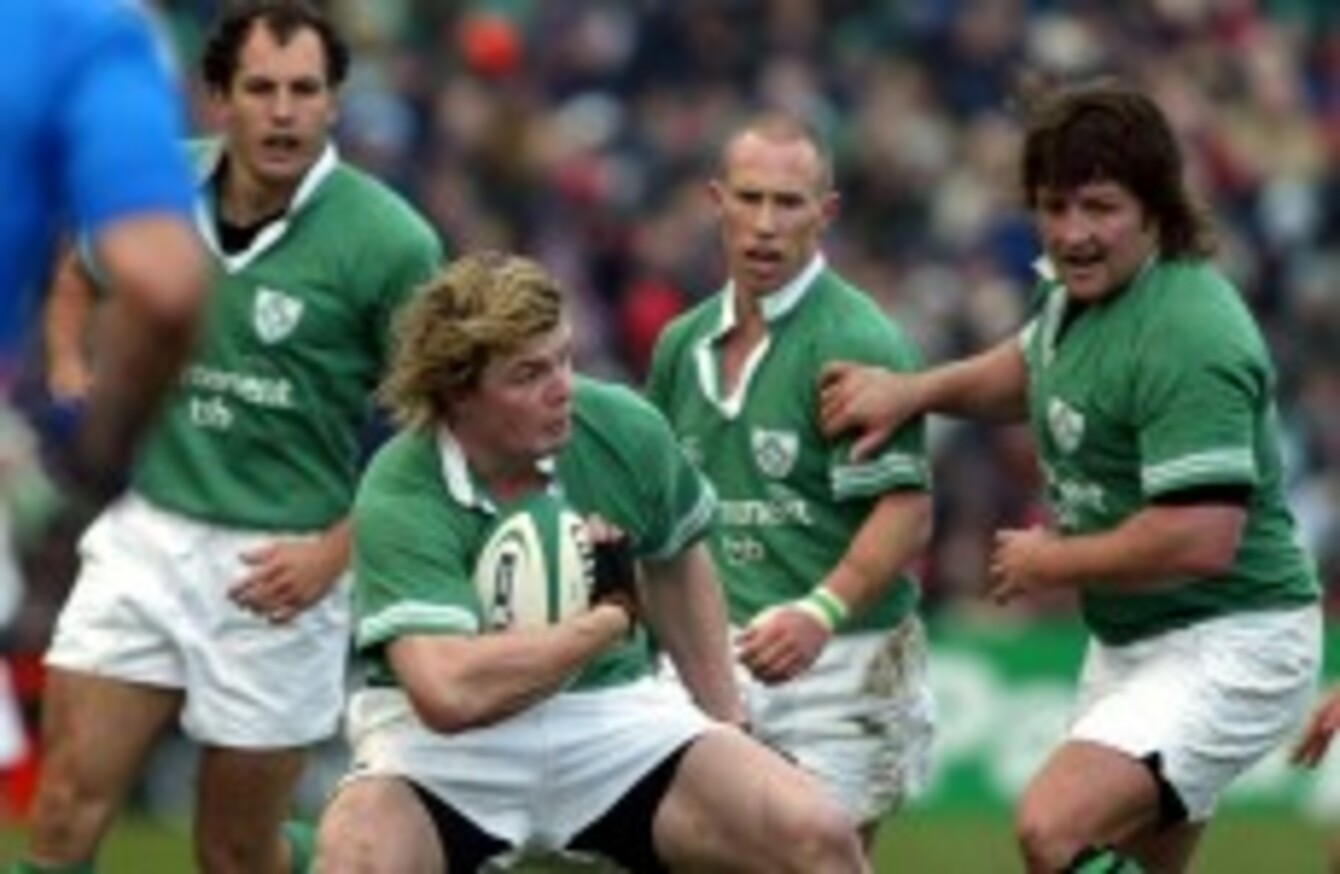 Brian O'Driscoll makes a move in 2004 as Shane Byrne (r) looks on.
Image: ©INPHO/Andrew Paton
Brian O'Driscoll makes a move in 2004 as Shane Byrne (r) looks on.
Image: ©INPHO/Andrew Paton
THE MINUTE JOE SCHMIDT said he would coach Ireland, you'd have thought that Brian O'Driscoll would be convinced to play another year.
It certainly would have left a bad taste in the mouth if he had to hang up the boots after he got that yellow card against Italy and with Ireland not playing well.
I'm really looking forward to seeing what Joe Schmidt can bring to the Ireland set-up. It's a good squad, with plenty of talented young players and not too many holes in it. If Schmidt can freshen things up in there and bring his vision to bear, it could be a very exciting season.
You can be damned sure that Brian and Joe had a long talk about him staying on for Ireland. For his first season in charge of Ireland, Joe will rely on anchors of the team like Brian and Paul O'Connell.
O'Driscoll, as we all know, is the ultimate combatant. He'd like to finish on his own terms and I'm sure a successful Six Nations, even a Grand Slam, would be in his sights.
We'd hate to see anything happen with him. He could end up limping off the pitch in the middle of next season and his career could end that way. That's the ultimate gamble but Brian is aware of that.
I would have been more than happy to see him retire after a successful Lions tour in Australia.
He is becoming more and more of a danger to himself as time goes on. He is throwing his body on the line more often in recent years. The back spasm [that sees him miss the Challenge Cup Final] is something that happens to a lot of players and, while it can come and go within days, it often arises due to fatigue.
O'Driscoll's legacy
From his exploding on the scenes in the late 90s to today, he has been at the top of the world game. He, unusually, made his first senior appearances for Ireland before Leinster.
We all remember the hat-trick in Paris. That was the day he announced himself to the world.
For various reasons, whether it was form, injury or age, people have been writing him off for years but, as the eternal player and professional, he has reinvented his game. The respect that he is held in around the world is huge. He has been through it all and stood up to be counted against every single player that has been held up as the next man to find him out. It never happens.
I'm sure he did not take the decision lightly. When children arrive [Brian's daughter Sadie is three-months old], it has more of an influence on your thinking than you would think. Family life is very important to him so, once he got their blessing, staying on for one more year was never in doubt.
*Shane Byrne's publication, Club Rugby Magazine is available monthly in the Irish Independent. Follow the magazine, and all the latest rugby news, on Twitter @ClubRugby1