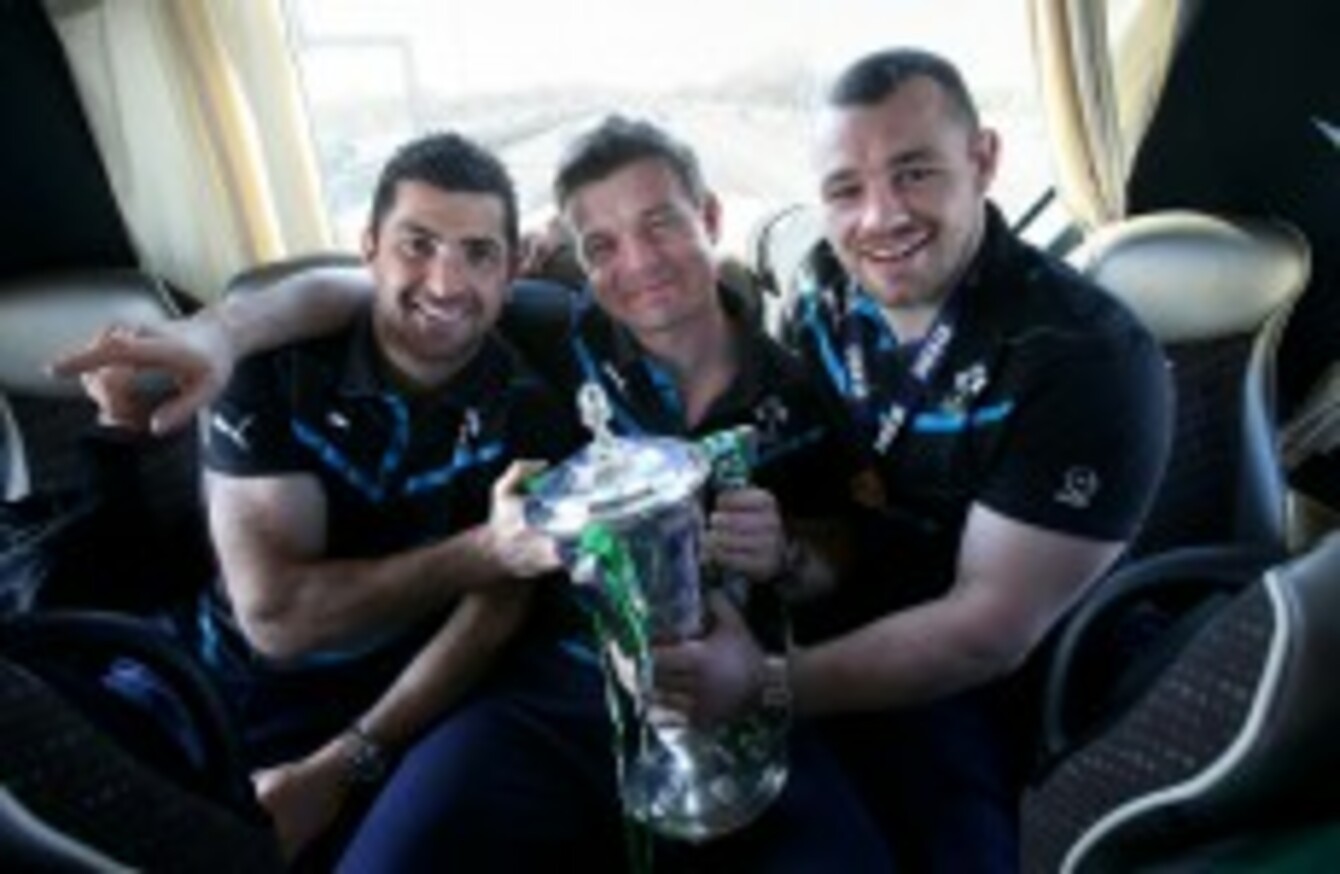 Rob Kearney, O'Driscoll and Cian Healy with the Six Nations trophy.
Image: Dan Sheridan/INPHO
Rob Kearney, O'Driscoll and Cian Healy with the Six Nations trophy.
Image: Dan Sheridan/INPHO
BRIAN O'DRISCOLL HAS played his last game for Ireland, but the extent of his loss possibly won't become totally clear until we see the national team in competitive action again.
The likes of Robbie Henshaw, Darren Cave and Jared Payne will have ambitions of stepping up with their differing skill sets, but the Irish squad are fully aware of what will be missing in the coming years.
How reassuring it must be to look around one's team huddle and see the ultimate competitor – a man who could create and deny tries with equal ability – on your side. That greatness has now departed the scene.
Openside flanker Chris Henry says it was special to have had the opportunity to play alongside O'Driscoll, pointing out that the 35-year-old has been one of few permanent features in the international set-up over the last 15 years.
"I feel very honoured and privileged to have been able to play in his last game and to play so many games with him. It's a fantastic feeling to win it with his last day, but it's obviously very sad too.
"It's going to be strange when we go to the next camp and he's not going to be there. Unfortunately that's the way life is and things have to move on. I've just been so privileged to play with him."
Speaking about O'Driscoll's retirement became something of a taboo within Joe Schmidt's squad during the week preceding Saturday night's victory in Paris, but lock Devin Toner says now is the time to celebrate one of the country's best ever players.
"We can talk about it now! Joe mentioned it just briefly in our team meeting. He said Brian was obviously one of the greats to pull on the jersey and it would be awesome for us to do it for him.
I'm just delighted for him and for his family to go out on a high on the international stage. I'm delighted for him as a player. It kind of all came together in the end for him, didn't it?"
Indeed it did, with O'Driscoll finishing his career in excellent form against a physically imposing French midfield. There were no final tries or assists, but there were typically brilliant tackles, technically superb rucking and one enjoyable burst down the right in the second half.
Tighthead prop Mike Ross believes it is a true mark of the player that he signed off from international rugby with such a strong individual performance.
"The man deserves every accolade that comes his way. He's been an absolute legend for the team for the past 15 years. If you think about it, one of the most impressive things is that his level of playing never really drops.
"Can you remember the last time he had an off-game? It's hard to think of one. That's why his talent in very special, very rare and if there's another guy who comes along like Brian in my lifetime, I think we'll be lucky to see him."
Schmidt has enjoyed deserved credit for guiding Ireland to this championship success, adding another trophy to a stock that includes Heineken Cups, a Pro12 title and an Amlin Challenge Cup.
The Kiwi is an excellent coach, but he has benefited from working with some excellent players too. None more important that O'Driscoll.
I've worked with Brian for four years now. He's a man I respect immensely and he's a player that I really enjoy coaching, His work ethic is massive – to be talented and have such special attributes, and then to work so hard that you maximize those special attributes, that's the character he demonstrates.
"All those aspects I'll certainly miss with Brian, but at the same time I think he's been quietly grooming a couple of guys to come in. I don't think we'll suddenly fill his shoes.
"We'll have to put in someone who's got slightly smaller feet, but hopefully they can grow into them."