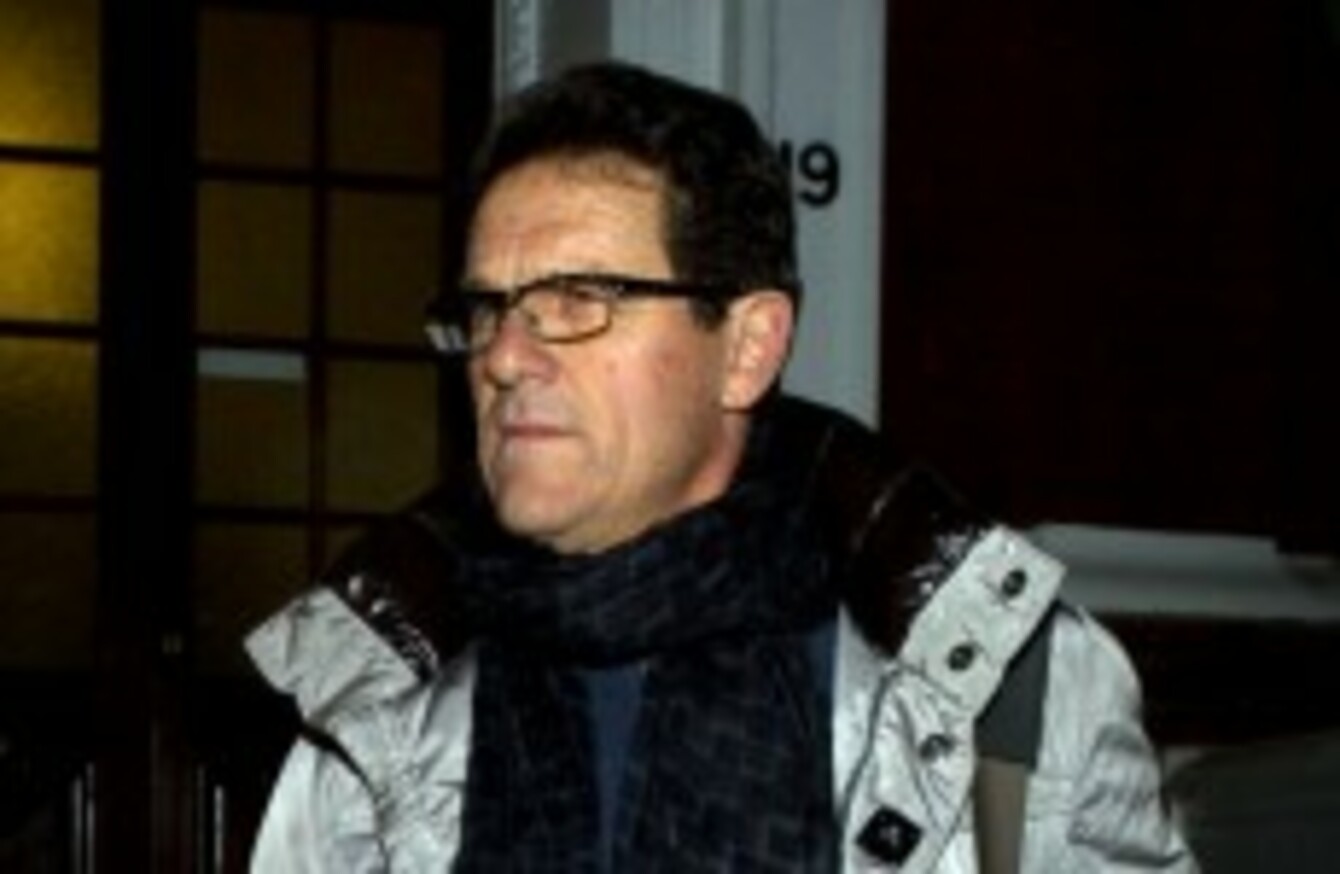 Fabio Capello: one more gig.
Image: CARL COURT/AFP/Getty Images)
Fabio Capello: one more gig.
Image: CARL COURT/AFP/Getty Images)
FORMER ENGLAND MANAGER Fabio Capello has hinted he wants a job in the Premier League, saying he wants 'one more challenge'.
Capello quit as England boss in February after John Terry was stripped of the England captaincy by the Football Association, but the Italian still has a desire to work in England, and in the Champions League once again.
Capello told The Times: "All the benches in England are busy, but if someone offers me the possibility to be competitive, then why not?
"I've had no contact from any English clubs, but I don't have an agent. For this reason perhaps it's more difficult to contact me. I want one more challenge. At the end of my career, it would be interesting to find a team with big motivation to arrive at the top. I want to manage a team that is able to play in the Champions League and to fight for lots of trophies."
Capello also revealed that he has already rejected offers from abroad and insists he will not take up a role somewhere based solely on the amount of money he is paid.
"If there's an exciting challenge, I will accept," he said. "I've refused some really good offers for a lot of money, from clubs in China and different places in the world.
"It has to be interesting based on the value of the team, not money. I don't work for money. I want to manage a team that wants to win something, if possible."
The Italian also discussed his successor, Roy Hodgson and believes the West Brom boss is a 'very good choice', but is worried for the team's chances given the short amount of time he has to prepare.
"It's not a normal job. It's difficult to create something. You can't do something in a short space of time," he said. "The idea is to create the team spirit and winning mentality in a really short time. This is very difficult. It will be hard. And the other thing is that you don't play a lot of games. In nearly every game, you are either in or out."
Hodgson, who will leave West Brom after their final two Premier League games, has experience of coaching national sides before, having guided Switzerland to the last 16 of the 1994 World Cup, and earning them qualification to Euro '96.
"I've known Roy since he was coaching in Italy and I have met him often in these last few years," Capello said.  "I believe he is a very good and experienced manager and he is a very good choice for the England national team. I wish him all the best for the future and Euro 2012."