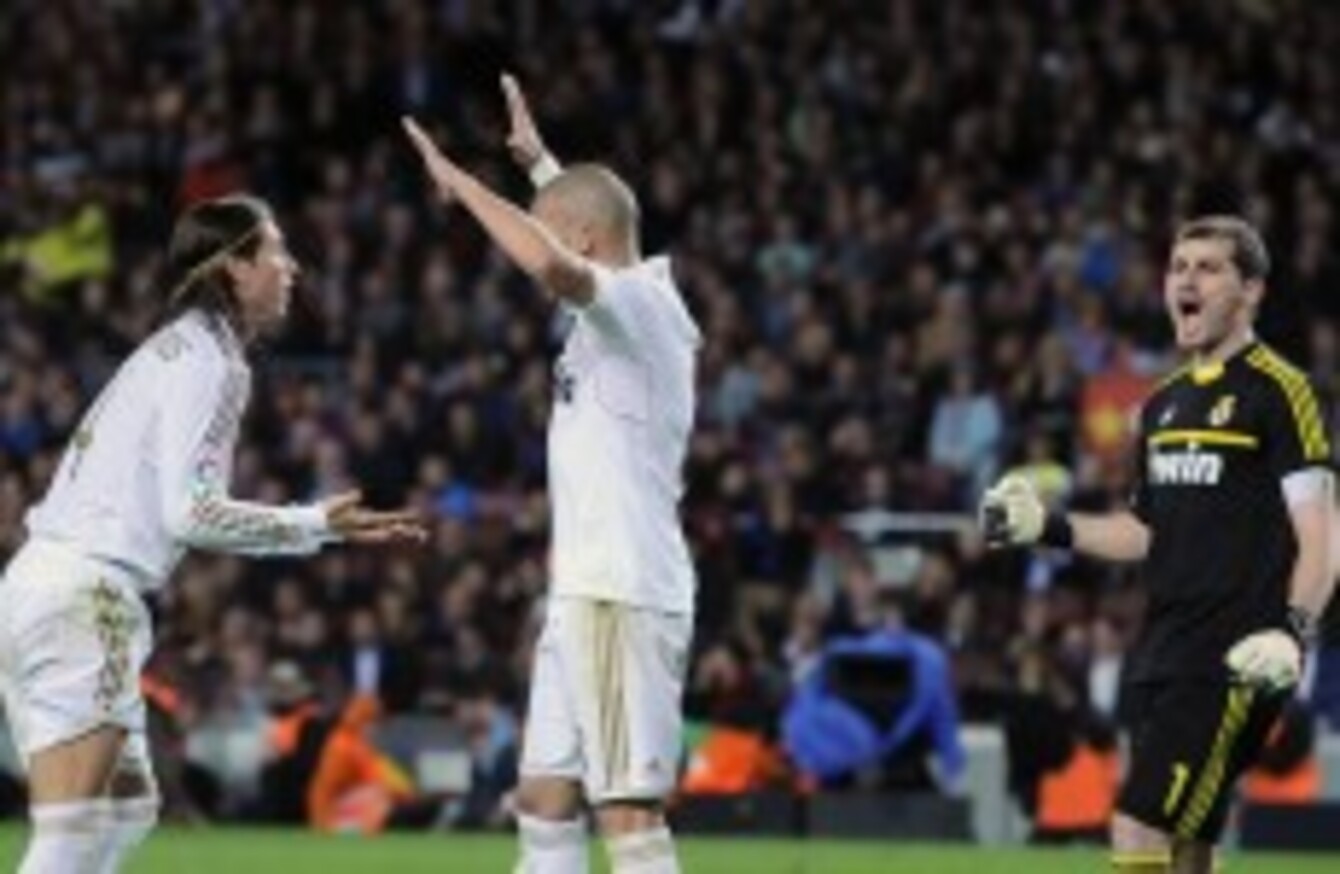 Real Madrid celebrate after a sensational win
Image: PA
Real Madrid celebrate after a sensational win
Image: PA
SO BARCELONA HAVE finally been dethroned in Spain.
By claiming his long-awaited first league win over the Catalans, Jose Mourinho has also surely claimed his first Spanish title – and his seventh in four different countries – as well as Real Madrid's first in four years and 32nd overall. Moreover, it was Cristiano Ronaldo who forced the victory.
In all that, it was vintage Mourinho. And also vindication for Ronaldo.
When these two teams drew 2-2 in the Copa Del Rey in January, the manager said he had come closer to the way he would eventually beat Barca. He stayed true this word. From the ferocity and sheer security of the defending to the cutting edge of the counter-attacks, this was classic Mourinho. Indeed, the first 45 minutes – right down to the percentage-playing of scoring from a set-piece – could even be described as one of the greatest halves of the manager's career. It was quite simply perfect.
Yes, perfect but not necessarily pure. Many have spent the last few days criticising Chelsea – and now Mourinho – for playing anti-football. But the fact is that Barca are the perfect football pyramid and play every game on their own terms like no other team in history. Go toe to toe with them and you'll generally get torn apart. No matter how much money you have, you can't replicate that unless you invest in a 10-year football pyramid. As such, it's up to every manager to simply find a way to beat them. Mourinho did that. And, unlike virtually everyone else, not for the first time.
If Mourinho stayed true to himself, though, Ronaldo stepped up. Previously, there was one justifiable remaining criticism of his career: he hadn't settled a truly key Clasico. Last season's Copa Del Rey, for example, felt almost irrelevant given the context of the 'world series' of fixtures between the two around it.
Not tonight though. It wasn't just the quality of the goal. It was the timing. Just after Barca had equalised Sami Khedira's early strike and built up a head of steam, Ronaldo made a supreme run from his own half to meet Mesut Ozil's delicious through ball and finish superbly. It didn't just win the match but the title.
And, if Ronaldo is being increasingly defined by his goals, then he finally scored a genuinely defining goal in a Spanish season. Brilliant.
Perhaps the bigger question, though, is whether it is also a death blow to Barca.
That may seem typical of the hype of the media given that, only a few months ago, we were all proclaiming them as possibly the greatest side of all time. But, at the very least, they have at least allowed the possibility for questions again. Previously the ultimate big-game team, they have now lost two in a row. That is unfamiliar, unsettling territory for this team.
And, while Mourinho got his own side to raise it and do everything right while filling every gap, it can still also be true that partly came about because Barca themselves have dropped off. If it would be ludicrous to say Guardiola's team is falling apart – and it would! – there are at least more holes in their make-up than usual.
Consider the flaws in the side tonight.
The opening goal partly came from the lack of height and more basic organisation when defending – something that, for more offensive reasons, Pep Guardiola has never felt particularly concerned with solving.
Since those were necessary risks to the team's overall shape, it was never a problem when Barca were at their kaleidoscopic best. But that wasn't the case tonight. And hasn't been for a while. For one, they simply lacked finishers. Look at the effort Tello squandered shortly before Alexis equalised.
That, also, is why Leo Messi has arguably deserved more credit for this season than others. With David Villa injured and both Cesc and Alexis dropping off in terms of scoring in the last two months, he has stayed constant and actually upped his game.
And, tonight, he was good. Alexis's goal, after all, came from his incredible run that opened so much space. He also picked a series of glorious through balls. Indeed, one of them should have seen Barca equalise much earlier as Xavi missed a superb opportunity.
Ultimately, though, Messi couldn't do it all on his own, no matter how good he has been. Because Barca were atrociously flat tonight. They were lacking spark and movement, not getting enough men in and around their box. That meant it was easier for Real to put men around the Argentine and minimise his effect.
Most lamentably, there was almost a lack of conviction to some of their passes, as many fell short.
Guardiola should perhaps carry some of the blame here given his stubbornness in sticking to a line-up that wasn't working and, perhaps, many of his signings.
But there could be deeper issues. Are Barca feeling the effects of fatigue and generally complacency after four years of almost non-stop success?
Alternatively, is it a coincidence that Barca have lost either the league or Champions League in seasons when they've lacked a cutting-edge, all-round forward like Samuel Eto'o or David Villa?
On the other hand, of course, it might all be an inevitable blip. Removing Xavi so oddly early in such a game, for example, was surely to keep in store for Tuesday.
And, of course, they may yet create history by retaining the Champions League.
It's worth remembering that even the spiritual successors of this Barca side, Ajax 1970-73, finished second behind Feyenoord a few times as they racked up European Cups.
Do that, and all of this will feel somewhat irrelevant; evidence of no more than a brief hiatus in four years of the highest quality.
But, for the moment, it all remains open to question. Well, all except the fact that Mourinho has finally mastered Barca, Ronaldo is a truly big-game scorer and Real are the champions of Spain for the first time in four years.