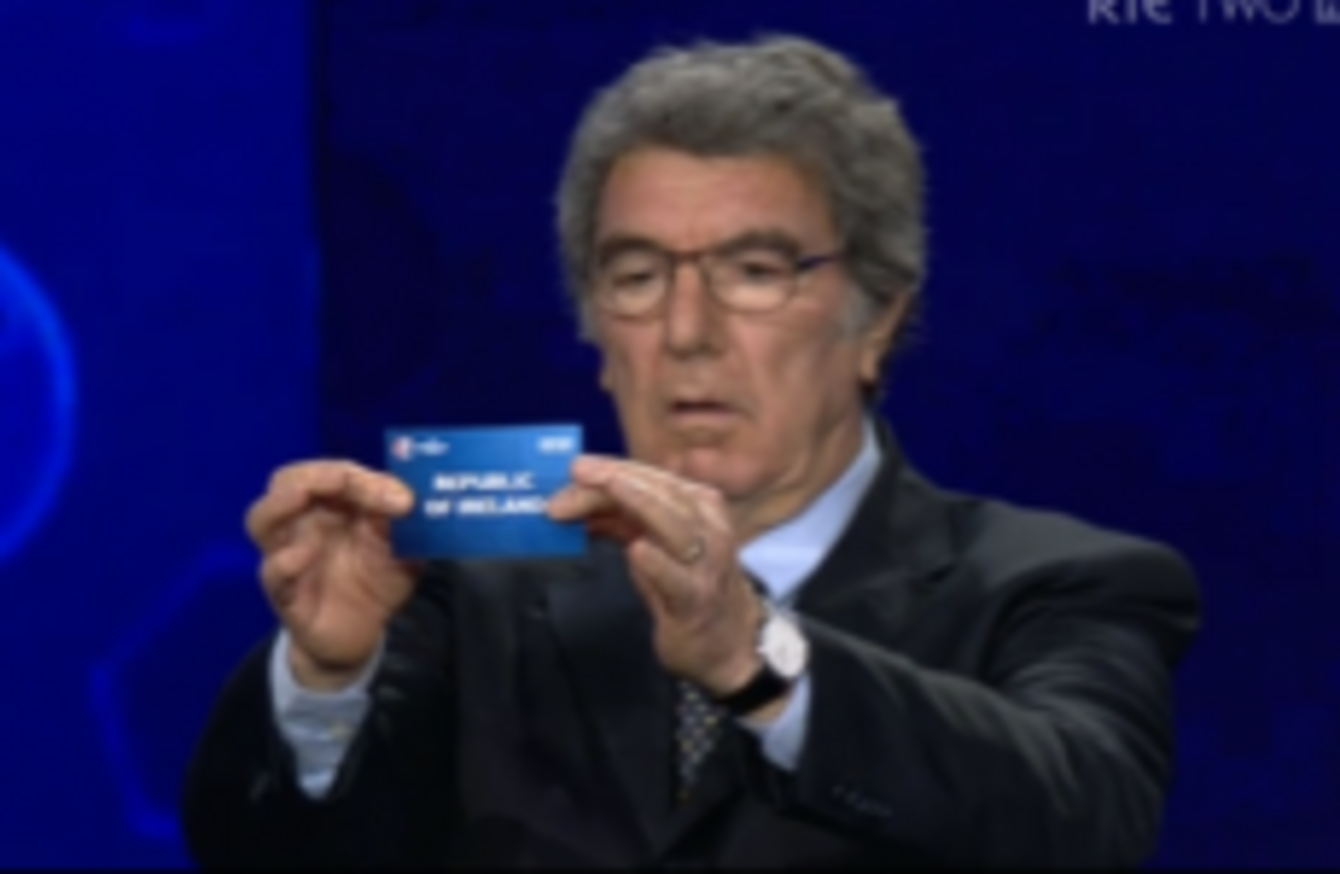 Ireland are picked during last Sunday's Euros draw.
Image: RTE Screengrab
Ireland are picked during last Sunday's Euros draw.
Image: RTE Screengrab
After Morgan Parra was banned for two weeks, but still rendered available to play Ireland, Del McG commented:
"Quelle surprise…"
Pauric McKenna reacts to an article with the headline: 'Gareth Bale and Cristiano Ronaldo combine to shatter Schalke'
"Must every other article headline on theJournal have to mention shatter?"
Responding to our piece on the linesman who took a mid-match call, Brian said:
"Seen a linesman do this in the middle of a fitzgibbon match one time, even better still his ring tone was the Sunday game theme tune!"
On the article entitled 'Michael D gets his hands on domestic football's newest prize – the President's Cup,' Ger makes a connection with a certain fictional character.
"Dobby keeps cup for master Harry Potter"
Dave O'Shaughnessy imagines a question Tommy Walsh might have posed to Sofia Vergara.
"Here Sophie, d'ya fancy joinin' me for a haep a pints and a chip-butty tonight – my treat girl, I just got paid!"
Eoin Ryan is a fan of Robbie Keane's trademark celebration.
"If it was followed by a Robbie Keane tumble and Shooter McGavin finger shooting, then and only then it could be called a class goal!"
David Staed is one confident Mayo fan.
"Fair play to Aiden O'Shea, hes getting in some practice for lifting Sam In September."
Fran Duggan was impressed by the abundance of goals in the Kilkenny-Tipperary match.
"Surprising there wasn't smoke coming out of the score board! :-)"
Dermot McLoughlin has devised a cunning plan in light of Ireland's Euro 2016 draw.
Can we get Germany moved to a different group?….for political reasons.
Joe Lyster was in pun-tastic form as Ireland were paired with Gibraltar.
"Lads Gibraltar are as solid as a rock… :)"