Liveblog
Result: Waterford 4-19 Cork 0-20

****************************
Afternoon all and welcome along to Croke Park on All-Ireland senior hurling semi-final day. 11 years on from their last meeting at this stage, Cork and Waterford are back facing each other for the right to contest the decider on 3 September against Galway.
The minor match is in the last few minutes here with1 14-man Cork ahead by 0-21 to 1-12 against Dublin. Galway are already through to the final there.
It's the second time this summer the counties have met of course. Cork winning the Munster semi-final in June by 0-23 to 1-15 to add to their earlier win over Tipperary and they went on to claim the Munster title against Clare last month.
For their part Waterford have journeyed through the back door since that loss to Cork. They have picked up successes over Offaly, Kilkenny and Wexford but that latter victory came at a cost with the red card shown to defender Tadhg de Búrca.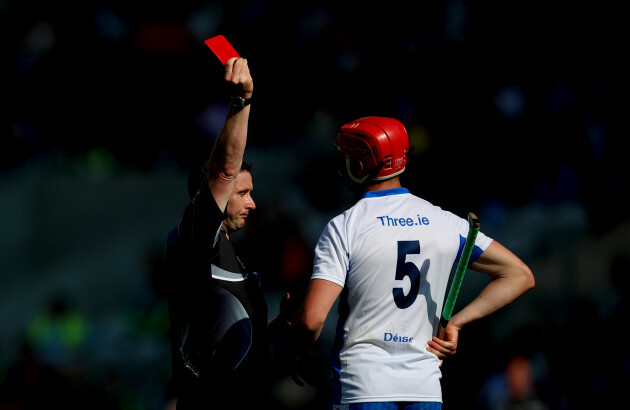 Source: James Crombie/INPHO
So to the team news. Cork are unchanged while Waterford have brought in newcomer Kieran Bennett to their rearguard instead of the suspended de Búrca.
Cork
1. Anthony Nash – Kanturk
2. Stephen McDonnell – Glen Rovers (captain)
3. Damien Cahalane – St Finbarr's
4. Colm Spillane – Castlelyons
5. Christopher Joyce – Na Piarsaigh
6. Mark Ellis – Millstreet
7. Mark Coleman – Blarney
8. Bill Cooper – Youghal
9. Darragh Fitzgibbon – Charleville
10. Seamus Harnedy – St Ita's
11. Conor Lehane – Midleton
12. Shane Kingston – Douglas
13. Alan Cadogan – Douglas
14. Patrick Horgan – Glen Rovers
15. Luke Meade – Newcestown
Waterford
1. Stephen O'Keeffe (Ballygunner)
2. Shane Fives (Tourin)
3. Barry Coughlan (Ballygunner)
4. Noel Connors (Passage)
18. Kieran Bennett (Ballysaggart)
6. Austin Gleeson (Mount Sion)
7. Philip Mahony (Ballygunner)
8. Jamie Barron (Fourmilewater)
9. Conor Gleeson (Fourmilewater)
10. Kevin Moran (De La Salle)
11. Pauric Mahony (Ballygunner)
12. Jake Dillon (De La Salle)
13. Shane Bennett (Ballysaggart)
14. Michael Walsh (Stradbally)
15. Darragh Fives (Tourin)
Here are the subs named by Kieran Kingston and Derek McGrath.
Cork
16. Patrick Collins – Ballinhassig
17. Conor O'Sullivan – Sarsfields
18. Killian Burke – Midleton
19. Lorcan McLoughlin – Kanturk
20. Chris O'Leary – Valley Rovers
21. Daniel Kearney – Sarsfields
22. Brian Lawton – Castlemartyr
23. Dean Brosnan – Glen Rovers
24. Luke O'Farrell – Midleton
25. Michael Cahalane – Bandon
26. Michael O'Halloran – Blackrock
Waterford
16. Ian O'Regan (Mount Sion)
17. Shane McNulty (De La Salle)
5. Darragh Lyons (Dungarvan)
19. Tommy Ryan (Tallow)
20. Brian O'Halloran (Clashmore-Kinsalebeg)
21. Maurice Shanahan (Lismore)
22. Patrick Curran (Dungarvan)
23. Colin Dunford (Colligan)
24. Stephen Bennett (Ballysaggart)
25. Mikey Kearney (Ballyduff Upper)
26. Stephen Roche (Mount Sion)
Full-time and it's ended Cork 0-23 Dublin 2-13 in the All-Ireland minor hurling semi-final. Douglas forward Brian Turnbull is the man-of-the-match. They'll take on Galway on 3 September.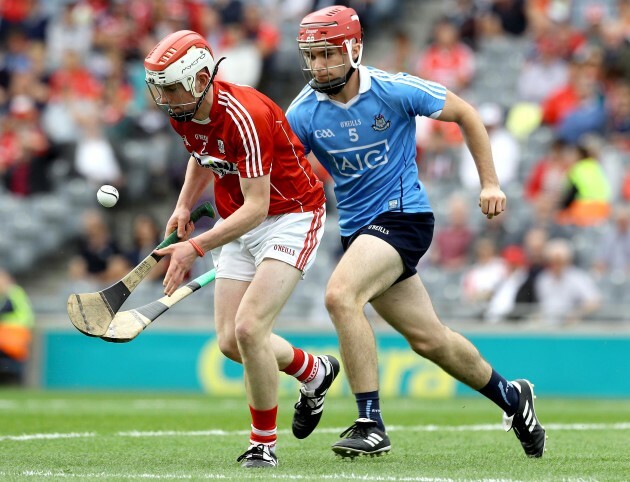 Cork's Conor O'Callaghan and Dublin's Eoghan O'Neill. Source: Lorraine O'Sullivan/INPHO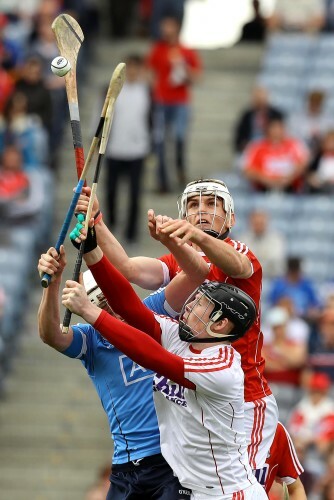 Cork's Sean O'Leary Hayes rises highest to contest a dropping ball.
The referee today is Wexford's James Owens. Westmeath's James McGrath is the standby referee with Offaly's Brian Gavin the other linesman and Wexford's Justin Heffernan is the sideline official.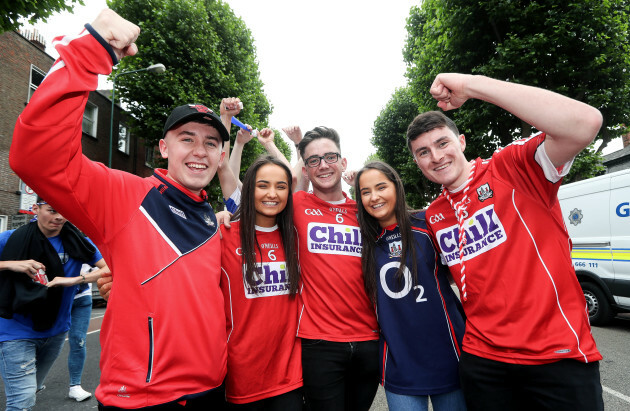 Source: Ryan Byrne/INPHO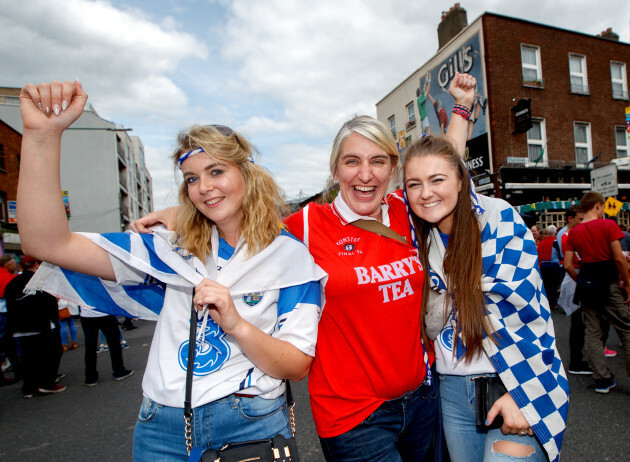 Source: James Crombie/INPHO
We're set for the parade here.
Cork bidding to reach a first final since 2013, Waterford last contested the decider in 2008. Who's your tip to meet Galway next month?
Time for throw-in, massive crowd in for this. Huge game in prospect.
Cork 0-1 Waterford 0-0
Patrick Horgan gets Cork off the mark from a free after Shane Kingston was fouled.
Cork 0-1 Waterford 0-1
All square thanks to Waterford's opening score courtesy of Pauric Mahony from play.
Cork 0-2 Waterford 0-1
Sideline ball delivered in by Bill Cooper and the break is read by Horgan who clips over a point from play.
Goal for Waterford from Brick Walsh!
Waterford 1-1 Cork 0-2
What a boost for Waterford! Shane Bennett does brilliantly to make ground on the left wing, cuts in and pops the ball across where Michael Walsh has drifted off Mark Coleman. The experienced Stradbally man drills a shot low to the net.
Waterford 1-1 Cork 0-3
Super point by Shane Kingston as Cork respond to the concession of that goal.
Waterford 1-2 Cork 0-4
Captain Kevin Moran strides forward to pop over a point for Waterford, Horgan instantly responds for Cork. Rapid fire start here.
Waterford 1-3 Cork 0-4
Moran smashes over another Waterford point from an acute angle. He got hurt in the process of striking that one though.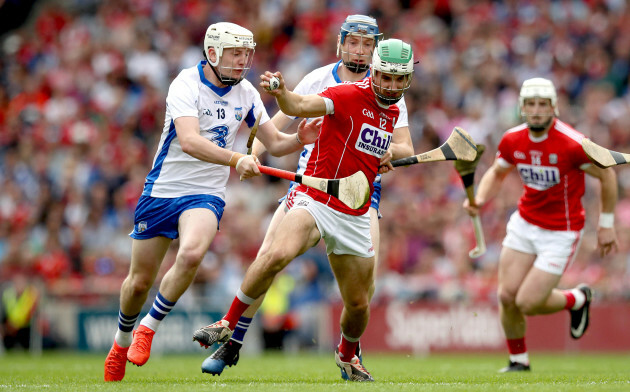 Source: Ryan Byrne/INPHO
Waterford 1-3 Cork 0-5
Alan Cadogan hooks over his first point of the day, lovely score off his left for Cork.
Few wild shots now, Waterford's Darragh Fives with the latest wide.
Horgan screws a free wide for Cork after Kingston was fouled.
Cork 0-6 Waterford 1-4
Horgan makes amends from this free to bring Cork level. Conor Lehane did superbly to win the free after an excellent delivery from Damian Cahalane. Moran soon nudges Waterford ahead again.
First good scoring chance for Austin Gleeson but his shot from the wing flies just wide.
Cork 0-7 Waterford 1-4
Fifth point of the day for Horgan, the latest from play, and Cork are level again.
Cork 0-8 Waterford 1-4
Cork back in front. Luke Meade is fouled as he runs clear and Horgan supplies the point from the free.
Cork 0-8 Waterford 1-5
Stunning save by Anthony Nash to deny Pauric Mahony a second Waterford goal. Play was called back for an earlier foul though and Mahony knocks over the free.
Yellow card for Damian Cahalane after he whipped across Gleeson.
Waterford 1-6 Cork 0-8
Mahony angles over the free to restore his team's lead.
Yellow card for Waterford's Kieran Bennett.
Horgan off target with another Cork free.
Waterford 1-7 Cork 0-8
Great turnover by Brick Walsh and he places Jamie Barron for a point.
Mahony slices a free wide from distance for Waterford.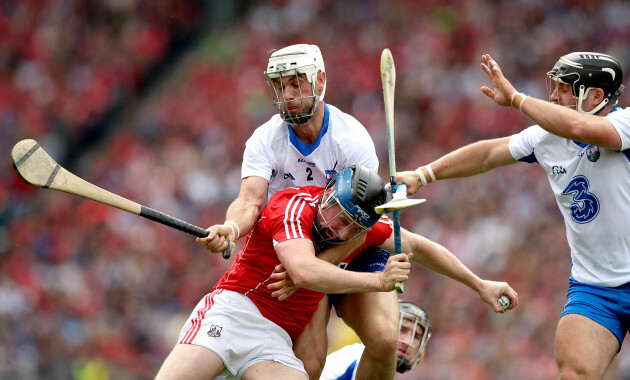 Source: Ryan Byrne/INPHO
Waterford 1-7 Cork 0-9
No mistake from Horgan on this occasion from a free after Austin Gleeson picked the ball off the ground.
Half-Time: Waterford 1-7 Cork 0-9
So a narrow lead for Waterford at the break. Both sides had late scoring chances in that first half, Kevin Moran's point effort was judged to be wide by Hawk-Eye while Conor Lehane's shot bounced off the post. All to play for in the second half.
Here are the first-half scorers:
Waterford: Michael Walsh 1-0, Kevin Moran, Pauric Mahony (0-2f) 0-3 each, Jamie Barron 0-1.
Cork: Patrick Horgan 0-7 (0-4f), Shane Kingston, Alan Cadogan 0-1 each.
Source: Ryan Byrne/INPHO
Sub: Cork bring in Michael Cahalane for the second half for Luke Meade.
Cork 0-10 Waterford 1-7
Early pointed free in second half for Cork from Horgan.
Waterford 1-8 Cork 0-10
Mahony brings Waterford back in front after Barron was fouled.
Cork 0-11 Waterford 1-8
Horgan slots over another free but it looked a soft decision after Michael Cahalane was judged to have been fouled by Barry Coughlan.
Conor Lehane's shooting not working out today as he flights another one wide.
Cork 0-12 Waterford 1-8
Commentator's curse! The Midleton man comes good as Lehane fires Cork in front.
Cork 0-12 Waterford 1-9
Great play by Barron to pick out Moran and the captain sweeps over his fourth point of the day.
Sub: Maurice Shanahan in for Waterford for Jake Dillon.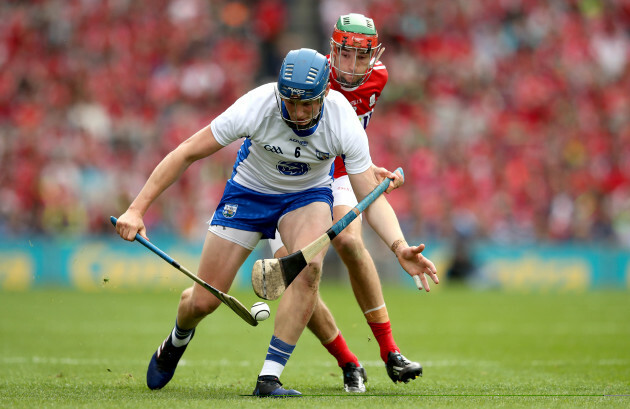 Source: Ryan Byrne/INPHO
Cork 0-13 Waterford 1-10
It's a one man band up front for Cork today. Horgan clips over another great point. Waterford reply through Darragh Fives.
Cork 0-14 Waterford 1-10
Darragh Fitzgibbon splits the posts from a sideline cut.
Waterford 1-11 Cork 0-14
Level again as Pauric Mahony blasts over a point.
Cork 0-15 Waterford 1-11
Seamus Harnedy's first point of the day for Cork.
Damien Cahalane has been sent off!
Second yellow for the St Finbarr's man for a high tackle on Conor Gleeson. Cork must play with 14 men for the rest of the game.
Cork 0-15 Waterford 1-12
All square as Mahony bangs over that resultant free for Waterford.
Waterford 1-13 Cork 0-15
Austin Gleeson bangs over a long range point from play and Waterford hit the front.
Cork 0-16 Waterford 1-13
Lovely score from Alan Cadogan to bring Cork level after he was supplied by Darragh Fitzgibbon.
Sub: Brian O'Halloran in for Waterford for Shane Bennett.
Cork 0-17 Waterford 1-13
And Cork go ahead! Horgan slams over a free after Fitzgibbon was fouled.
Cork 0-18 Waterford 1-13
Horgan again, superb point from play.
Goal for Waterford from Jamie Barron!
Waterford 2-14 Cork 0-18
Barron fires to the net after Austin Gleeson turned over Christopher Joyce in possession. Then Conor Gleeson points for the Deise.
Goal for Waterford from Austin Gleeson!
Waterford 3-14 Cork 0-18
Simply stunning from Austin Gleeson! What an individual effort for that goal as he cut through the Cork defence.
Yellow card for Cork's Shane Kingston for a heavy challenge on Philip Mahony.
Waterford 3-15 Cork 0-18
Pauric Mahony fires over the long-range free.
Waterford 3-15 Cork 0-19
Lehane slots over a point for Cork.
Subs: Cork bringing in Daniel Kearney and Luke O'Farrell for Bill Cooper and Alan Cadogan.
Waterford 3-16 Cork 0-20
A Brian O'Halloran point pushes Waterford six clear before Luke O'Farrell responds for Cork.
Waterford 3-18 Cork 0-20
Maurice Shanahan clips over a point for Waterford and then Mahony strikes another.
Red cards for Patrick Horgan and Conor Gleeson!
Off the ball incident involving the pair and both have been dismissed.
Sub: Colin Dunford on for Waterford for Pauric Mahony.
Lehane slices a free wide for Cork.
Waterford 3-19 Cork 0-20
Super point by Austin Gleeson. Waterford on the brink of a final place.
Waterford 4-19 Cork 0-20
And that is that! Gaps appear in Cork defence and Waterford capitalise as Barron gets through for a fourth goal.
Full-Time: Waterford 4-19 Cork 0-20
Waterford will meet Galway in the 2017 All-Ireland senior hurling final.
The match turned decisively in Waterford's favour in the second half as they poured through the Cork rearguard.
Great day for the Deise, back in a first final since 2008. Munster champions Cork bow out.
Contribute to this story: