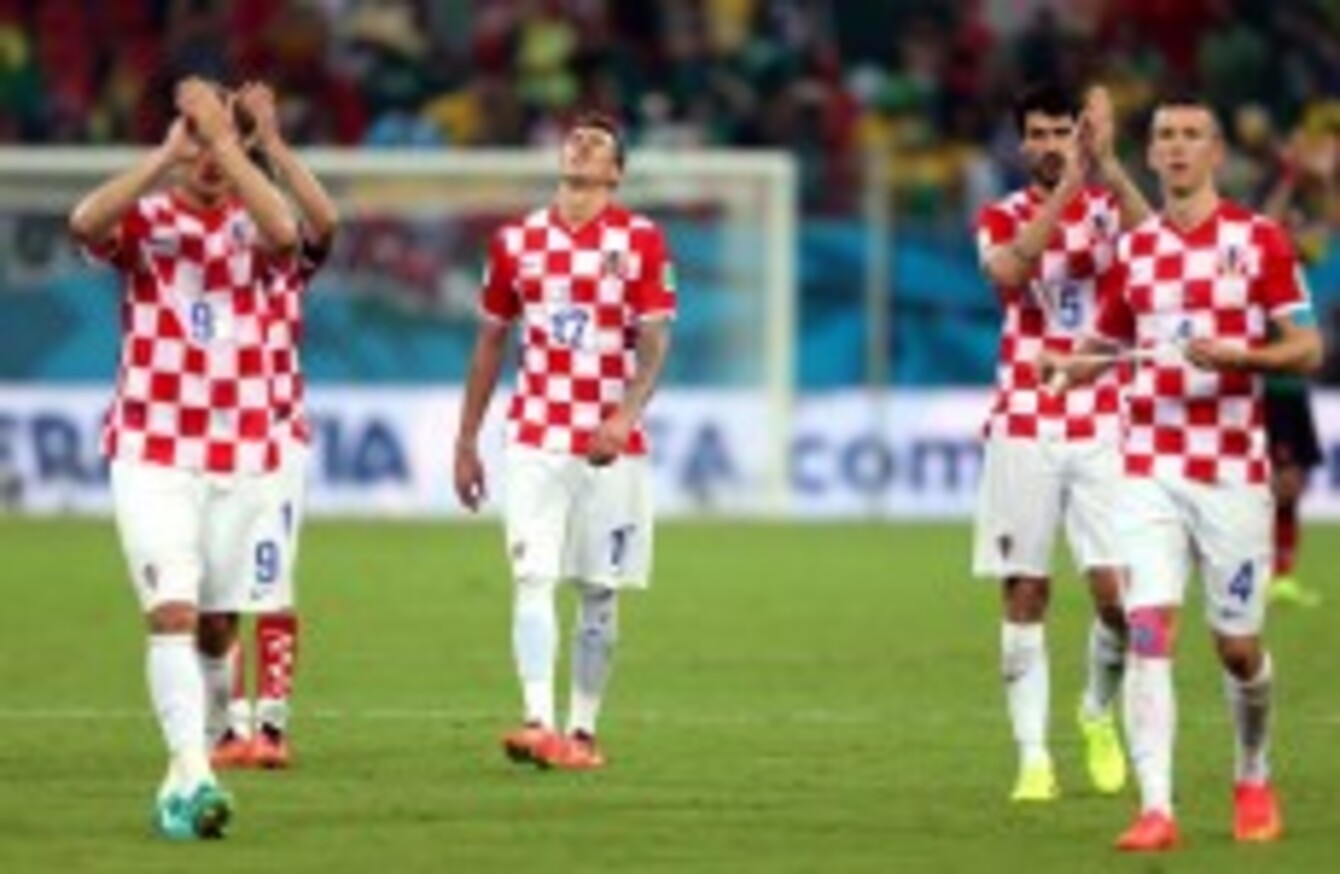 The Croatian players after elimination.
Image: Sanjin Strukic/PIXSELL
The Croatian players after elimination.
Image: Sanjin Strukic/PIXSELL
Mikey Stafford reports for TheScore.ie from Recife
FOR THE SECOND tournament running, Croatia are going home after three matches having finished third in their group. Two years ago in Poland they finished ahead of Ireland in Euro 2012 Group C but behind the eventual finalists, Spain and Italy.
Beaten by an 88th-minute Jesus Navas goal in their final group game Croatia could, two years ago, curse their bad luck and Giovanni Trapattoni could put Ireland's pointless retreat from Poland down to the consequence of coming up against three very good teams.
Captain Robbie Keane also admitted Ireland were outclassed.
"We couldn't have prepared better than we did and we can't be making excuses when we've been beaten by teams that were superior to us," said Ireland's record goalscorer following the 2-0 defeat to Italy in the final match.
"It's as simple as that. We just weren't good enough."
Last night in Recife it was the turn of one of Croatia's own former Tottenham player to deliver the same message. Luka Modric and his team-mates had been blown away in the second half by Mexico, who joined Group A winners Brazil in the second round.
Croatia had been exceptionally unlucky in their opening match against the hosts and exceptionally good in their 3-0 win over Cameroon but they were going home, just like listless Spain, clueless England and pointless Bosnia.
Mexico were the better team, only tonight, they were the better team," said Modric. "Especially after the first goal, we could not recover from that and Mexico were the only team on the pitch."
Modric, the string-puller in Real Madrid's Champions League-winning team, is Croatia's talisman but far from a one-man band. Alongside him in midfield last night was Barcelona's Ivan Rakitic, while up front they have Arsenal target Mario Mandzukic, who is on his way out of Bayern Munich despite having a better Bundesliga goal-scoring record than the man bought to replace him, Robert Lewandowski.
At the back they have Southampton's Dejan Lovren and Vedran Corluka, formerly of Spurs and Manchester City. Croatia have a young, talented team but for the third straight World Cup they have qualified for they are going home after three matches.
"We were expecting to go to the next round, to pass the group. Of course you have to have belief in yourself, to go to the next round, to go far," said Modric.
"But we didn't show that on the pitch, Mexico were a better team tonight. I think we looked good in the first game against Brazil, second game we were really good and today we had some good periods but it was not enough to beat Mexico."
Despite not qualifying for the three most recent World Cups Ireland have reached the knockout stages more recently than Croatia, in 2002.
Failure is the great equaliser and whether you reach the World Cup final or failed to reach the qualification play-offs you have to pick up the pieces and prepare for the next game. In Ireland and Croatia's case that is Euro 2016 qualifiers against Georgia and Malta respectively.
Memories of Croatia's amazing run to the semi-finals of France '98 grow more sepia tinted with every disappointment but their golden boot winner at that tournament Davor Suker is now actively engaged in forging a path back to glory as president of the Croatian Football Federation.
We have the chance, we are in the World Cup and we are so proud to be here but it's short," Suker told The Score.ie.
We need to look forward, it's another competition in September, we play Malta at home.
"Of course we would like to be longer in Fortaleza but that's football and only one team from today could go on to Fortaleza and today I would like to say Mexico played better, scoring more goals and that is the difference. Not a big difference but it is the difference."
Mexico offer the antidote to the moments of despair Ireland fans may be experiencing watching this exceptional World Cup. World and European champions Spain have been brutally deposed. England, having been eliminated after two games, fielded a team of second choice players in the 0-0 draw with Costa Rica, most of whom would be guaranteed a game for Martin O'Neill's side.
Portugal beat Sweden, the runners-up in Ireland's qualifying group, for a place here in a play-off but themselves look out of place, despite beating an Irish second team 5-1 in their final warm-up match.
But then there is Mexico and Costa Rica — competitors lacking in superstars but built around the concept of a team.
Costa Rica can guarantee top spot in Group D with a draw against Roy Hodgson's experimental line-up this afternoon but who could say before the tournament kicked off that they recognised any of their players outside of Premier League players Bryan Oviedo and Bryan Ruiz, plus Arsenal's Joel Campbell, who scored a cracker against Manchester United while on loan at Olympiacos?
Just as Jorge Luis Pinto has created a team that is more than the sum of its part, so Miguel Herrera has transformed a Mexico side who scraped into a play-off against New Zealand. He does a fine line in sideline theatrics, but the former Club America coach has a team made up predominantly of Liga MX players going toe-to-toe with Brazil and sending Croatia home.
Fifty places separate Ireland and Mexico in the world rankings but the gulf is not unnavigable. O'Neill must believe that building a team, his team, can bridge the gap.