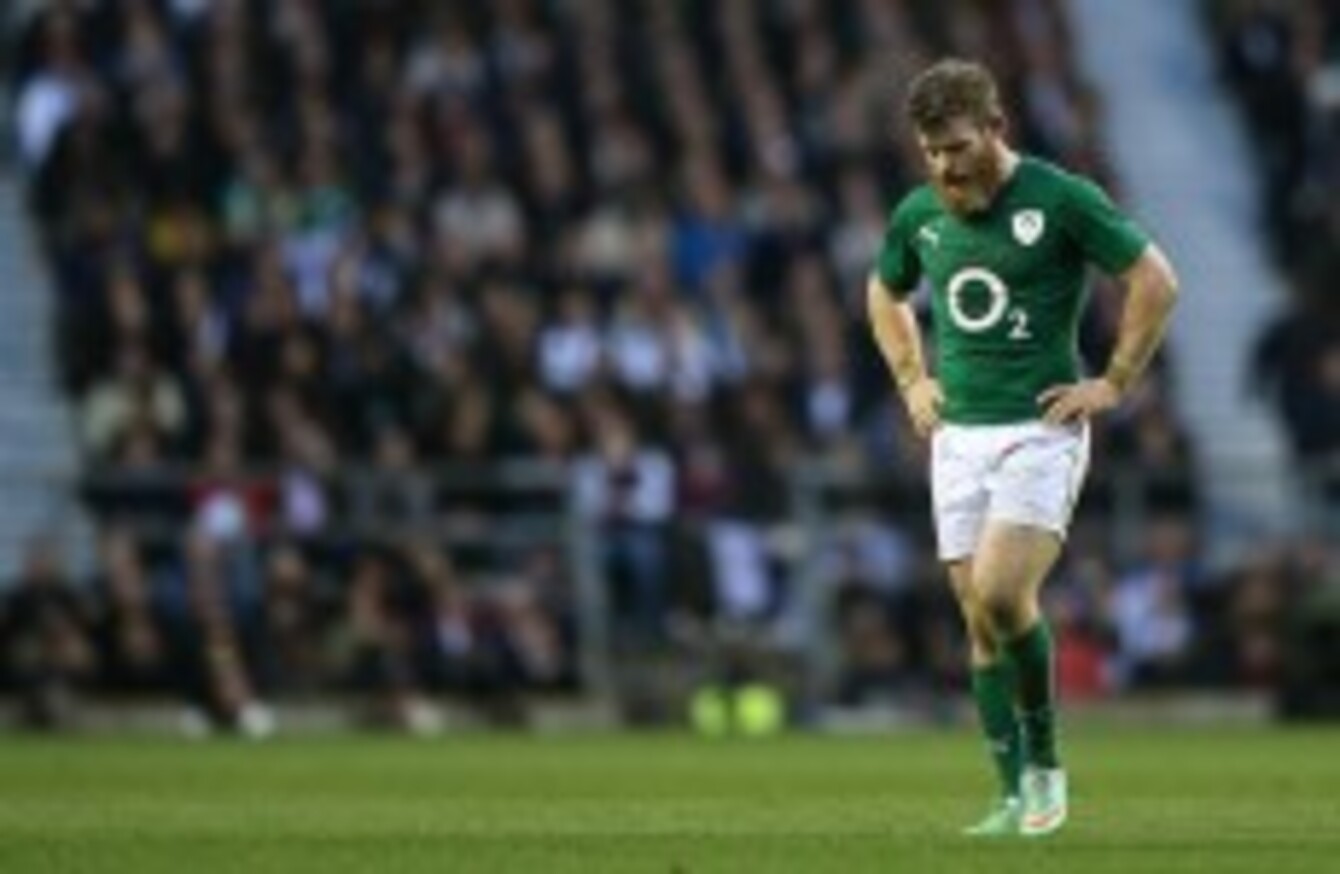 Image: ©INPHO/James Crombie
Image: ©INPHO/James Crombie
THE RED LIGHTS were on, the microphones held up, but Gordon D'Arcy was in no mood to talk after Ireland's 13 – 10 loss to England yesterday.
For the veteran centre, defeat means more than a setback in the Championship; it's one less trophy to add to his mantle, one less chance to pull off another Grand Slam and perhaps even his last chance to win at Twickenham.
But sometimes it's good to talk these things out with perfect strangers. A chat is good for the soul and, after an initial one-word response, the 34-year-old would open up a little by looking towards the opportunities that still lay ahead.
"It's a game within a game," D'Arcy says, "the Championship and then the Triple Crown. We've lost one but are still in the hunt for another.
"It 's just about picking yourself up after a pretty tough loss and refocusing on Wednesday or Thursday when we get back together."
Every loss is frustrating, but days like yesterday must be doubly so for a combative centre like Leinster's 12. Openings were almost non-existent as the latest gameplan was set alight by hard English hitting poor Irish execution.
After three solid months of positivity in Irish rugby, there's nobody like England to take the mood down a peg or three. D'Arcy, however, is bullish about the next steps:
"We're a better team than we were eight months ago. And the chances of a loss like this derailing the rest of the Championship – no chance of that.
"Joe [Schmidt] will be the guy driving that, and Paul [O'Connell] and Jonny [Sexton] and those guys will be getting the guys back together and going; 'we can't change the result'.
"We'll look at the positives, fix the mistakes and move forward. We'll focus for Italy and France, then we refocus for Italy and then we go."
D'Arcy is confident of bouncing back, because this Ireland side feel their overall performance did not dip on their first away Test under the new coach. Schmidt's side played their part in a game swung wildly back and forth in an unbearably tense arm-wrestle.
England were made to work extremely hard to retain an interest in this year's Championship, and along with that work ethic came a discipline. Although Andy Farrell's defence did not match Ireland in keeping the penalty count in single figures, they veered over the edge of the laws in opposition territory and coughed up only one three-point chance for Sexton.
"We had our own try as well so they balanced out," the centre said abruptly when asked about Danny Care's match-turning try.
"It was probably more the penalties… three kickable penalties in our own half was the difference between a win and a loss.
"Fair play to them , the discipline around the kickable penalties, that's the difference."
- Additional reporting by Patrick McCarry.