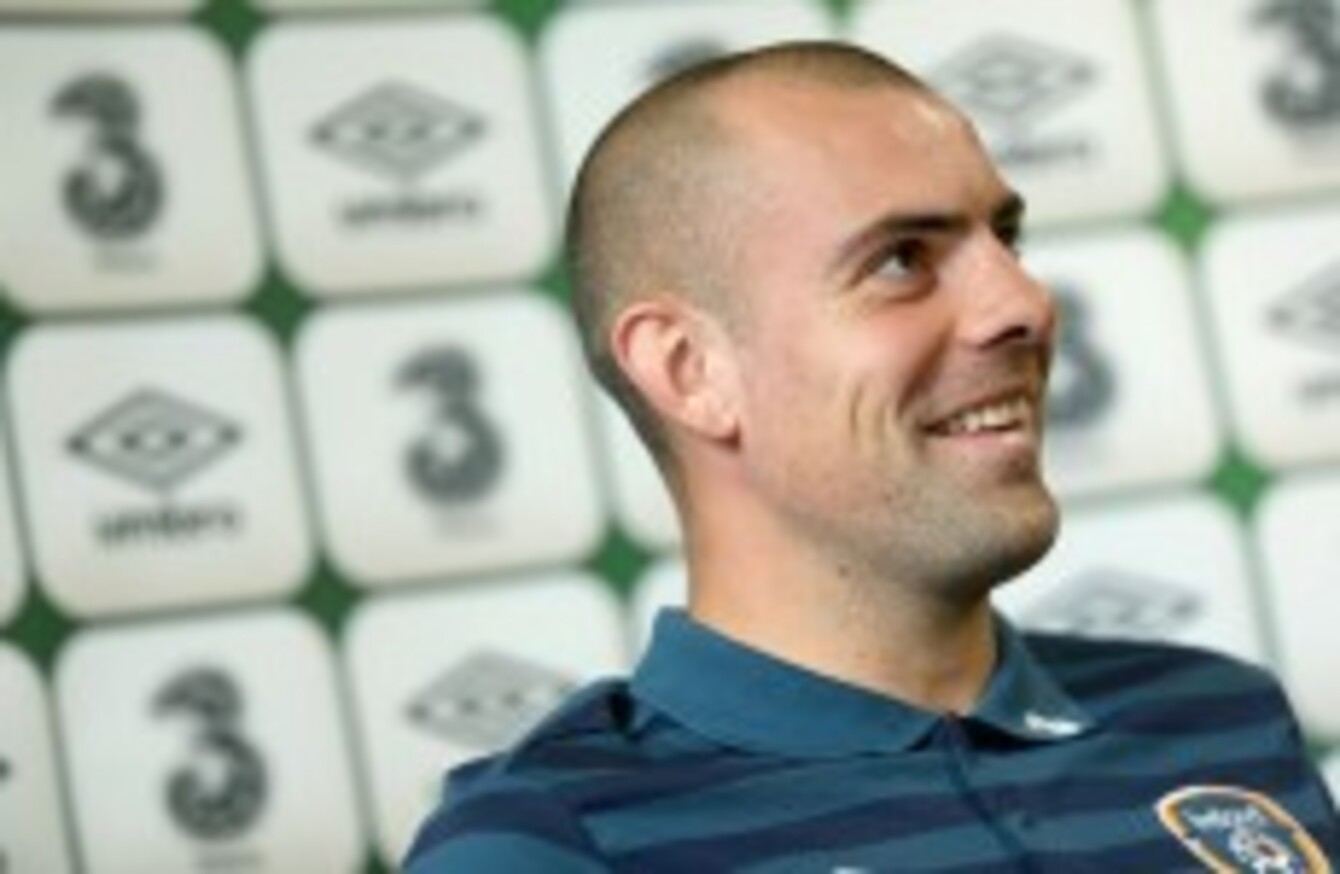 Image: Donall Farmer/INPHO
Image: Donall Farmer/INPHO
DARRON GIBSON KNOWS exactly where the spot is.
When he makes his return to international football tomorrow evening, he won't even give the offending patch of turf a second glance.
It has been a long road back for Gibson since he ruptured his cruciate ligament in the Aviva Stadium last October. There were no shortage of low moments, he admitted today when he spoke to the media in Malahide.
In just his second game following his international exile, Ireland led Kazakhstan 2-1 as half-time approached. Gibson stretched to make a fairly innocuous tackle but as his right foot planted, he fell awkwardly and crumpled to the ground.
Alarm bells started to ring. He was stretchered off, head in hands, and Everton and Ireland immediately feared the worst.
Source: GreenArmyNewsWC2014/YouTube
That was more than 10 months ago though and after a patient and determined recovery, he's ready for his comeback. Martin O'Neill has indicated that he will start tomorrow's friendly against Oman.
Sunday's opening Euro 2016 qualifier is likely to come a bit too soon but Gibson is relishing the opportunity to win his first cap under the new management and show them what he can do.
"He's obviously a very, very decent footballer," O'Neill said at the pre-match press conference. "He hasn't played that much but he's a very, very talented player.
He looks comfortable, he looks in really decent shape. I'm actually looking forward to seeing him play.
By their very nature, cruciate injuries come with a lot of mental baggage. Until the knee has been put to the test and come through unscathed, doubts are inevitable.
There where whispers towards the end of last season that Gibson's recovery was at an advanced stage and that he might even be in contention for a few first-team run-outs.
That never materialised but, he explained, that was due to Roberto Martinez's caution rather than any setback.
"I wanted to play but the manager said to me that there was no point, there were two or three games left and there was no point in risking it.
"You might as well just leave it and have a good pre-season and come back strong so that's what we did in the end."
Everton have been just as careful to ease him back into the new campaign. He has yet to make his competitive comeback although he has got his confidence back after playing in a handful of pre-season friendlies.
I got through pre-season without [any issues] so like I said, the knee feels good. I feel fit.
He spoke to Martinez before flying in to join the Irish camp in Malahide this week.
"We've had a chat about it. He just wants me to get as many minutes as I can. Obviously he's not played me yet but getting a game here will help me going back there."
While Gibson shuttled from physio table to gym to physio table and back again, the world kept turning.
International team-mate Seamus Coleman exploded onto the Premier League scene and was deservedly named on the PFA Team of the Year, and Everton made a genuine challenge for the Champions League places before falling just short.
Being there, on the fringes of the action without really being involved, was the hardest part. It took Gibson quite a while to get his head right.
"I struggled at the start mentally but I just had to get used to the idea otherwise I would never have got better. I wouldn't say I'm the most patient player in the world, no.
He added: "I think the hardest thing was going every week to Goodison and watching the lads, knowing that I should have been playing and there was not really much I could do about.
"The physios are good and the staff were good and they helped me through it.
"It is very hard obviously. You want to be playing and training every day. It takes a bit of getting used to.
But after a couple of months, I got behind the idea that it was a long-term injury and I got my head focused on getting through it. Thankfully I've come out the other end.
Now he has a new challenge to occupy him. Everton have strengthened in the off-season, making Gareth Barry's move to Merseyside permanent as well as recruiting the young Bosnian Muhamed Besic.
On the international front, James McCarthy has leapfrogged him to become one of the first names on O'Neill's team-sheet while Jeff Hendrick and David Meyler are also staking convincing claims for a place in a crowded central midfield.
The disappointment of Euro 2012 and his subsequent decision not to play under Giovanni Trapattoni will remain a part of his Ireland history.
But those 10 months on the sidelines gave Gibson a lot of time to think. Now he's ready to write a more positive future.
"I think it's now or never really to be honest with you. I'm looking forward to it.
"It just made me realise that I'm not getting any younger really. I need to start playing games and I need to start doing well for myself."