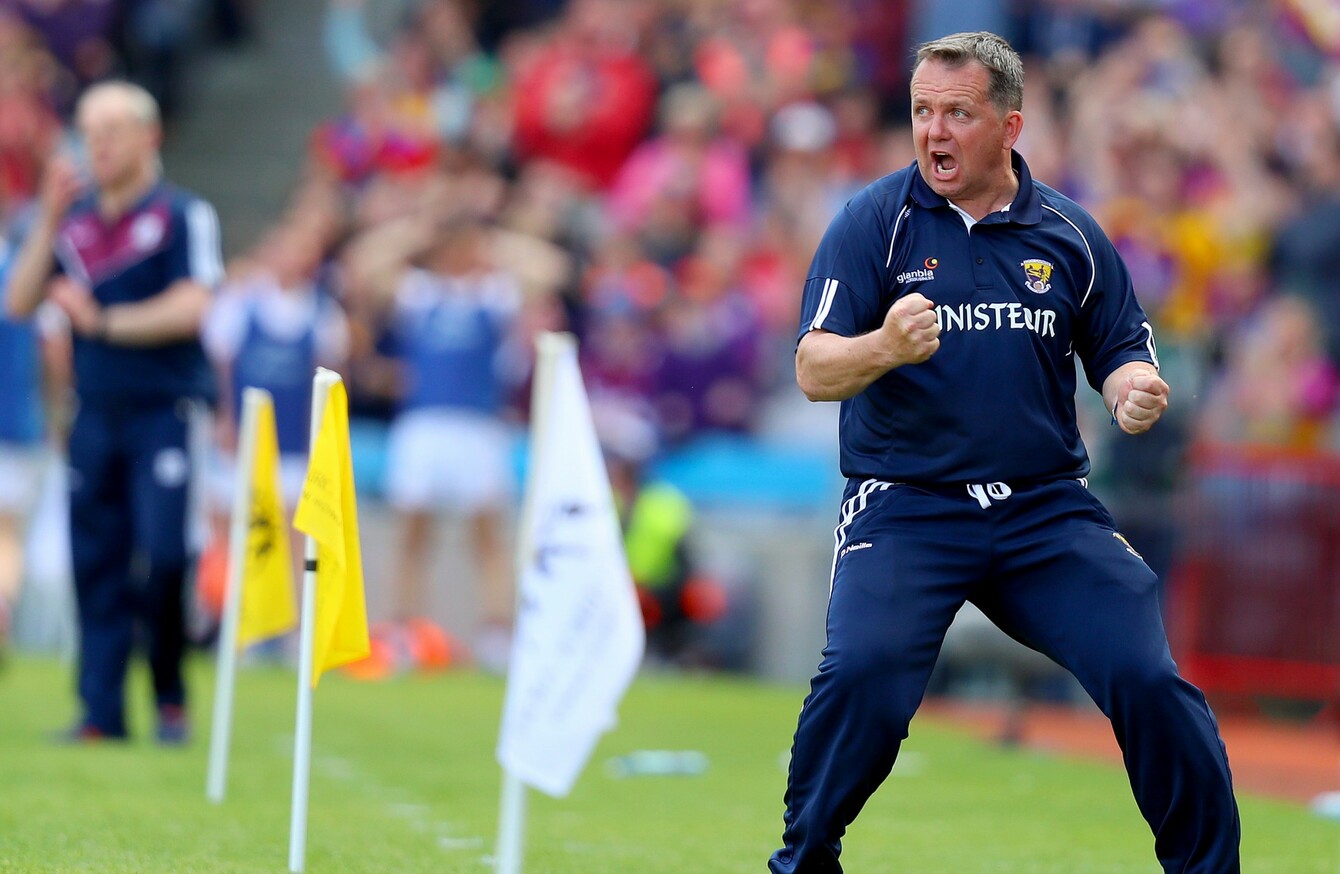 Image: Oisin Keniry/INPHO
Image: Oisin Keniry/INPHO
Updated at 12.23
WHEN DAVY FITZGERALD brought his team into Croke Park dressing rooms at half-time yesterday, he could sense a hint of disappointment lingering in the air.
Wexford had outplayed Galway for the majority of the first-half, but found themselves 0-14 to 0-11 down at the interval.
"To me there was probably one vital patch in the game, that was probably the 10 minutes coming in to half-time," he said. "Were we a point up? (We) gave up two or three handy scores. I could feel the lads a small bit down. I thought that they felt, 'we shouldn't be three points down.'
"I thought we played a good 22 or 23 minutes. We were there or thereabouts."
Wexford were ahead by two points when Galway really hit their stride in the 12 minutes before the half. The Tribesmen outscored their opponents by 0-7 to 0-2 during that key spell, including four Joe Canning frees.
"I'd say what they felt was that we actually bossed the game a lot in the first half. For two thirds of the first-half I thought we were right there. They got a few handy frees to bring it back coming into half-time.
"I would rather them shoot and miss than we give them easy frees. Because they didn't look like scoring a goal on us.
"Then the first six or seven minutes of the second half we had a goal and a point opportunity – that's four points. It's hard to not take them and be still in the game."
Early on in the second-half, Conor McDonald had a shot ruled marginally wide by Hawk-Eye and a penalty as the momentum shifted back in Galway's favour.
"That was momentum. We had a point just disallowed by that Hawk-Eye system. Any chance they can bin that thing? We had the momentum. That's four points. I'm not saying we would have won the game.
"But playing the likes of Galway, two things – one, you can't give that seven or eight minute patch that we gave before half-time. And second, if we get opportunities we have to take them.
"It's very hard when a team gets up on you like that. They got a run on us. Brought a lot of their forwards out the field. Even though we had the sweeper they had a lot of room. I was trying to get my lads out from the other end, to meet in the middle. It just didn't work."
Galway's aerial prowess was on full display in the second-half as Joseph Cooney and Conor Cooney in particular stood out.
Fitzgerald was full of praise for the Tribe but feels there will be a twist or two before Liam MacCarthy is handed out in Septemer.
"When you have that momentum and you're looking good, it's a lot easier to catch them balls. I could tell that we were half doubting ourselves at times. And when you're doubting yourself you're not going to contest those balls the way you should.
"Like, they didn't catch a whole pile of them in the first 20, 25 minutes. When we lost our way a small bit they capitalised. If you weigh it up, most of that team have played in four Leinster Finals at least. They've played in two All-Irelands. That's by far the biggest day we've played in. That's 60,000 people. My guys aren't used to playing in anything remotely like that."
Wexford head for an All-Ireland quarter-final in three weeks and Fitzgerald must reignite his troops in time for a clash against the two teams left standing from the qualifiers.
"We just need to not feel sorry for ourselves now and just pick ourselves up and go again. If you asked me at the start of the year if I could manage what we have managed in two years, never mind seven months, I'd be delighted. That's a fact.
"I'm disappointed for the Wexford fans, they came up in such hope. I have to say one thing, I think if you look with five minutes to go the stadium was still full, they didn't leave. I absolutely respect them so much for that."