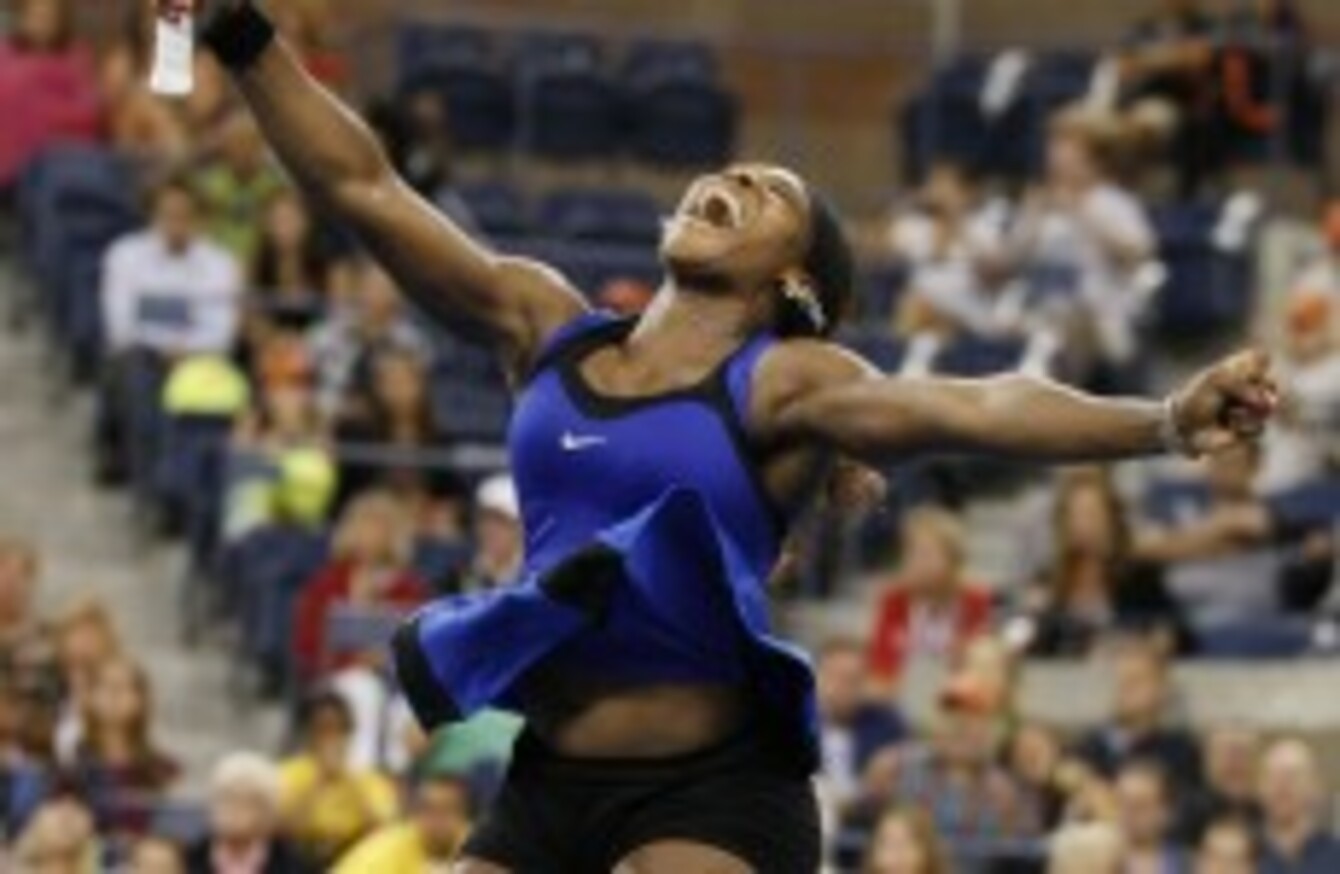 Serena Williams celebrates her win over Caroline Wozniaki.
Image: AP
Serena Williams celebrates her win over Caroline Wozniaki.
Image: AP
FACING TWO MATCH points against a beloved player whose name is already in the history books, Novak Djokovic clenched his jaw, nodded his head and flashed an ever-so-slight glimpse of a smile.
"I would lie if I say I didn't think I'm going to lose," Djokovic said.
Might as well go down swinging then, right?
He turned violently on a wide, 108 mph serve from Roger Federer for a cross-court, forehand winner that barely nicked the line. The fans in Arthur Ashe Stadium, ready to explode for a Federer victory, instead found themselves taking a cue from Djokovic — who raised his hands, asking them to pump up the volume, and give him a little more love.
About 10 minutes later, those fans were dancing with Djoko as he boogied at centre court to celebrate an epic US Open semi-final win — one in which he dug out of a two-set hole, then saved two match points to beat Federer for the second straight year.
Top-seeded Djokovic won 6-7 (7), 4-6, 6-3, 6-2, 7-5 last night to improve to 63-2 on the year and set up a rematch in the final against No 2 Rafael Nadal, who beat No. 4 Andy Murray 6-4, 6-2, 3-6, 6-2 in the second semi-final.
In the first match, Djokovic completed only his second career comeback from two sets down, while Federer lost a two-set lead for the second time in less than three months after going 178-0 lifetime before this year's Wimbledon quarterfinals.
It all turned on one shot.
"The forehand return, I cannot explain to you because I don't know how it happened," Djokovic said. "I read his serve and I was on the ball and I had to hit it hard, and it got in, luckily for me."
The match took three hours, 51 minutes, while Nadal's win was a 3 hour-24 minute affair.
But thanks to the rain that scrubbed two days of play from this tournament and reshuffled the schedule, Djokovic and Nadal will get a day's rest between the semi-final and the Monday final. It's a break from the long US Open tradition of closing things out on back-to-back days on the weekend.
Murray and Nadal were each playing their third match in three days and the toll showed more on Murray, who had the tougher road.
"We knew it was going to be like that for quite a few days and just tried to get through it and deal with it the best way we could," Murray said. "But it was never going to be easy."
Fittingly, given how things have gone lately, the start of the Federer-Djokovic semi-final was delayed for about an hour because showers began falling shortly before the players were supposed to walk on court, which had "9/11/01″ painted in white to commemorate the 10th anniversary of the September 11 attacks.
That made it an even longer wait for the headliners of the night session, Serena Williams and Caroline Wozniacki. Williams dominated the top-seeded Wozniacki 6-2, 6-4. In the other women's semifinal, No. 9 Sam Stosur beat Angelique Kerber 6-3, 2-6, 6-2 on the Grandstand Court.
In what was supposed to be her toughest test yet at the US Open, Williams dominated top-seeded Caroline Wozniacki 6-2, 6-4.
"For me, it's amazing," Williams said. "I've come a long way, a really long way."