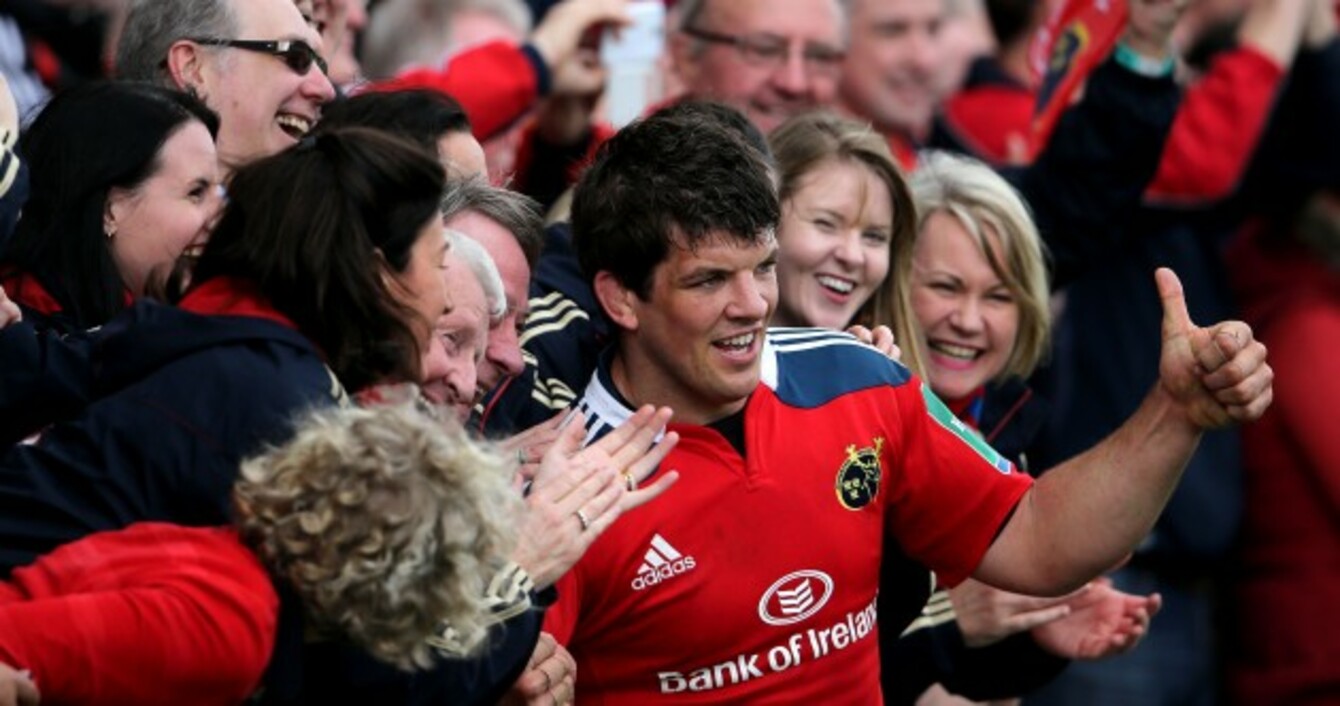 Donncha O'Callaghan is hoping to play games number 29 and 30 for Munster this season.
Image: Cathal Noonan/INPHO
Donncha O'Callaghan is hoping to play games number 29 and 30 for Munster this season.
Image: Cathal Noonan/INPHO
"IT'S ALL ABOUT cup final rugby; whatever it takes to get across the line."
Donncha O'Callaghan has been playing cup final rugby with Munster for the past 16 seasons and has signed up for two more. He was one of several established Munster stars to miss Saturday's league loss to Ulster but is expected to feature in Friday's RaboDirect Pro12 semi final with Glasgow at Scotstoun.
The time for experimenting and holding plays in reserve, he says, is over. "This is," he declares, "when 3-0 will do you from here on in."
Munster planted their flag furthest among the Irish provinces in this final season of Heineken Cup rugby but still fell short, at the semi final stage. Losing another last four encounter, the lock told TheScore.ie, is not a thought that will be entertained at training in U.L this week.
He said: "To be honest, you bring that hurt from Europe with you. All of the provinces will be disappointed that we're not at the business end of that. without being harsh, Europe is where it is at; the big stage. But you look at where the Rabo is at now and every one of those matches will be at that [Heineken Cup] level."
Standard bearer
O'Callaghan has earned 236 caps for Munster but, with the emergence of Iain Henderson and good form of Davin Toner, appears to be marooned on 98 Test caps [94 for Ireland]. He is hopeful of a call to international arms, to Argentina, this summer but takes solace in Ireland's recent success, even if he has watched from afar.
"It's competitive as ever and I'd be a bit disappointed with how the season has gone," he said. "It's quite hard as once you've got the taste — and I've been involved in great things like the Six Nations and Grand Slams before, and Munster in Europe — you want it more. It's made you you get addicted; you just want to be there."
"You never want guys to be injured, you want it to be competitive," he said. "If you're in the team, you want to be there on merit. The more competitive it is for positions, the better it is for everybody. You know that if a guy is picked ahead of you, and is a quality fella, that he has to produce the goods. That can only be good for the team.
We have that competitiveness in the second row and you look at that are a bit sparse and you're thinking 'How come they don't have the fire up their arse like we have?' To be honest with you, there's healthy respect. You'd go through each other on the grass but you have a massive respect for them and you wish them well when they're representing us [for Ireland]."
The second row is getting congested at Munster, too, but O'Callaghan has still managed 28 appearances this season and should feature in the final game, or two, this month. He commented, "We're lucky at Munster in that we've always had strong second rows. If the standard is high in a position, the guy coming in has to bring that something extra.
"That is what Dave [Foley] has done and you have the likes of Billy Holland, Ian Nagle and more guys coming through. I shouldn't have started naming names as I'll forget somebody know and he'll knock lumps out of you in training. The big thing with those standards, though, is that they push it on now."
O'Callaghan praises Rob Penney for bringing through so many young players while keeping Munster competitive. He added, "From a player's point of view, you don't want Rob to be remembered as the coach that transitioned the team or gave guys their head. I think he will be one of those coaches, and a lot of guys will be thankful, but we want to send him off on a high. For him to say he won during his time at Munster… I know we've had two European semi finals but you want to send him off on a high and send him off with a handshake."
The 35-year-old does not share his coach's frustration that Connacht were able to attract Mils Muliaina while Munster struggle to fund big southern hemisphere signings. "Jim Williams did wonders for me in terms of my professionalism. Sometimes a signing like that will drive standards and I would be hopeful that Muliaina would come in and be someone that a young fella looks to and aspires to be like.
"It's great for Irish rugby if all four provinces are competitive. If you look at any of the interpro games, they are often tight matches — 6-3 and 9-6 scorelines. It is great for us if we can have those close games."