Liveblog
Hello, and welcome to The42's live coverage of the All-Ireland SFC semi-final between Dublin and Kerry.
Emma Duffy here to keep you up to date with all of the action. As always, we'd love to hear your thoughts on the game. Leave a comment below or tweet @emmaduffy_ with your opinions.
Throw-in at Semple Stadium is 6.30pm, and the game is live on TG4. It's also being streamed live and worldwiwde on their Facebook page.
The intermediate semi-final meeting of Tipperary and Meath is just over, and it threw up an absolute thriller. It finished 3-19 to 2-19, with Tipp booking their All-Ireland final spot despite a late comeback from the Royals.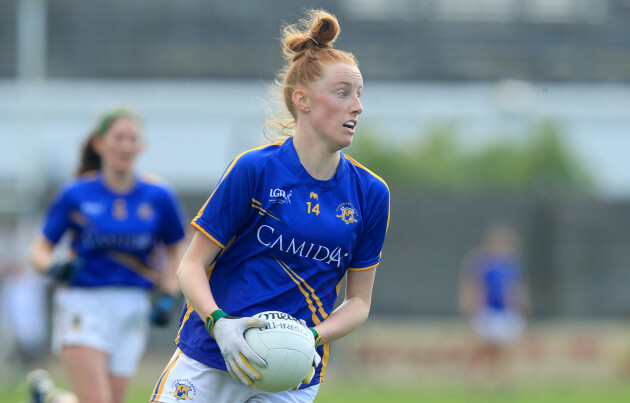 Tipperary's Aishling Moloney. Source: Donall Farmer/INPHO
It's time for the main event of the double-header though.
We're at the business end of proceedings in the All-Ireland senior championship. This is the first of the two semi-finals, the other between reigning champions Cork and Mayo next weekend. But all eyes are on Thurles today.
Leinster champions Dublin booked their spot in the last four with a win over Waterford two weeks ago, while Kerry beat Armagh to progress to the semi-final.
Runners up the last three years, the Sky Blues are vying to reach their fourth decider in-a-row while Graham Shine's Kerry will hope they can build on a huge Munster championship campaign in this, their first semi-final appearance since 2015.
Here's how the sides have been named to start:
Dublin:
1. Ciara Trant (St. Brigid's)
2. Martha Byrne (Cuala)
3. Sinéad Finnegan (Fingallians)
4. Rachel Ruddy (Ballyboden St Enda's)
5. Sinéad Goldrick (Foxrock Cabinteely)
6. Niamh Collins (Foxrock Cabinteely)
7. Leah Caffrey (Na Fianna)
8. Lauren Magee (Kilmacud Crokes)
9. Olwen Carey (Thomas Davis)
10. Carla Rowe (Clann Mhuire)
11. Lyndsey Davey (Skerries Harps)
12. Nicole Owens (St Slylvester's)
13. Sinéad Ahearne (St Sylvester's) – captain
14. Niamh McEvoy (St Sylvester's)
14. Noelle Healy (St Brigid's)
Kerry:
1. Laura Fitzgerald (Na Gaeil)
2. Elish Lynch (Castleisland Desmonds)
3. Aislinn Desmond (Rathmore)
4. Aisling Leonard (Castleisland Desmonds)
5. Caroline Kelly (Southern Gaels) – captain
6. Ciara Murphy (Foxrock Cabinteely)
7. Sarah Murphy (Rathmore)
8. Lorraine Scanlon (Castleisland Desmonds)
9. Emma Sherwood (St Brigid's)
10. Amanda Brosnan (Dr Crokes)
11. Anna Galvin (Southern Gaels)
12. Denise Hallissey (Inbhear Scéine Gaels)
13. Sarah Houlihan (Beaufort)
14. Louise Ní Mhuircheartaigh (Corca Dhuibhne)
14. Hannah O'Donoghue (Beaufort)
Either @dublinladiesg or @kerryladiesfoot will be the 1st team through to the TG4 Senior Final. Here are their teams #properfan pic.twitter.com/7awIunNeMq

— Ladies Football (@LadiesFootball) August 25, 2017
A quick pre-match read with Dublin defender Sinéad Goldrick, who's back in the starting side after missing out the last day: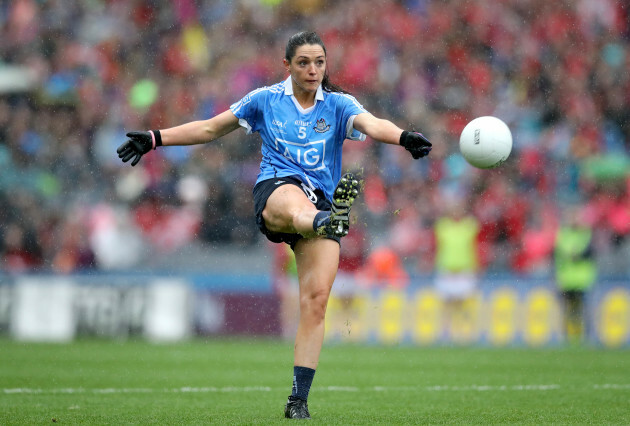 Sinéad Goldrick. Source: Ryan Byrne/INPHO
We're underway in Thurles.
Dublin 0-0 Kerry 0-0
2 mins – First real chance of the game falls to Kerry, but we're still scoreless. Kerry's 16-year-old forward Hannah O'Donoghue — who was named Player of the Match with 1-4 to her name the last day — has been showing well early on.
Dublin 0-1 Kerry 0-0
3 mins – Dublin draw first blood, and it's their captain Sinéad Aherne with an impressive effort.
Dublin 0-2 Kerry 0-0
5 mins – The Sky Blues are looking dangerous on their attack, Kerry are struggling with their pace. Aherne slots over a free for her second of the day.
Dublin 0-3 Kerry 0-1
7 mins – There's a high tackle on Noelle Healy and Aherne nails another free. O'Donoghue responds at the other end with a super point from play to open the Kingdom's account.
Dublin 0-4 Kerry 0-1
9 mins – Mick Bohan's side's great start continues, as Aherne hits another from play. She links up with Healy after some nice attacking play, but there's no pressure put on her kick.
Dublin 0-5 Kerry 0-1
11 mins – Carla Rowe gets her name on the scoresheet, her shot clipping the post as it sailed over. Kerry need to do something to get on top of this fierce Dublin attack.
Dublin 0-5 Kerry 0-1
13 mins – A little more positive from Kerry as they're creating chances, at least. Both Anna Galvin's effort and Sarah Houlihan's long-range free-kick go wide though.
Dublin 0-5 Kerry 0-1
15 mins – Some strong running on the ball from Amanda Brosnan as she finds Kerry's danger woman Louise Ní Mhuircheartaigh. She's shut down straight away by the Dublin defence though.
GOAL! It's Sinéad Aherne, and she has rattled the Kerry net.
Dublin 1-5 Kerry 0-2
18 mins - Ní Mhuircheartaigh splits the posts with a free-kick to pull one back for the Kingdom.
Dublin 1-6 Kerry 0-2
20 mins – Aherne posts another free-kick. She's scored all but one of Dublin's points. 1-5 for the captain in just 20 minutes.
Dublin 1-6 Kerry 0-3
22 mins - Ní Mhuircheartaigh with another free as the Kerry fans cheer their side on. There's a sizable crowd in Semple Stadium today, making for a great atmosphere.
Dublin 1-6 Kerry 0-4
24 mins - Ní Mhuircheartaigh takes a free from distance quick, and after a 1-2, she sends over an impressive score. That's really lifted Kerry. O'Donoghue was almost in on goal but she lost her footing.
PENALTY! Dublin's Niamh McEvoy is deemed to be fouled in the area.
Dublin 2-6 Kerry 0-4
25 mins – Aherne converts! Straight into the bottom left-hand corner. Super penalty.
Dublin 2-6 Kerry 0-4
27 mins – Dublin are just throwing the ball around, as they take complete and utter control of the game. Leah Caffrey makes a cutting run from half-back, but her effort is smothered by the Kerry defence.
Videos don't seem to be embedding properly, but you can see Sinéad Aherne's first-half goal, and much more on the @SportTG4 Twitter account.
The hooter has gone, and it's half-time in Thurles.
Dublin 2-6 Kerry 0-4
What an individual display from Dublin captain Sinéad Aherne. She's hit 2-5 of her side's 2-6 tally.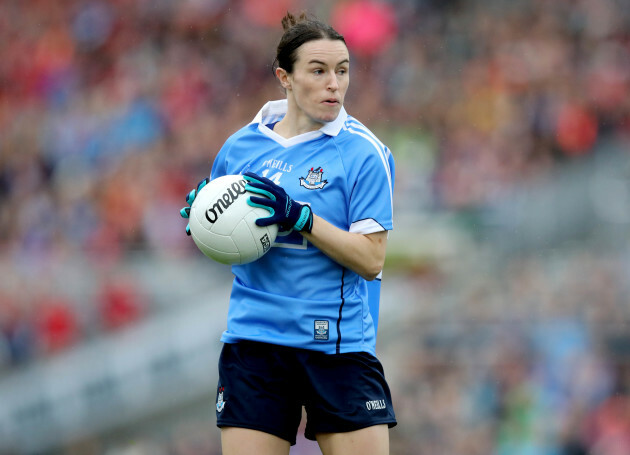 Source: Ryan Byrne/INPHO
The sides are back out, and we're underway again.
Dublin 2-6 Kerry 0-4
31 mins – Kerry need a big restart. They've made the first attack, Hannah O'Donoghue's effort wavering wide though.
GOAL! Nicole Owens hits Dublin's third
Dublin 3-6 Kerry 0-4
32 mins – Owens produces a brilliant run from the wing and slots the ball into the bottom corner to heap more misery on Graham Shine's charges.
Dublin 3-6 Kerry 0-4
34 mins – Noelle Healy comes close, but the Kerry defence do enough to keep her out. Aherne and Owens are linking up nicely, and combining to cause havoc. Laura Rogers is in for O'Donoghue.
GOAL! Healy rattles the net
Dublin 4-6 Kerry 0-4
36 mins – Dublin are looking ruthless. Healy smashes home after using her speed to slice through the helpless Kerry defence.
Dublin 4-6 Kerry 0-4
38 mins – In fairness to Kerry, they're not giving up. Aislinn Desmond and Aisling Leonard are doing their utmost to marshal the defence. Fresh legs have been introduced — Aisling O'Connell is in for Sarah Leahy.
Dublin 4-6 Kerry 0-4
40 mins – Dublin are making changes of their own — Hannah O'Neill for Carla Rowe and Deirdre Murphy for Leah Caffery.
Dublin 4-6 Kerry 0-6
42 mins – Rogers claws another back for Kerry. She pulls out a great run but opts to fists it over. Ní Mhuircheartaigh has an effort on goal, but Trant denies her with an excellent save. It goes over for a point.
Dublin 4-7 Kerry 0-6 
44 mins – Fiadhna Tangney has replaced Denise Hallisey, and it was her who set up Ní Mhuircheartaigh's chance. Owens adds another at the opposite end.
Dublin 4-7 Kerry 0-6
46 mins – Although the Dublin attack have been doing serious damage, their defence must be credited too. Sinéad Finnegan in particular has had a great game.
Dublin 4-7 Kerry 0-6
49 mins – Sinéad Goldrick's challenge on Ní Mhuircheartaigh has left the latter needing treatment, but she's back at it again. Kerry are really tiring here, making unforced errors but they're not giving up.
Dublin 4-7 Kerry 0-7
50 mins – Tangney has been making an impact since her introduction, and she finds Ní Mhuircheartaigh — who points a remarkable score from distance.
Dublin 4-8 Kerry 0-7
51 mins – The Munster champions' fight certainly isn't gone, with O'Connell looking to pull a goal back but her effort hits the side-netting. Aherne has nailed another free.
Dublin 4-9 Kerry 0-7
54 mins – It's Aherne again.
Dublin 4-9 Kerry 0-9
56 mins - Ní Mhuircheartaigh with two more for Kerry — one from play, one from a free. Martha Byrne is replaced by Fiona Hudson for Dublin.
Dublin 4-9 Kerry 0-11
57 mins – The Kingdom are still attacking, but the Dublin defenders are happy to just give away free-kicks. Ní Mhuircheartaigh and Tangney make no mistake as they convert and reduce the deficit.
GOAL! Healy gets her second and Dublin's fifth.
Dublin 5-9 Kerry 0-11
59 mins – Super finish from Healy. Aherne has been named Player of the Match and deservedly so.
Dublin 5-10 Kerry 0-11
60 mins – Sinéad Goldrick finishes proceedings with a point from half-back as the hooter sounds.
Full-time: Dublin 5-10 Kerry 0-11
And that's that. Dublin are through to their fourth All-Ireland final in four years.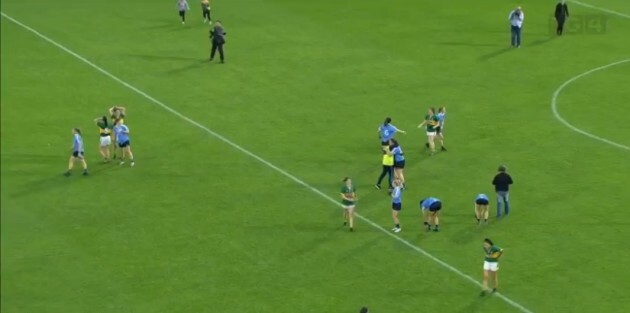 Having lost the last three deciders to Cork, they'll be hoping it's a case of fourth time lucky this year — Mick Bohan's first in charge. They'll learn their opposition next week as the Rebels and Mayo go head-to-head.
The travelling crowd in Thurles are delighted: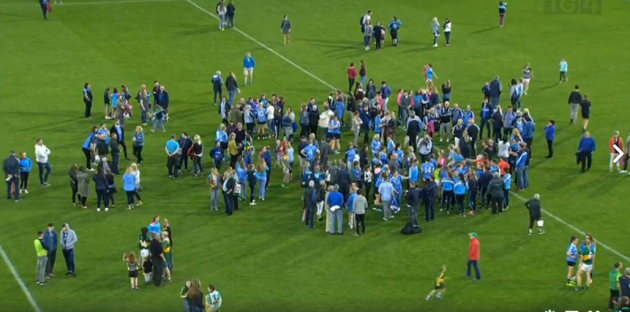 That's all from me, but we'll have a full match report on The42 in the coming minutes. Thanks for reading, and enjoy your evening.
Contribute to this story: