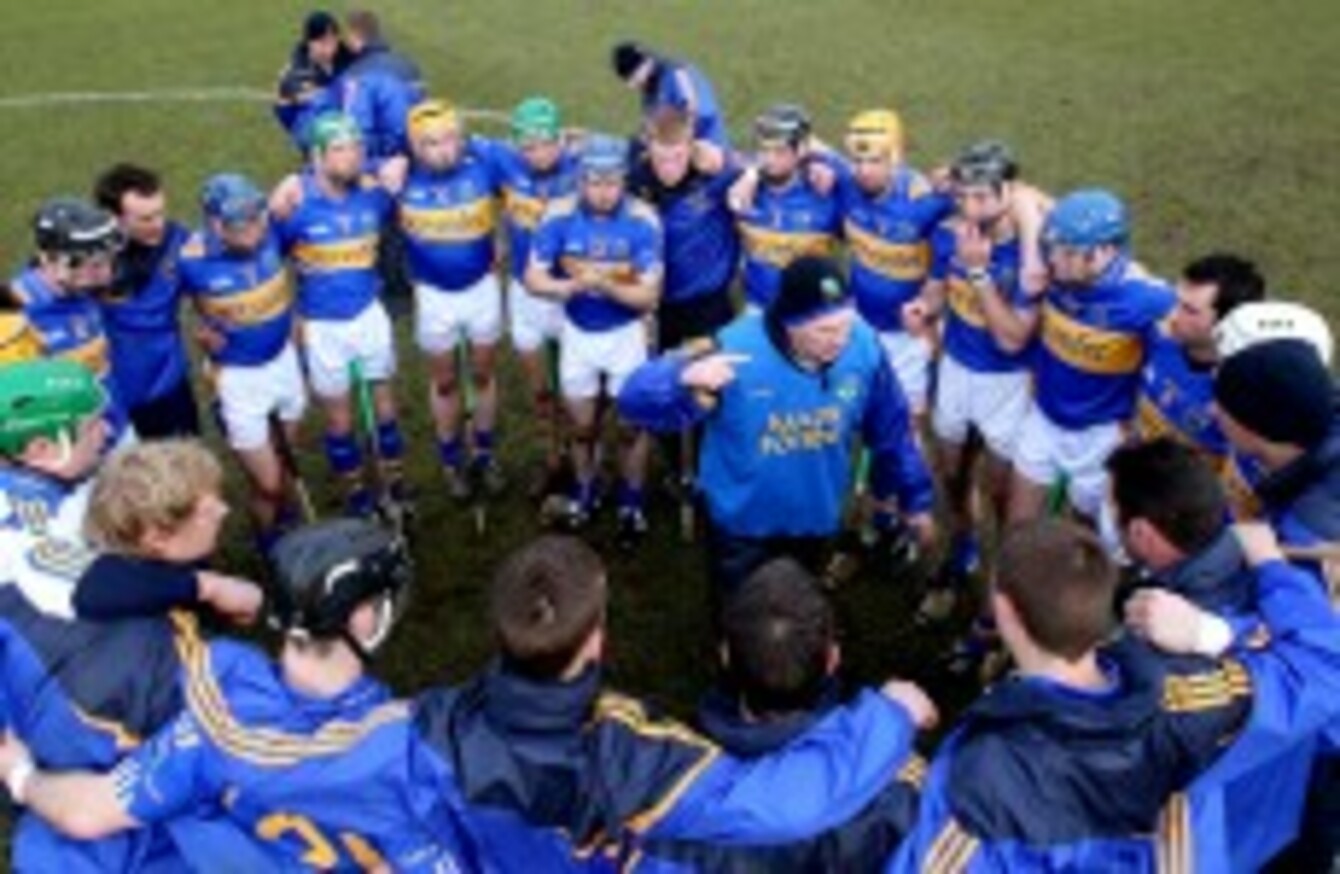 Eamonn O'Shea addressing the Tipperary players while coach to them in 2010.
Image: INPHO/James Crombie
Eamonn O'Shea addressing the Tipperary players while coach to them in 2010.
Image: INPHO/James Crombie
NEW TIPPERARY SENIOR hurling boss Eamon O'Shea has targeted reclaiming the county's status in the top two of the national rankings following his ratification for the position at a county board meeting last night.
O'Shea, speaking this morning on the 'Tipp Today' progamme on Tipp FM, explained why he remains upbeat about the county's aspirations ahead of the 2013 season despite the humbling nature of their All-Ireland semi-final exit to Kilkenny last month.
The Kilruane McDonagh's club man also revealed that he only finalised details to accept the role over the weekend and will take time over the next month to assemble a backroom team. O'Shea previously served as coach to the Tipperary squad from 2008 to 2010.
"The challenge is to get back to the top two. We're currently in the top four so we're not that far away. These players have had a lot of success, even in the last two years they have been Munster champions. We're starting from a good base. I'm optimistic about the next year. It's right to have expectations but they need to be tempered.
"It is a challenge but it's also a great honour to be given this position. This only came to fruition over the weekend so it'll be over the next month that I'll be putting the backroom team together.
"We're fortunate that there's a lot of very good people already in the system in Tipperary from medics, back up and logistics. The role of a manager is making sure the whole system is working whereas as a coach you can concentrate on certain aspects of the game.  I was very fortunate to work under a manager like Liam Sheedy."
O'Shea also insisted that he will be patient in constructing his panel for next season. The Tipperary boss attended some of the county senior hurling quarter-finals over the weekend in Semple Stadium and is looking forward to taking in the forthcoming semi-final ties on October 7th when Thurles Sarsfields face Éire Óg-Annacarty while Drom-Inch play Loughmore-Castleiney.
"We're not going to rush into it. These players have been hurling into late August and September for the last five years. So there is no rush. We'll be getting the panel together by late October and early November.
"I was at the games over the weekend and I'm looking forward to going to the (county) semi-finals and finals. We will looking at new players but there's a lot of good ones in Tipperary. By January we will be properly up and running.
"I'm not certain about retirements. Panels are always evolving. But Tipperary do need senior players over the next two or three years to help transition. We must remember that these players are amateur and have given an awful lot to Tipperary."
Responding to suggestion of indiscipline in the squad, O'Shea spoke of how the setup needed to be aware of who they were representing.
"We're not just representing ourselves, we're representing the county. Players have to take ownership. It is their team and up to them to make the team successful. I want us to have the traditional Tipperary style of grit along with the more modern approaches to the game. Work rate is very important. I want the players work rate to be at a level that is acceptable to me and to the people who are watching us."