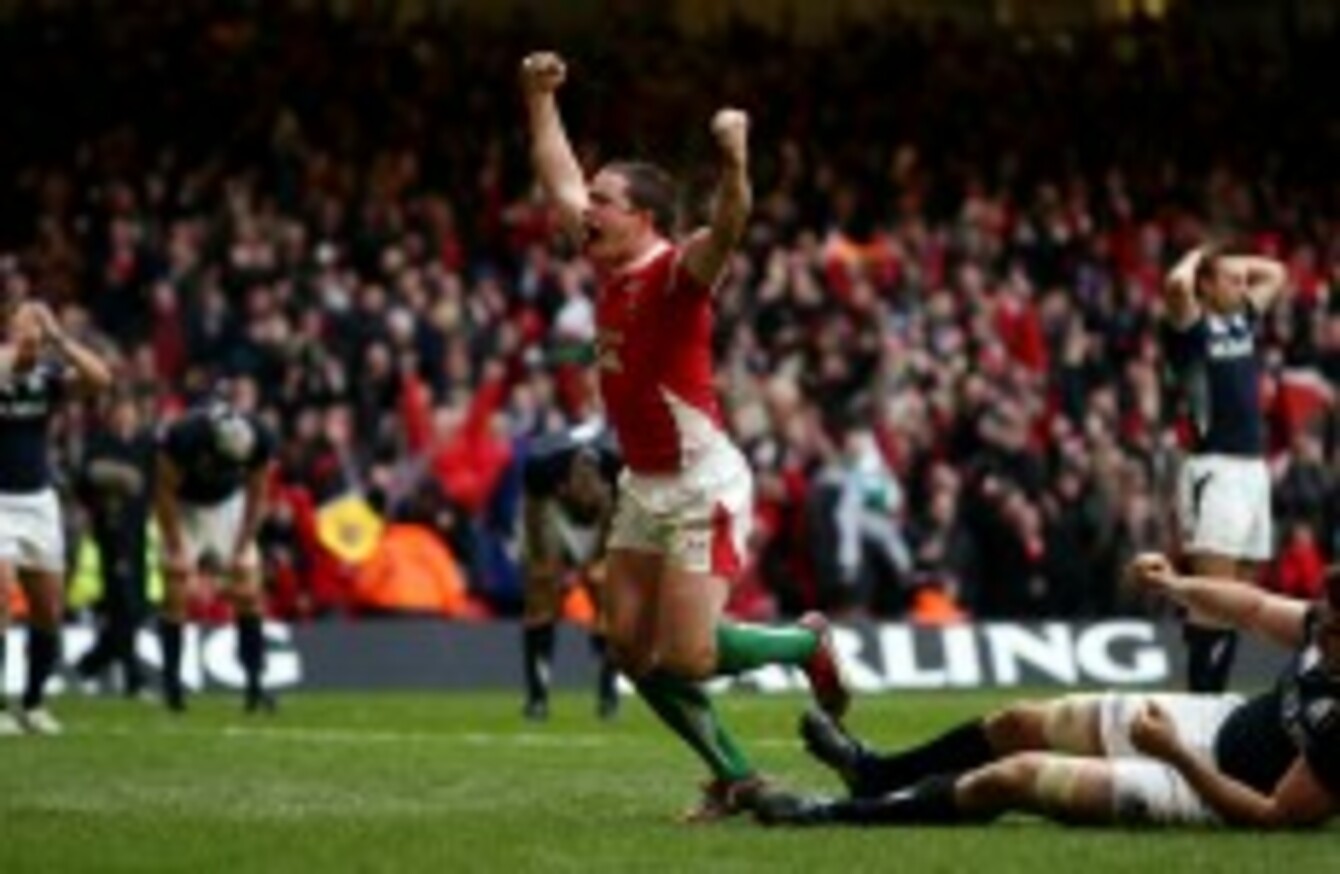 Image: David Davies/PA Archive/Press Association Images
Image: David Davies/PA Archive/Press Association Images
THE FINAL ACT in a brilliant international rugby career takes place in the Millennium Stadium tomorrow as Shane Williams bids a fond farewell to the Welsh national team.
In 86 games over the past 11 years, Williams scored 57 tries for his country, smashing Gareth Thomas' record and becoming the first Welshman to break the 50-try mark.
So as he laces up his international boots for the final time, we take a look at six of the best from an electrifying talent and one of the game's most natural finishers.
v South Africa (7 June 2008)
Not every international rugby player can boast that they left Bryan Habana sitting firmly on his posterior. Shane Williams did.
[embed id="embed_1"]
YouTube Credit: munstersabu
v South Africa (14 June 2008)
Rather than panic when faced by four would-be tacklers, Williams angled his run brilliantly to confuse the Boks defence before pulling back out and heading for the corner. Genius.
[embed id="embed_2"]
YouTube Credit: munstersabu
v Australia (29 November 2008)
Williams started this move with a line break in midfield so it was only fair that he be the one to finish it off in the corner. How about that handling to control the final pass, eh?
[embed id="embed_3"]
YouTube Credit: ivanfarrellarisoy
v Argentina (21 November 2009)
If you've ever seen a quicker burst of pace than this on the rugby pitch, please do let us know.
[embed id="embed_4"]
YouTube Credit: irb
v Scotland (13 February 2010)
This wasn't Williams best try for Wales — not by a long shot — but in terms of drama, it's hard to beat. Having trailed Scotland 24-14 with three minutes on the clock, it was Williams who completed the most unlikely of Welsh comebacks.
[embed id="embed_5"]
YouTube Credit: irb
v France (26 February 2010)
Vintage Williams, manufacturing something out of nothing. Julien Malzieu will think twice before hacking the ball away again.
[embed id="embed_6"]
YouTube Credit: irb
[embed id="embed_7"]