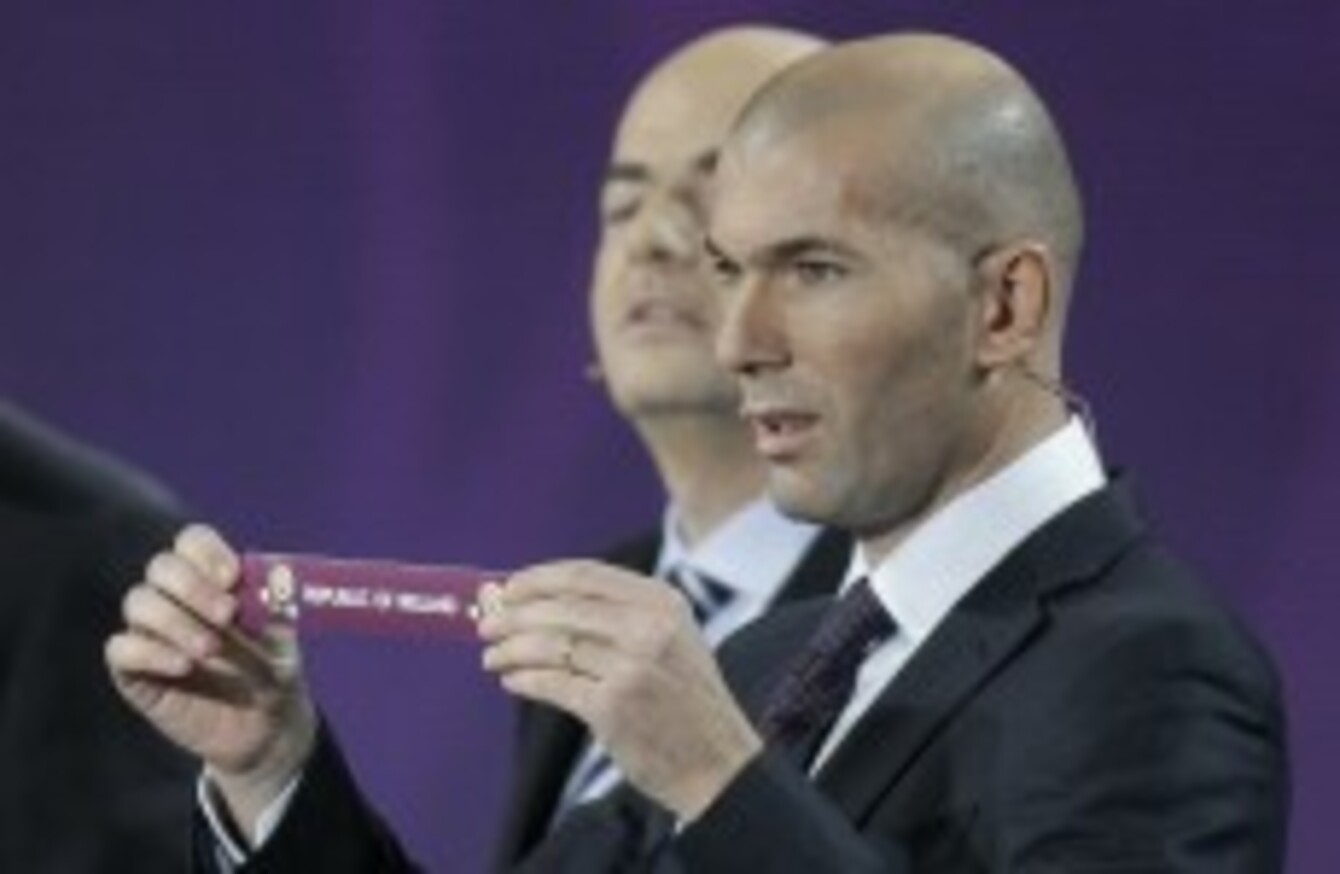 Ireland will be hoping for a favourable draw today.
Image: Efrem Lukatsky
Ireland will be hoping for a favourable draw today.
Image: Efrem Lukatsky
LATER THIS MORNING, the road to France begins as UEFA officials make the draw for the Euro 2016 qualifiers.
Representatives from the 53 nations involved, including Ireland boss Martin O'Neill, will be present in Nice when the nine groups are formed ahead of the first round of fixtures in September.
As ever, Gianni Infantino will bore the pants off us for the best part of an hour before getting down to the important bit. Alongside UEFA's general secretary this year are past winners such as Ruud Gullit, Bixente Lizarazu, Fabien Barthez and Andreas Kopke.
Ireland's chances of qualifying for the tournament for only the third time were handed a welcome boost last month when it was announced that they would be second seeds for the draw.
Another positive development is that for the first time in its 56-year history, the European Championship finals will be expanded from 16 to 24 teams in two year's time.
Here's how the draw will be broken down:
The pots
Pot 1: Spain (holders), Germany, Netherlands, Italy, England, Portugal, Greece, Russia, Bosnia and Herzegovina
Pot 2: Ukraine, Croatia, Sweden, Denmark, Switzerland, Belgium, Czech Republic, Hungary, Republic of Ireland
Pot 3: Serbia, Turkey, Slovenia, Israel, Norway, Slovakia, Romania, Austria, Poland
Pot 4: Montenegro, Armenia, Scotland, Finland, Latvia, Wales, Bulgaria, Estonia, Belarus
Pot 5: Iceland, Northern Ireland, Albania, Lithuania, Moldova, Former Yugoslav Republic of Macedonia, Azerbaijan, Georgia, Cyprus
Pot 6: Luxembourg, Kazakhstan, Liechtenstein, Faroe Islands, Malta, Andorra, San Marino, Gibraltar
 What you need to know
The draw, which starts at 11am Irish time, is made up of 53 countries with Gibraltar (who were accepted into UEFA last year) taking part for the first time.
The qualifiers will consist of eight groups of six teams and one group of five, with hosts France taking part in a series of friendlies with the five-team group.
24 teams will earn qualification to the final — nine group winners, nine runners-up and the best third-placed teams while the remaining eight third-placed sides will take part in two-legged play-offs.
Anything else?
A couple of things — Azebaijan cannot face Armenia and Spain will not be grouped with Gibraltar for political reasons.
Also, UEFA has introduced its 'Week of Football' concept, meaning games will be staggered between Thursday – Tuesday of an international week.
What would be a favourable draw for Ireland?
Simply going by FIFA rankings, the easiest group would consist of: Russia (22), Poland (70), Latvia (111), Cyprus (122) and Gibraltar (no ranking). As we all know, however, the rankings often lie.
In my opinion, a group containing Greece, Norway, Estonia, Cyprus and San Marino would give us the best chance of qualifying.
And a 'Group of Death'…?
Similarly, the rankings bring up Spain (1), Serbia (29), Armenia (30), Iceland (48) and Luxembourg as the toughest opponents.
It is hard to argue with the selection of current world and European champions Spain (although Germany are also a frightening prospect as we found out last time around), but elsewhere I'd go with Romania, Montenegro, Iceland and Kazakhstan.
Do you agree? What are your thoughts on the draw?