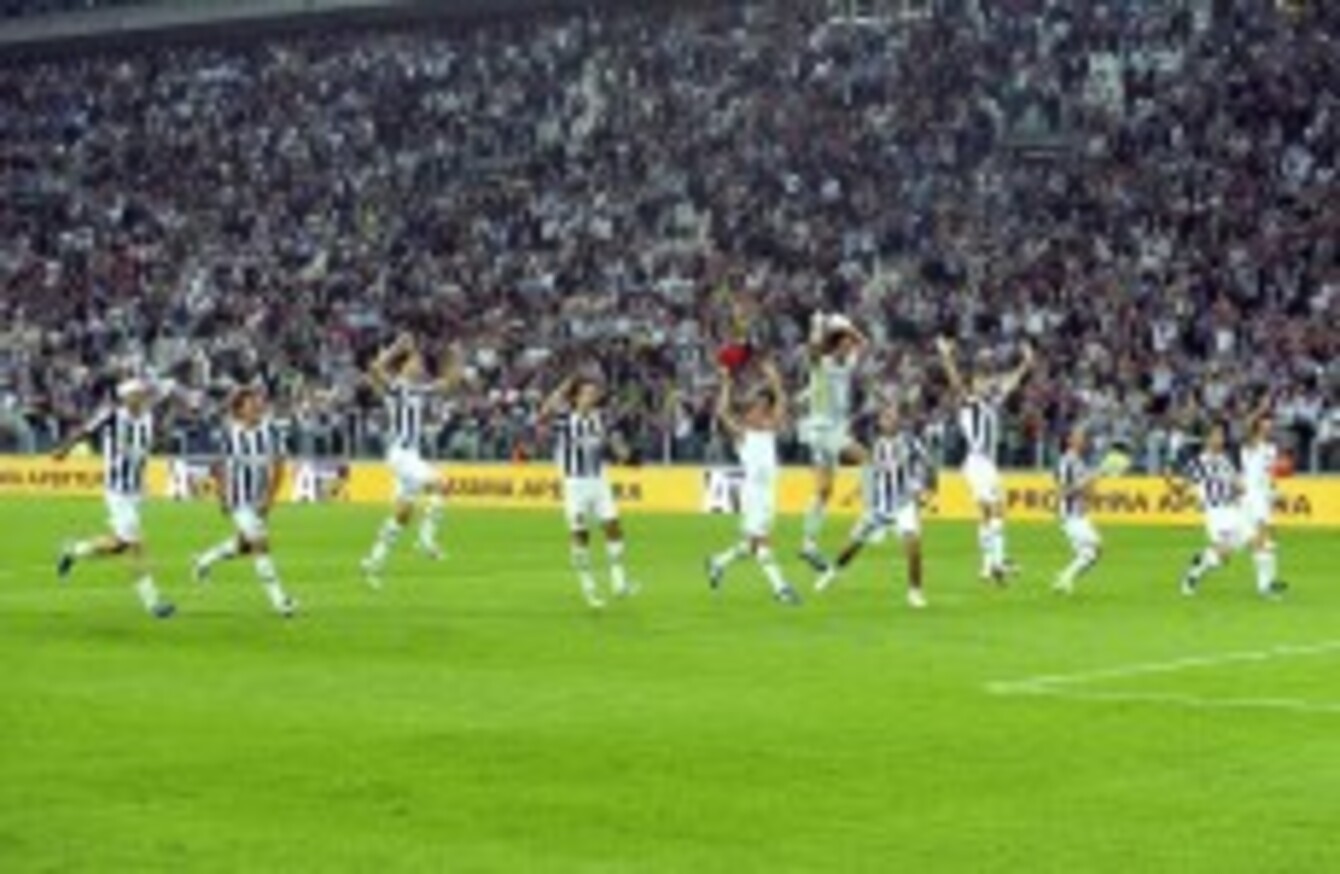 Juventus players celebrate their 2-0 win over AC Milan.
Image: Massimo Pinca/AP/Press Association Images
Juventus players celebrate their 2-0 win over AC Milan.
Image: Massimo Pinca/AP/Press Association Images
Serie A
COMPETITION IN ITALY? Yes, there might just be.
Champions AC Milan eventually went down 2-0 to Juventus on Sunday night with Claudio Marchisio notching a double.
It wouldn't exactly represent a radical change to have Juve top of Serie A but after nearly a decade of Milanese dominance, the Old Lady needs to be challenging them.
Napoli have also thrown their name into the hat with a 3-0 win at Inter. It was an exhibition in counter attacking play though Inter didn't help themselves, having John Obi sent-off.
It was, on reflection, a harsh decision. The game opened up and was made for Napoli but the way they ruthlessly took advantage of it bodes well for their Scudetto chances.
The Goal
Claudio Marchisio's first was a scrappy one but nobody in the Juventus arena cared. The sound barrier was broken, several times.
[embed id="embed_1"]
The headline
La Gazzetta dello sport sums up Juventus right now; "Pirlo, Marchisio, the backbone of Juve."
The table
Bundisliga
Bayern Munich failed to score. Headline news indeed.
Perhaps their fine win over Manchester City midweek took it out of them; they needed Manuel Neuer to be at his best to ensure a 0-0 draw away to Hoffenheim.
Borussia Dortmund shook off their recent troubles by destroying Augsburg 4-0. Nobody is saying second season syndrome with Jorgen Klopp's men yet but we have seen unexpected title winners in Germany slide before. Dortmund need to kick on from here.
Bayer Leverkusen had a convincing 3-1 win at home to Wolfsburg while Werder Bremen and Borussia Monchengladbach both lost making Bayern's point a valuable one in the end.
The goal
You may have caught Erin Derdiyok's wonder goal already but there was another belter in Germany this week. Step forward Raffael.

[embed id="embed_2"]
The headline
Bild once again poked fun at a Bayern player. It's a great way of selling papers.
Arjen Robben was pictured enjoying Oktoberfest so Bild ran with; "Only at Oktoberfest does Robben look like he is having fun".
The beer helps I'd imagine.
The table
Eredivise
Gregory Van der Wiel was the culprit after his handball gave FC Groningen a penalty and a subsequent shock win over Ajax. That was compounded by PSV winning 2-1 away to NEC meaning they leapfrogged their bitter rivals into third. Tim Matavz scored again for PSV.
AZ Alkmaar kept up their impressive start with a 3-1 away win at VVV Venlo. AZ now have a healthy four point lead at the top of the table.
The goal
No real Golazo's in Holland this week so let's go back to PSV and Ola Toivonen's backward header in the Europa league last week. Javier Hernandez did something similar last season.
Which was better?
[embed id="embed_3"]
The table
The headline
Rafael Van der Vaart scored a somewhat controversial goal against Arsenal on Sunday. He told De Telegraf "They should not whine" Arsene Wenger doesn't whine does he?
Ligue 1
Thinks are starting to happen for PSG.  A 2-0 win at home to Lyon saw them climb to the top of the table. With a cushy three point gap no less.
Javier Pastore is being compared to Denis Bergkamp, Pele, and Lionel Messi. If he keeps this up he may merit comparison with Richard Dunne. He scored the first and ran the show.
Champions Lille had a 2-0 win over Brest to celebrate. That win sees them nicely placed in fifth. Eden Hazard and Joe Cole are starting to work up a partnership and after a sticky start they look like they have found their groove.
Arsenal fans might be interested to know that their Costa Rican striker Joel Campbell scored for Lorient. Can he play centre-half?
The goal
Expect Javier Pastore to feature here a lot this season.
[embed id="embed_4"]
The headline
L'equipe; "Paris stands on top" "Paris and Pastore continue to pass the obstacles safely" Will I say it? Could he do it on a cold Tuesday night in Stoke?
The table