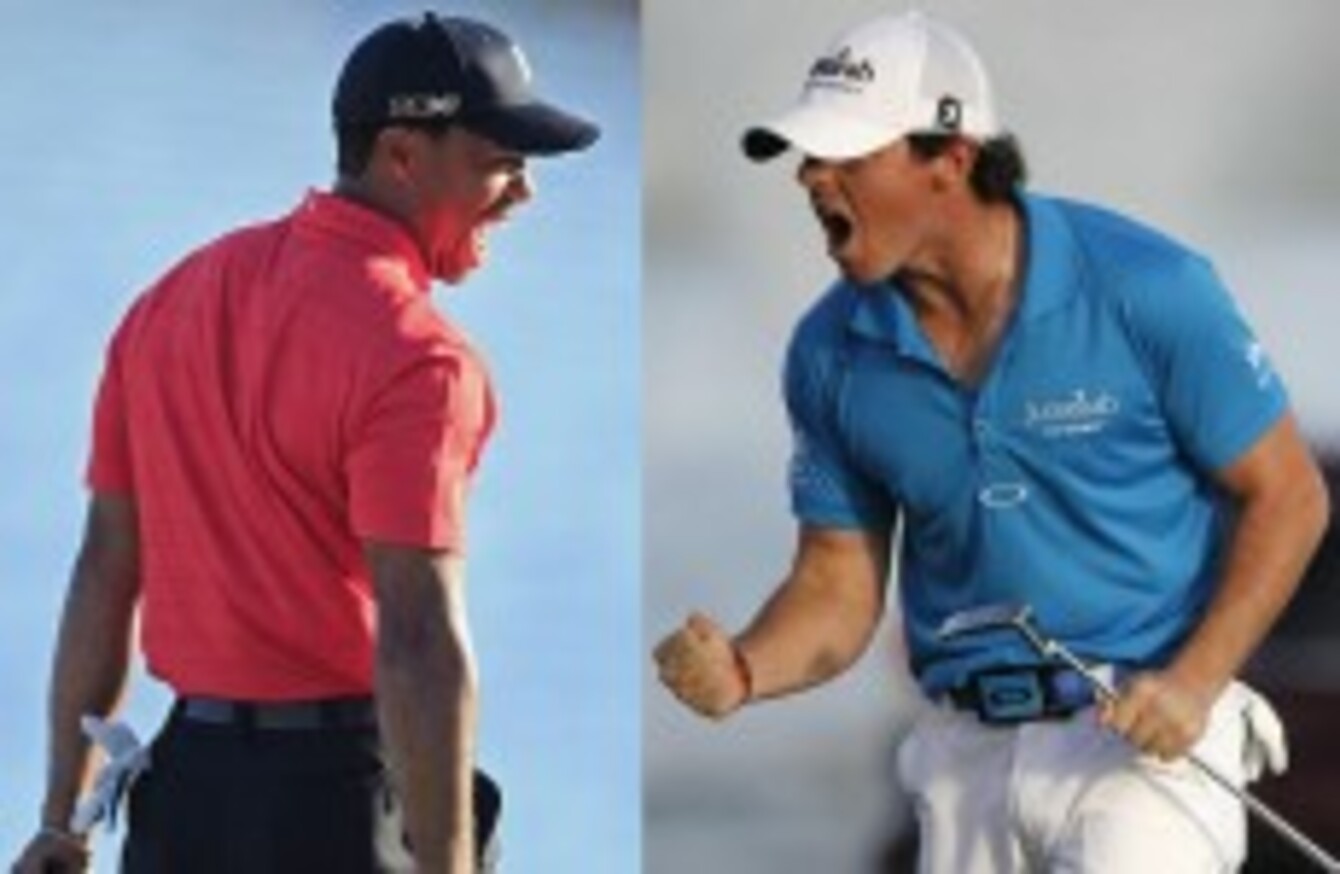 Woods v McIlroy: ready to rumble.
Image: John Raoux/Lynne Sladky/AP/Press Association Images
Woods v McIlroy: ready to rumble.
Image: John Raoux/Lynne Sladky/AP/Press Association Images
IT'S THE SHOWDOWN the entire golf world has been a waiting for. A rising Rory McIlroy against a resurgent Tiger Woods; the man with claims to be the best golfer in the world on current form against the man with claims to be the best ever.
Ninety-seven players will tee off for the season's first Major, the Masters at Augusta National. But in the lead-in to Thursday, all eyes are on the two hot favourites.
We caught up with Sky Sports golf analyst Rob Lee who shared his thoughts on Woods v McIlroy.
How's it going, Rob? Thanks for taking the time to talk.
No problem at all. Looking forward to a cracking few days of golf. I suspect there's a lot of chat in Ireland vis à vis Rory McIlroy?
Yeah, everybody is really excited. With Tiger winning two weeks ago, the hope is that the two of them are still in contention coming down the stretch on Sunday.
You know I can't really see past the two of them, I've got to say. Tiger Woods is bang on form and Rory's really bang on form. If ever two blokes had the game for Augusta, it's those two. I really do think they're both going to have a say in this.
They've both approached the tournament in their own way – Rory has taken a few weeks off; Tiger played and won in Bay Hill. Is there a right way or a wrong way to approach Augusta?
One thing's for certain, you have to know Augusta very well. Whatever about your preparation on the eve of the tournament, that's personal, but you have to know it very well. Tiger obviously knows it from his wins around there, and Rory's learning more every year.
If Rory had been putting well over the first few days last year, he could've shot 80 in the last round and still won — that's how well he played. We know what he did at Congressional. He comes here this year a better player, mentally stronger. If I'm Rory McIlroy, I'm coming here thinking not that I'm going to win, but that I've got a wonderful chance of winning.
Mentally, what type of impact do you think Rory's final round last year will have, particularly if he is still in contention come Sunday?
I think he got rid of that a few weeks later at Congressional. I think he did something there that pretty much no other person could have done. To win the US Open after folding at Augusta like he did was beyond remarkable.
I think that just shows you the kind of animal that Rory McIlroy is. He might have a cheeky smile and a sort of happy-go-lucky Irish disposition, but he's a beast. The man is a beast.
Rory grew up watching and idolising Tiger when he was winning everything under the sun. Will that come into play if the two of them are up against each other in the final round?
Look, how many players have won a Major by eight shots? Tiger's certainly done it. He's won one by 15 shots — that was a pure freak — and he's won others. Rory's won a US Open by eight shots, how many others have done that?
Rory's got to look at himself in a Tiger Woods light. Alright, his age precludes him from doing what Tiger's done but to win at the age of 22, and to do that by eight shots at the US Open is remarkable. He should think that he's Tiger's equal out on that golf course. He should really believe that, and I think he probably does.
McIlroy and Woods shake hands following the third round of the Abu Dhabi HSBC Championship (Kamran Jebreili/AP/Press Association Images)
Well, that's the only way to approach it. If you go out with a deferential attitude, that's exactly what Tiger wants. When he's in the final group on a Sunday, so many of his opponents crack because they think too much about playing against Tiger Woods.
Yeah, they just forget to do what they can do, and what they can do is have a good score at Augusta. If you're in the last group tied with Tiger Woods and you chuck a 68 at him, he's going to have to play really well to beat you, and that's what a lot of the players haven't been doing. When Tiger's won a lot of his Majors, it's because the others have just imploded or didn't have the self-belief.
When you break it down, if you shoot 68 in the final round of any Major championship, some guy's got to play awfully well to beat you. You've got to think of it in those terms, not in "the guy has won 14 Majors" terms. It's just one round of golf when it comes down to the final round on the Sunday.
How impressed were you by Tiger at Bay Hill?
Mega impressed! I was actually really impressed by him in Abu Dhabi. I know he didn't play well in the last round and Robert Rock won really well, but I was really impressed with the control he had of his golf ball for three days and I thought it's not going to be that long [before he wins again].
And then when Rory won at the Honda, Tiger posted his lowest-ever final round at a PGA Tour event, 62. All the signs and portents were that he was going to win before long and then he got to one of his favourite playgrounds which is Bay Hill and he did the business.
It was his last event before Augusta, and things couldn't be better if you're in Camp Woods. Apart from the Hank Haney book coming out…
Tiger is a man who prides himself on his focus though. Is the book likely to have been much of a distraction?
I think he showed at Bay Hill [that it hasn't distracted him]. He had a lot to lose in that last round. If Tiger Woods had not performed on the Sunday and he had lost, imagine the questions coming his way. He had to win there really to stop all those questions. Because he won, those questions have disappeared really.
The only other concern for him was the injury on the final day of the Cadillac Championship.
When he pulled out with the injury, the Achilles' was the official story but I was wondering if it was the knee. If it was the knee, I was seriously fearing for his career. He's had four or five operations on that knee; how many can you have?
But then he went to Augusta the week of Bay Hill  and played a practice round. Then he played two rounds at the Tavistock Cup on Monday and Tuesday, then the pro-am on the Wednesday, and then the four rounds of the tournament. If you can get through that, there's not much wrong with your Achilles' or your knee, so you've got to think that he'll be fit enough to get around Augusta.
Catch all four days of The Masters live on Sky Sports from Thursday 5 April at 7pm.