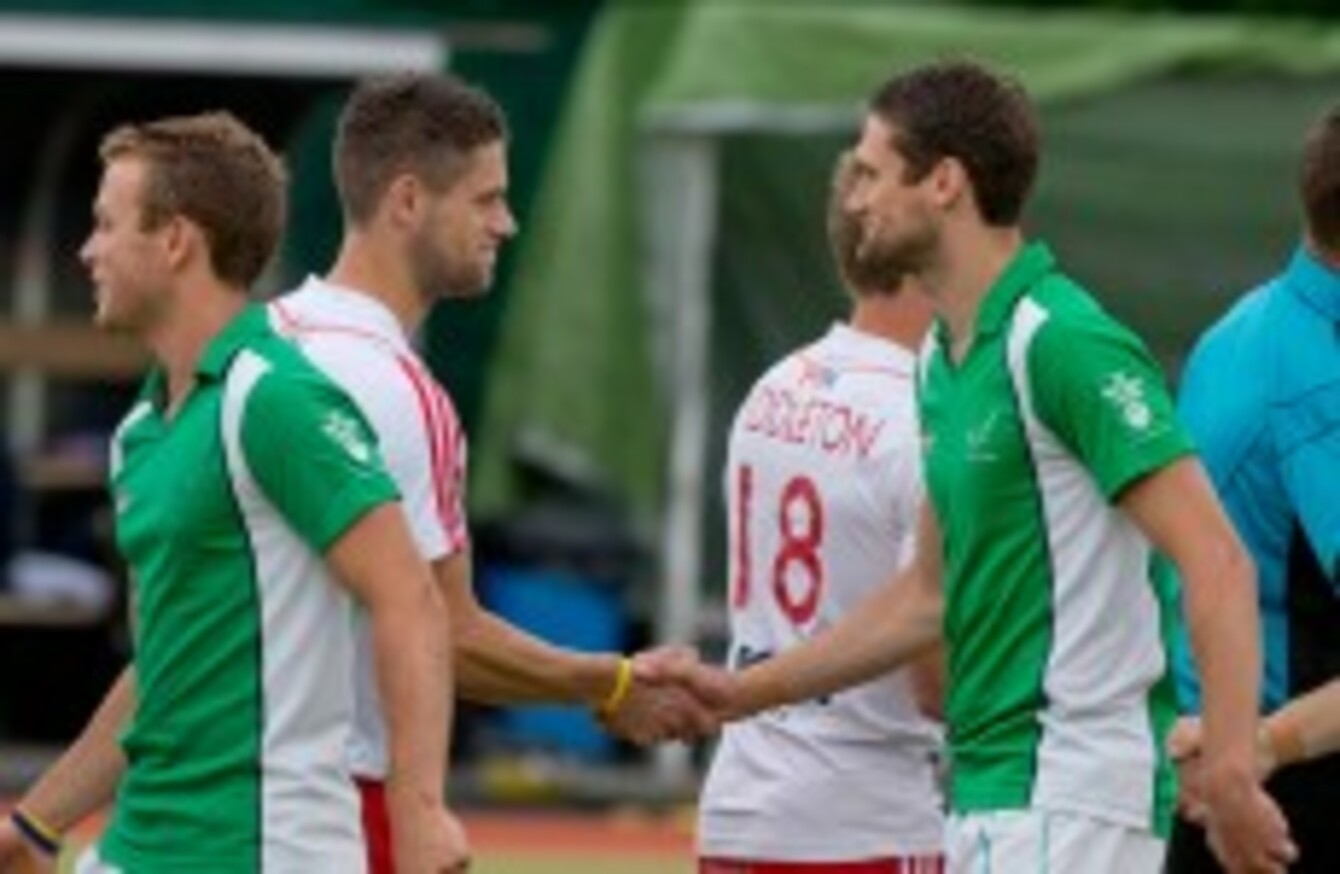 Brothers Mark Gleghorne and Paul Gleghorne shake hands before the game in which they play for England and Ireland respectively.
Image:
INPHO
/Morgan Treacy
Brothers Mark Gleghorne and Paul Gleghorne shake hands before the game in which they play for England and Ireland respectively.
Image:
INPHO
/Morgan Treacy
HOT ON THE heels of half-brothers Kevin Prince and Jerome Boateng, Paul and Mark Gleghorne had the "weird" experience of lining out against one another this weekend for Ireland and England, respectively, in a pair of hockey internationals at Belfield.
Bragging rights were shared with England's Mark winning out on Friday 3-2 while Paul's Ireland produced a memorable fightback to win 2-1 on Saturday — the first Irish win on home soil since 1949 and first over England since 2002 — Mikey Watt's 50th international goal sealing the deal.
Speaking after Friday's tie about lining out against his brother for the first time, Paul said that while the build-up to the game was a weird experience, once the first whistle was blown, any notice of special treatment for his sibling was forgotten.
"You are just so concentrated on trying to implement the tactics and trying to play. Sometimes, you don't always notice who you are marking.
"I could have been marking my brother or maybe not; you're just trying to find a free man. It was weird in the lead-up to it, playing your brother in an international game, but once we were in the game, that stuff goes out the window."
Unprompted, Mark's thoughts followed very similar lines: "It's strange. You want your brother to do well but to play against him, you obviously don't want that! We had a wee smile when we were shaking hands at the start of the game but once you're in it, the game is too quick to be able to tell."
Mark's switch to England, though, serves to illuminate the ongoing tug o' war similar to Rory McIlroy's recent quandary to stick with the GUI, the union that aided his youth development, or switch to Great Britain and the benefits they offer.
(Ireland's Michael Watt celebrates scoring their second goal of the game yesterday)
Mark represented Ireland 80 times before formally switching allegiances in 2011 to England after a three-year period — similar to cricket's assimilation period — outside international hockey to further his top-level hockey aspirations, especially in the build-up to the London Olympics.
He missed out in 2012 due to plantar fasciitis, but was part of the English World Cup side that finished fourth last month in The Hague a month ago, and the decision appears to have benefited him markedly.
Ireland currently compete as a 32-county team but, despite near misses, have not qualified for a World Cup since 1990 and have never reached the Olympics. Thus, joining a national programme which received funding of £15m in the build-up to the 2012 Games, allowing players to go full-time, is hugely attractive, while the medical care offered for his career-threatening foot injury was able to be covered.
Indeed, he is one of four Ulstermen to have switched allegiance to England in the past decade, with fellow Ulster man Iain Lewers a regular in the setup and is named in their panel for the Commonwealth Games.
It is frustrating for an Irish setup that have finished one place outside of qualifying for the major world events in 2012 and 2014. The Irish Hockey Association are hopeful the McIlroy example will give players inspiration to stick with the federation that played a part in their development and stem the current one-way migration.
Paul, meanwhile, says that his brother's success in reaching the upper echelons of the world game serves as an inspiration.
"There is a disparity [between where our teams are currently at]. It's good as a motivating factor to see someone you know so well, playing on that stage and knowing the work that has gone into it. It also gives us faith, ourselves, that we can be there as well at the level, so it is a good thing and obviously, I am very pleased when he does well, but not against us!"
For more info, follow @hookhockey or visit www.hookhockey.com.