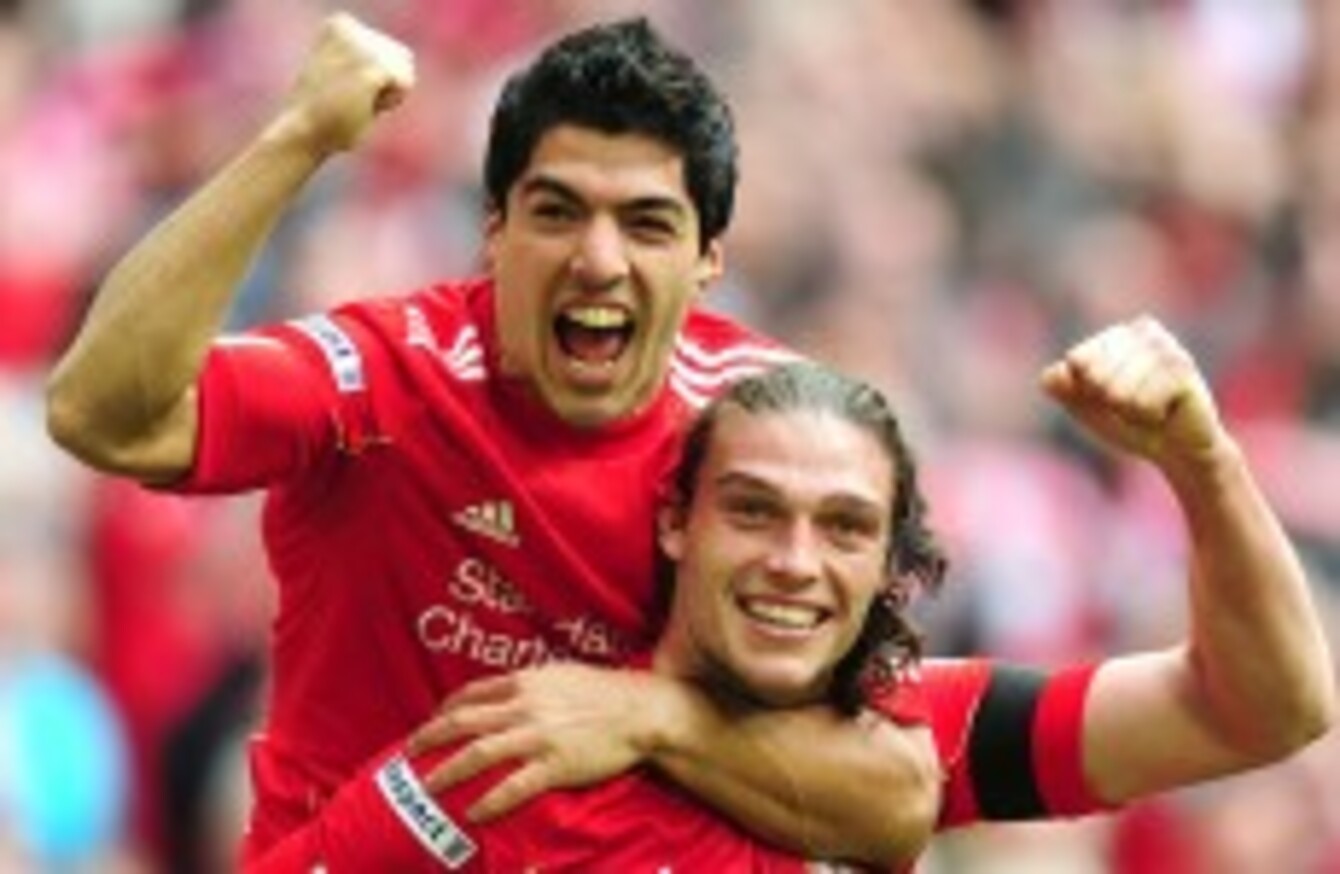 Liverpool's scorers celebrate
Image: PA
Liverpool's scorers celebrate
Image: PA
IN THE END, it was the ultimate redemption for Liverpool: a late winner in a do-or-die derby to put them in another cup final, with the goals coming from two of their most criticised players.
By the end, though, you couldn't really begrudge Liverpool – or match-winner Andy Carroll – their victory. After a generally dismal first half – characterised by Jamie Carragher's error to allow Nikica Jelavic's opener – they admirably picked up their game in the second half.
And, despite missing one excellent opportunity, the expensive number-nine was central to that with a fine performance. Indeed, after so much justified criticism for Dalglish and questions about his ability to rouse a modern team, this improved second-period display was an apt response. It was testament to the manager.
In saying that, though, Liverpool did get a big helping hand along the way. Because, initially, it looked like they would still struggle to open up a robust Everton. Until, eventually, Sylvain Distin had a brain freeze.
With Luis Suarez bearing down on him, the centre-half – who had been impressive up to then – tried to turn and play the ball back to Tim Howard. He completely underhit it, though, allowing Suarez to run in on goal and smartly finish.
From there, there was only one winner as Liverpool completely dominated. Indeed the 86th-minute winning goal came after a concerted spell of pressure – not to mention, from an Irish point of view, a rash error from Seamus Coleman.
The full-back was lucky not to be sent off for a second booking as he made a foolish tackle on the edge of the box but it could be argued he then received a worse punishment. Craig Bellamy swung the ball in for Carroll to head home with his back to goal.
That moment will justify some of Giovanni Trapattoni's concerns about Coleman and, quite possibly, vindicate any decision to leave him out of Euro 2012.
The entire game, however, raises a few similar issues about David Moyes.
Once again, one of his teams essentially bottled a big game. Indeed, much like his job as a whole, having built up a solid base to initially go ahead, he didn't have the impetus or ambition to really seize the tie. And, from such a fragile position, his team were ultimately hostage to the pressures and potential errors from such a big occasion.
Of course, Moyes has done a very good job to even get Everton into this position given the club's notorious financial circumstances. But, as a result of that, he is being feted as a true great and the next Manchester United manager. If that is the case, the question must be asked over whether he should be defying expectations further and actually winning trophies?
Ultimately, after so much trauma this campaign, Liverpool now have the chance to claim two.