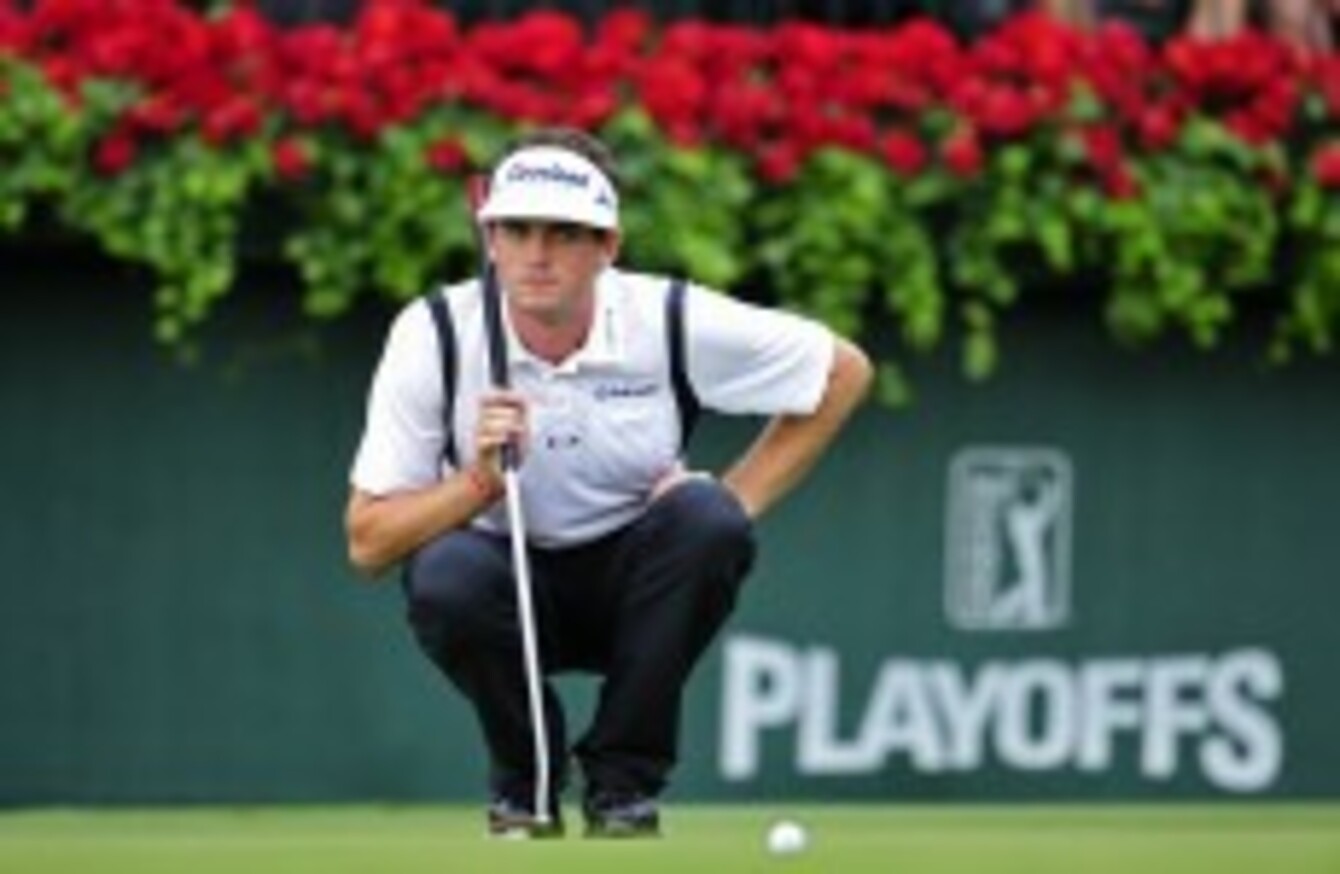 Image: AP Photo/Rainier Ehrhardt
Image: AP Photo/Rainier Ehrhardt
JUST BEING BACK in Atlanta was enough for Keegan Bradley to get chills thinking about the biggest win of his career last month at the PGA Championship, whether he was walking through the airport or even seeing Interstate signs while driving to East Lake.
It got even better when he finished the first round of the Tour Championship.
Bradley saw his name atop the leaderboard — right in front of Jason Dufner, no less.
"It is very familiar in a really cool way," Bradley said yesterday after opening with a six-under 64 for a two-shot lead over Dufner, Chez Reavie and Luke Donald, the world number one.
I'm sure this doesn't happen a lot where you get to come back a month later in the same city that you won a major. So it's really fun.
It was difficult to ignore, even for the other 28 players who still have a shot at the $10 million bonus in the FedEx Cup finale, or at least are trying to win the Tour Championship.
Luke Donald is among the top five players in the FedEx Cup who only have to win at East Lake to collect golf's richest prize, yet as he made his way through the back nine, he couldn't help but notice the first two names on the leaderboard.
It was only 39 days ago when Bradley, who was five shots behind with three holes remaining, went birdie-birdie-par at Atlanta Athletic Club to catch a fading Dufner, then beat him in a three-hole playoff to become the third player in 100 years to win a major in his first try.
A month later and 40 minutes away, there they were again.
Donald told his caddie, John McLaren, "A familiar leaderboard since the last one in Atlanta."
"Those guys play a lot on Bermuda grass and they're used to it," Donald said. "I don't think it's a coincidence by any means."
Bradley, who grew up in New England and now lives in South Florida, was quick to agree.
"Yeah, I don't think there's any big surprise," Bradley said.
He likes this grass, too. He likes these courses, and I hope I get to play with him tomorrow. I think that would be a lot of fun.
President's Cup
The Tour Championship is more about memories, however.
Along with this being the end of the FedEx Cup, there's another cup on Bradley's mind. He is not a lock to be a captain's pick for the Presidents Cup, despite having won twice this year, including a major. US captain Fred Couples has said he would consider the Tour Championship as one last audition.
Bradley could not have asked for a better start.
He holed a bunker shot from across the green on his second hole to fire up the fans, most of whom now know his name. After a sloppy three-putt bogey on the eighth, he hammered a 3-wood from 281 yards that rolled past the hole at No. 9 and set up a two-putt birdie, then really put it together on the back nine. He had a pair of short birdie putts, along with a two-putt birdie on the 15th and was feeling the good vibes from a month ago.
He is a long shot to win the FedEx Cup — especially with Donald playing well — but the Presidents Cup is right in front of him, and Bradley feels it.
"The cliché is to say that I'm not thinking about it, but literally probably every third hole — or maybe even less — it pops into my mind," Bradley said.
I really want to be on the team, but I want to earn my way onto the team, just like I'm going to have to. If the captain and assistant captains think I've done enough to get on the team, they're going to pick me.

And if they don't, that's totally fair, too.
– Doug Ferguson