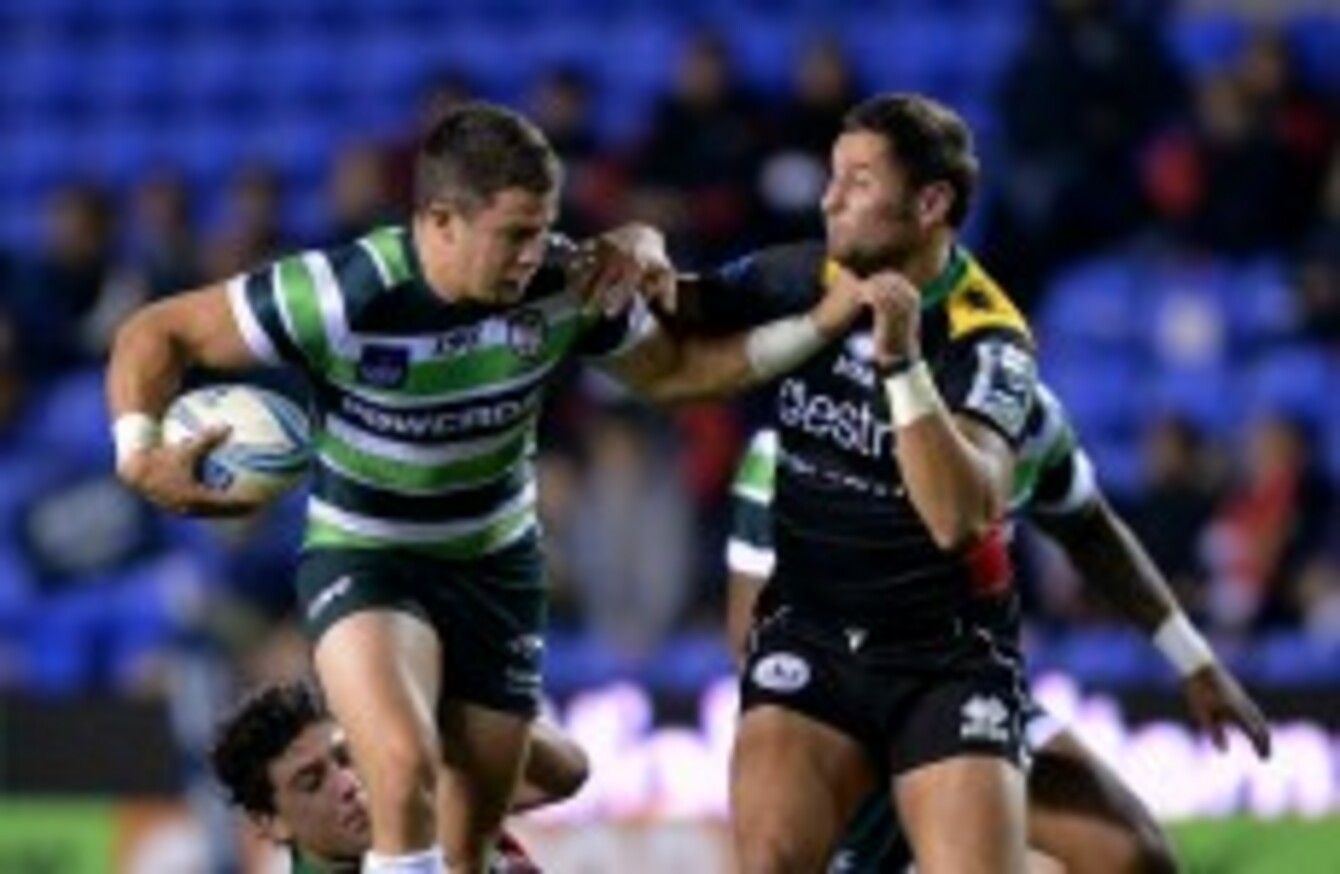 Fergus Mulchrone in Amlin Challenge Cup action for London Irish.
Image: Andrew Matthews
Fergus Mulchrone in Amlin Challenge Cup action for London Irish.
Image: Andrew Matthews
AS CALLS FROM agents go, Fergus Mulchrone can not think of a better one. Coming to the end of another Championship season with Rotherham Titans, his agent rang and let him know London Irish were interested in securing his services. The Irish qualified centre was just as pleased when Titans teammate Eamonn Sheridan told him he was also joining the Exiles.
London Irish coach Brian Smith, who has Test caps for Australia and Ireland, signalled one of the English club's main transfer strategies in 2012 when he signed up Ian Humphreys, Tomás O'Leary and Jamie Hagan. Mulchrone and Sheridan signed up last summer and three more Irish players are heading through the 'In' door in the coming months. The Exiles have signed Conor Gilsenan [Connacht], Eoin Griffin [Connacht] and Tom Court [Ulster]. Further Irish signings have not been ruled out.
"I'm looking forward to next season already," Mulchrone told TheScore.ie, "but there are still two games left in the league and I am eager to be involved in both. I'm really happy with how my season has gone but we're keen to finish with a couple of wins to climb the table."
Mulchrone and Sheridan have played a combined 48 times for the Exiles this season and have contributed nine tries. Guy Armitage and Griffin will push the midfield pairing hard next season, Mulchrone admits, but he is pleased they have been able to transfer their partnership from the Championship to the Premiership with no discernible dip in performance levels. "We have a good understanding, having played with Rotherham together, and we help each other out. There is complete trust there. We are always talking to each other out on the pitch, whether it is calling plays or giving tips on opposition players," he said.
London Irish are currently 10th in the league and Mulchrone feels a slow start to the season and a run of injuries have prevented the side building meaningful momentum. The new signings, he feels, will add depth and quality to the squad. He commented:
There is real star quality coming in. Obviously, you will never get to have a full Irish side but it is great to see those numbers increase. A big part of this club is our Irish culture so having seven or eight lads from Ireland, or Irish-qualified, adds to that. The signings are in keeping with our heritage and the Irish ex-pats that follow us will be happy to see more, familiar faces.
For all of their signings, the Exiles will lose out on James O'Connor's services next season. The versatile Australian back scored 93 points in 13 games with the club but is currently injured and off to Heineken Cup champions Toulon in the summer. Mulchrone said, "He's an electric player with a very high skill-set and great foot-work. He feeds to your strengths out on the pitch. From the moment he signed there was nothing of the superstar about him; he dug in and worked hard. He'll be a sad loss next season but he has spoken of coming back to London Irish in the future and I hope he does, the sooner the better."
Mulchrone will start for London Irish against Gloucester, at Kingsholm, on Saturday afternoon. He will be joined by Sheridan, O'Leary and Humphreys, while Hagan is on the bench. The centre believes the Irish half back pairing remain key figures if his side want to challenge for Heineken Cup and playoff spots next season. "Tomás brings a big tempo to our game and we really feed off that, and his supreme work-rate," he said. "Ian's passing and kicking game is excellent. You know that, if you're in the right place at the right time, he'll find the right pass to get you through the hole."
Mulchrone's season will wrap up next weekend and while he usually visits his uncle's house, in Mizen Head, each summer. He is holding onto the outside chance, however, that he may make the Emerging Ireland squad to play in the IRB Nations Cup in Romania. As he remarked, when the question of an international call-up was broached, "If I got a phone-call to travel with the Emerging Ireland squad I would snap their hands off."
Aviva Premiership fixtures
Bath v Northampton (Fri, 7:45pm)
Gloucester v London Irish (Sat, 3pm)
Wasps v Newcastle (Sat, 3pm)
Saracens v Worcester (Sat, 3pm)
Sale v Leicester (Sat, 3:15pm)
Exeter v Harlequins (Sun, 2pm)