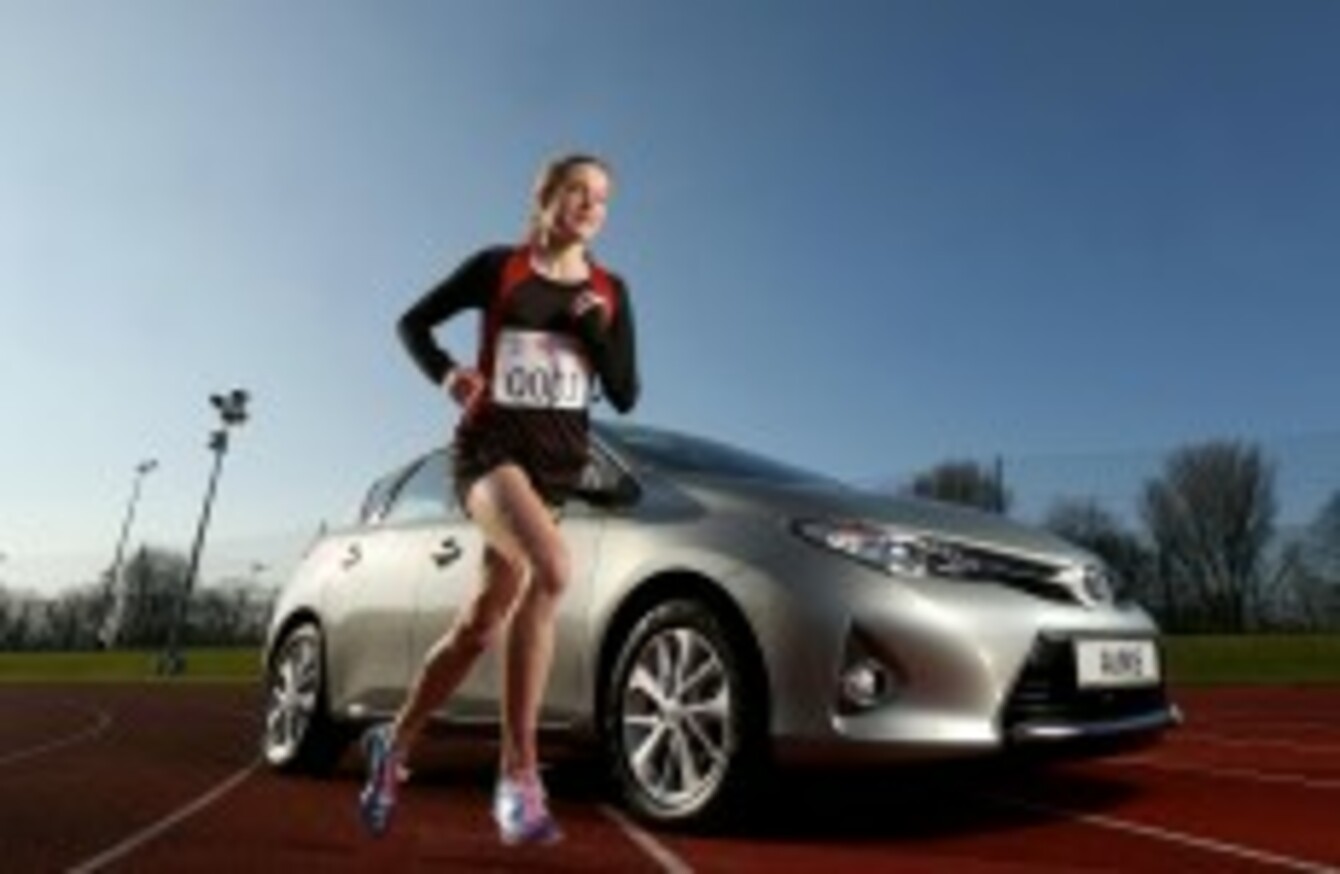 Britton during the announcement that she has become a brand ambassador for Toyota Ireland.
Image: INPHO/Billy Stickland
Britton during the announcement that she has become a brand ambassador for Toyota Ireland.
Image: INPHO/Billy Stickland
FIONNUALA BRITTON IS back in the city where she competed at her first senior European championships this week.
Ireland has sent an 11-strong team to Gothenburg ahead of the beginning of the European Indoor Championships tomorrow with the Kilcoole AC runner set to take part in the 3,000m.
The reigning European Cross Country champion has had several wins in recent months – retaining her crown in Budapest, claiming victories in the Edinburgh and Antrim Cross Countrys as well as a surprise first place in the 1,500m at the National Indoors earlier this month.
Back in 2006, she travelled to the Swedish city as an inexperienced 21-year-old.
"They were the first Europeans I ever ran and these are the first indoor championships so hopefully it's a good omen for me," Britton told TheScore.ie.
"It was a bit different for me back then. It was all new as it was my first senior championships. I didn't make it out of the heats but I ran a PB (Personal Best) so I did come away happy after learning what it was all about.
"You need the experience of going to them for the first time to be able to prepare for the next ones."
Expectations are high for the Irish athletes this weekend and the main medal hopes will come from Brian Gregan, ranked first in the 400m, Derval O'Rourke and Ciaran O'Lionaird.
Britton, meanwhile has talked down her chances of making an impact on her debut at the competition. The 28-year-old hopes to mount a strong challenge at the World Cross Country Championships in Poland next month and explains that this appearance will act as good preparation.
In a way, this is preparation for the World Cross. I've only done indoors once before and have never done a championships so it's all a new experience for me.
"When you come off cross country, the track is nearly like a different sport. It's improving my speed for the 3km and I was surprised at how well Athlone went (se was first) so it's going well.
"I wouldn't be known as a track runner so it's good because I get to go to these events without the pressure that there was before Christmas when I was defending my title and stuff.
"It was always my plan to use the indoors as a way to train for the World Cross. I'm going to run the heats and see what I can do but I'm not aiming for a medal. Obviously that would be a bonus though."
Britton back in 2006. Credit: INPHO/Morgan Treacy
With Worlds just around the corner, Britton believes her training has gone without any hitches and will aim to better the 16th place finish at last year's event.
"It's all gone pretty well. When you're running PBs you can't really complain and when it's part of preparations for a big fixture then it definitely seems to be going in the right direction.
"Having been 15th and 16th before when I would have been aiming for a top 15 so this year, hopefully having improved, I can look for a top 10.
"It's hard to predict in World Cross because you're bringing all the top athletes in the world from 15,000m up to 10km and you're putting six from each country on the line instead of three.
"It's not easy to predict and it's probably one of the hardest distances in the world to run but I'll be looking to improve."
Joining her in Bydogszcz will be Linda Byrne, Ava Hutchinson and Lizzie Lee after Athletics Ireland announced that they will be sending the women's team.
Having claimed gold at the European championships back in December, Britton is confident that they can make their mark despite the presence of dominant pair Ethiopia and Kenya.
Because we're going with a strong team and Irish teams have been successful here before, it would be nice to be able to go out there with the possibility of bringing home a team medal.
"It's always difficult to beat the Ethiopians and the Kenyans but in a way it means that battle for bronze is even harder. It's not just European countries either as you have to look at America and the likes of Bahrain who would have African athletes in their team.
"Everyone needs to perform on the day like they did in Budapest. But you can't really predict that."