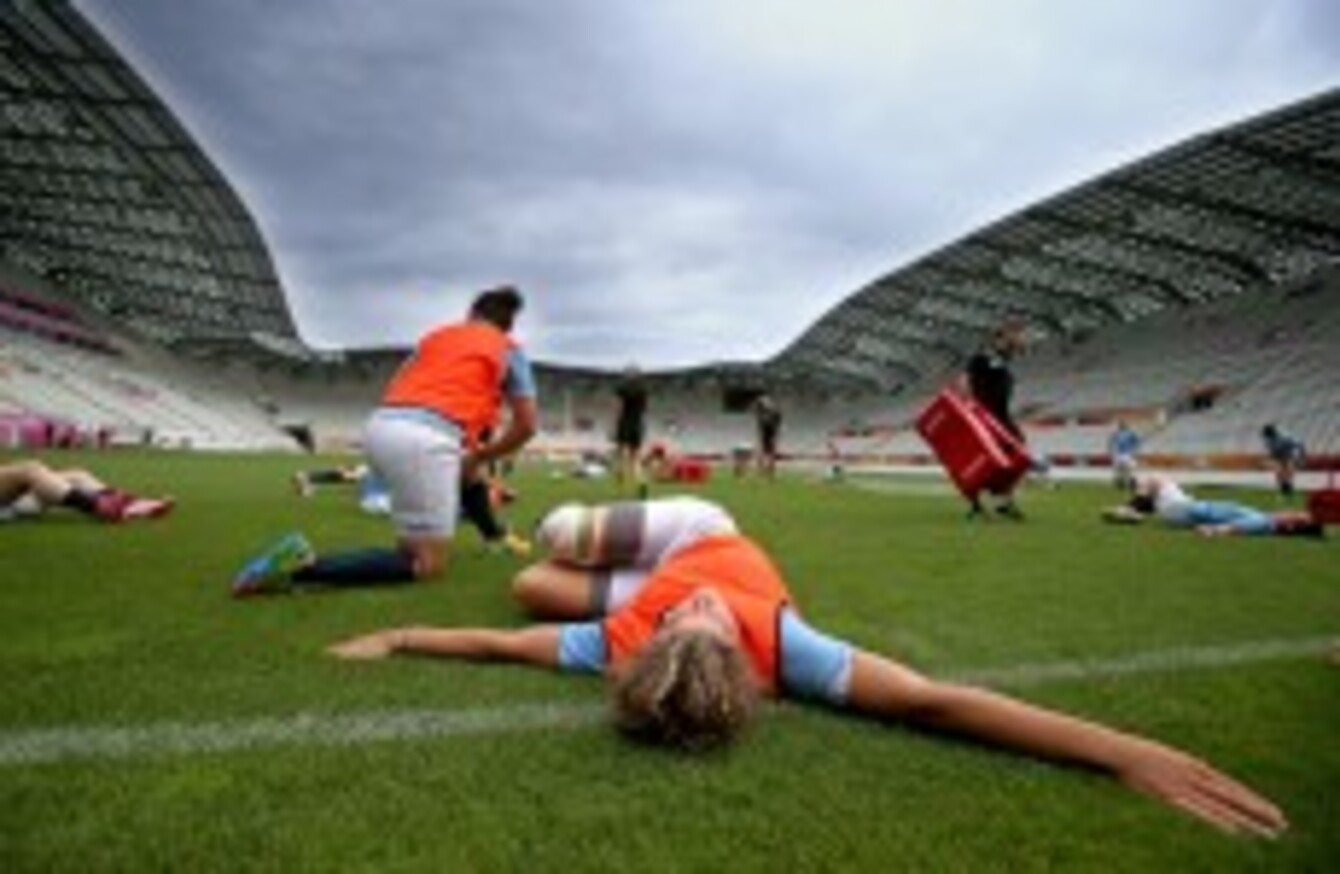 Ireland warm-up for their captain's run at Stade Jean-Bouin yesterday.
Ireland warm-up for their captain's run at Stade Jean-Bouin yesterday.
PARIS' STADE JEAN-Bouin is prepared for two superb World Cup semi-finals this evening, as Ireland take on the might of England, before Canada face hosts France. Here, we examine five of the key areas for Philip Doyle's Irish group in their fixture.
Making tackles
Whatever about defensive structure and line speed, any team who misses tackles will find it difficult to win games, particularly against a side with athletes as strong as England's. Encouragingly, Ireland's defence played the starring role in their win over New Zealand, providing confidence that Philip Doyle's charges can halt the English waves of attack.
"At the end of the day, it'll come down to tackles, breaking them up and getting in to slow down their ball,"says Ireland captain Fiona Coghlan. "You can't miss any tackles against England, because if they get linebreaks they'll flood the channels and they have pace to finish you off.
"First-up tackles are key and then slowing down ball at the ruck."
Scrum
England encountered difficulties at the scrum early on in their 13-13 draw against Canada, but recovered to a stunning extent to score a pushover try in the second half.
Meanwhile, the Irish scrum has improved in each of their three games under the expert eye of Peter Bracken [and Justin Fitzpatrick before him]. A penalty try was forced from Kazakhstan at the scrum, while there should have been another in the win over the Kiwis.
Coghlan points out that the removal of the 'hit' has been to Ireland's benefit, as the scrum is "more about technique than size" now. A thrilling battle awaits as the two sets of forwards pack down.
"In fairness to England, they have a good scrum," admits Coghlan. "In the Six Nations, we were really annoyed about the try they got off the scrum. It was a bit of a lack of communication; we heard 'ball out,' but it was actually one of their girls calling it. We're really, really annoyed about that and it still lingers with our pack."
Maul
A difficult area to call. Ireland excelled in their mauling efforts in the opener against the US, but we saw less driven line-outs in the proceeding two victories. Again, there is technical expertise in the Irish ranks, hopeful of beating England's superior power.
Canada scored an excellent maul try against the English on Saturday, stampeding over the line from five metres out. That will be the template for Ireland this evening.
"To be honest, we scored against them in Twickenham using our maul and we'll definitely look to use it again," agrees Coghlan. "We'll look to break up theirs by targeting them in the air first, try and take the ball off them in the air before they set it up.
"But they are very fond of the maul, and that's something that they weren't as fond of before. It is something that we'll be looking to stop."
Counter-attack
England's defence is supremely well-organised in phase play, and has presented an intriguing task for Ireland attack coach Greg McWilliams and performance analyst Len Browne this week.
They will have picked out chinks they feel out-half Nora Stapleton can look to exploit, but turnovers and kick receptions also provide Ireland with an excellent opportunity to create tries.
Ireland have countered very well in this tournament, targeting New Zealand's scattered front-line chase and then skirting Kazakhstan with passing into space on the far side of the pitch. On the flip side, the kicking game of Stapleton, Tania Rosser and Niamh Briggs must be accurate to prevent English chances to counter-attack.
"We can't kick aimlessly to them, which we did a bit in the Six Nations," says Coghlan. "A couple of our kicks went astray and led to linebreaks, so that's something we've had to close down on."
The closing quarter
Everything seems set up for a tense, closely-fought battle at Stade Jean-Bouin, meaning the final 20 minutes may prove utterly decisive. Ireland have an unbreakable belief in their conditioning, which was impressive during their three pool victories.
USA, New Zealand and Kazakhstan couldn't match the Irish ability to maintain performance levels in the closing stages, but England are a different athletic proposition and will back themselves to go the distance.
The fact that bench players like Sharon Lynch, Jenny Murphy, Siobhan Fleming and Hannah Casey provide a degree of guaranteed impact is of comfort to Ireland head coach Philip Doyle. Again, England have their own strengths to counter that.