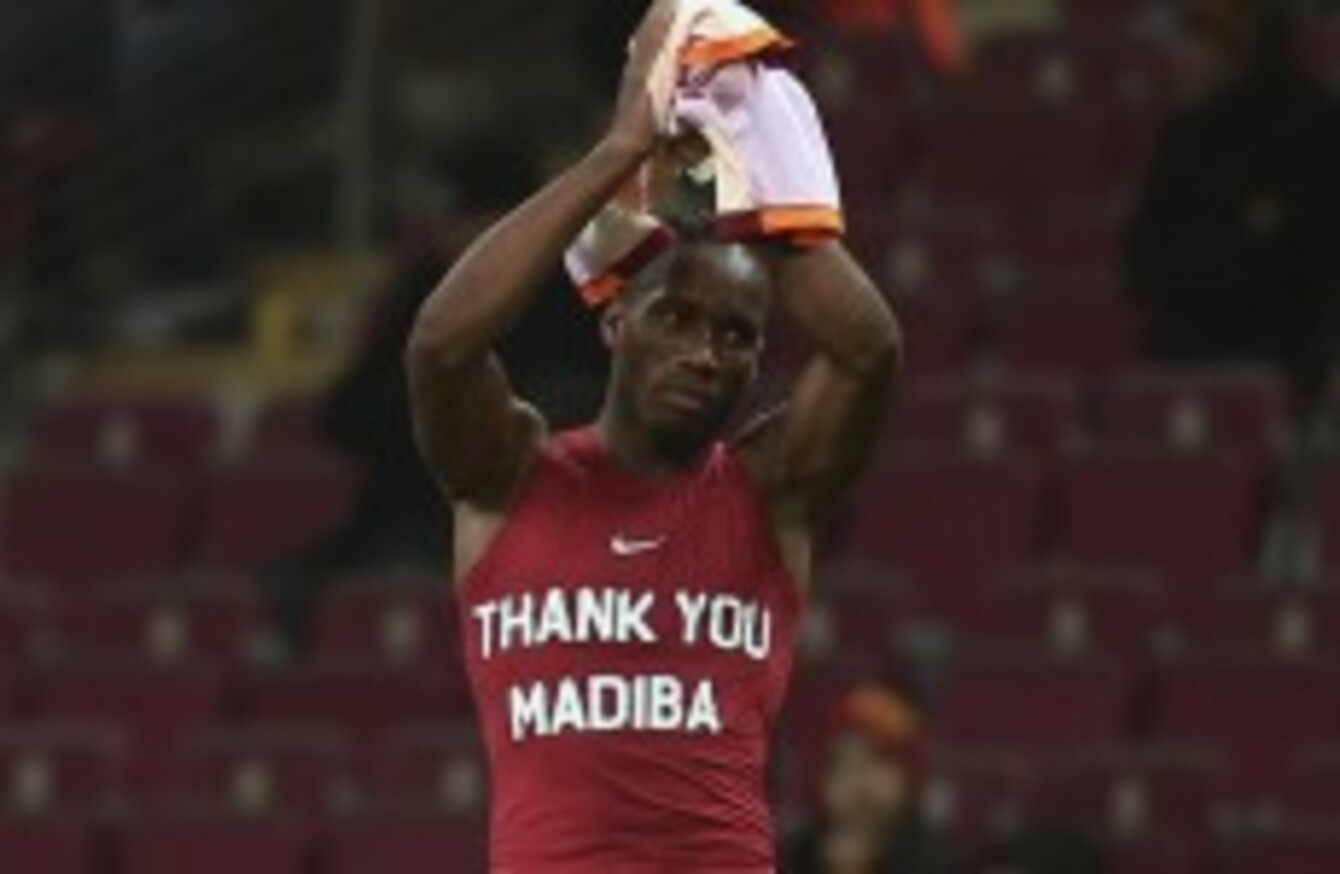 Drogba in the T-shirt that's landed him in hot water.
Image: /AP/Press Association Images
Drogba in the T-shirt that's landed him in hot water.
Image: /AP/Press Association Images
GALATASARAY FANS TONIGHT publicly paid tribute to Nelson Mandela, after the Turkish Football Federation threatened to punish two players for their homage to the late South African anti-apartheid hero.
Star striker Didier Drogba had removed his club shirt after a match Friday against SB Elazigspor to reveal a T-shirt that read "Thank You Madiba", using Mandela's clan name.
Drogba is among the nominees of the African Football Confederation's 25-man shortlist for the prize of African Footballer of the Year for 2013. Teammate Emmanuel Eboue also honoured the former South African president who died on Thursday with a T-shirt that said "Rest in Peace Nelson Mandela".
The Turkish Football Federation said the two players faced disciplinary action for breaching a ban on wearing political slogans and messages on T-shirts. But tonight Galatasaray supporters vented their anger at the decision sporting banners that read "No to Racism" and "Madiba the world will never forget" when the Turkish players entered the field before a Champions League match against Juventus.
Turkish Sports Minister Suat Kilic has lashed out at the football authorities, calling on the federation to review its decision against the two star players.
"I don't find it a healthy choice in terms of Turkey's image abroad and the two footballers' (freedom of) expression," he said.
US President Barack Obama led world tributes Tuesday to Mandela, hailing him as "a giant of history" at a memorial at Soweto's World Cup stadium attended by tens of thousands of South Africans.