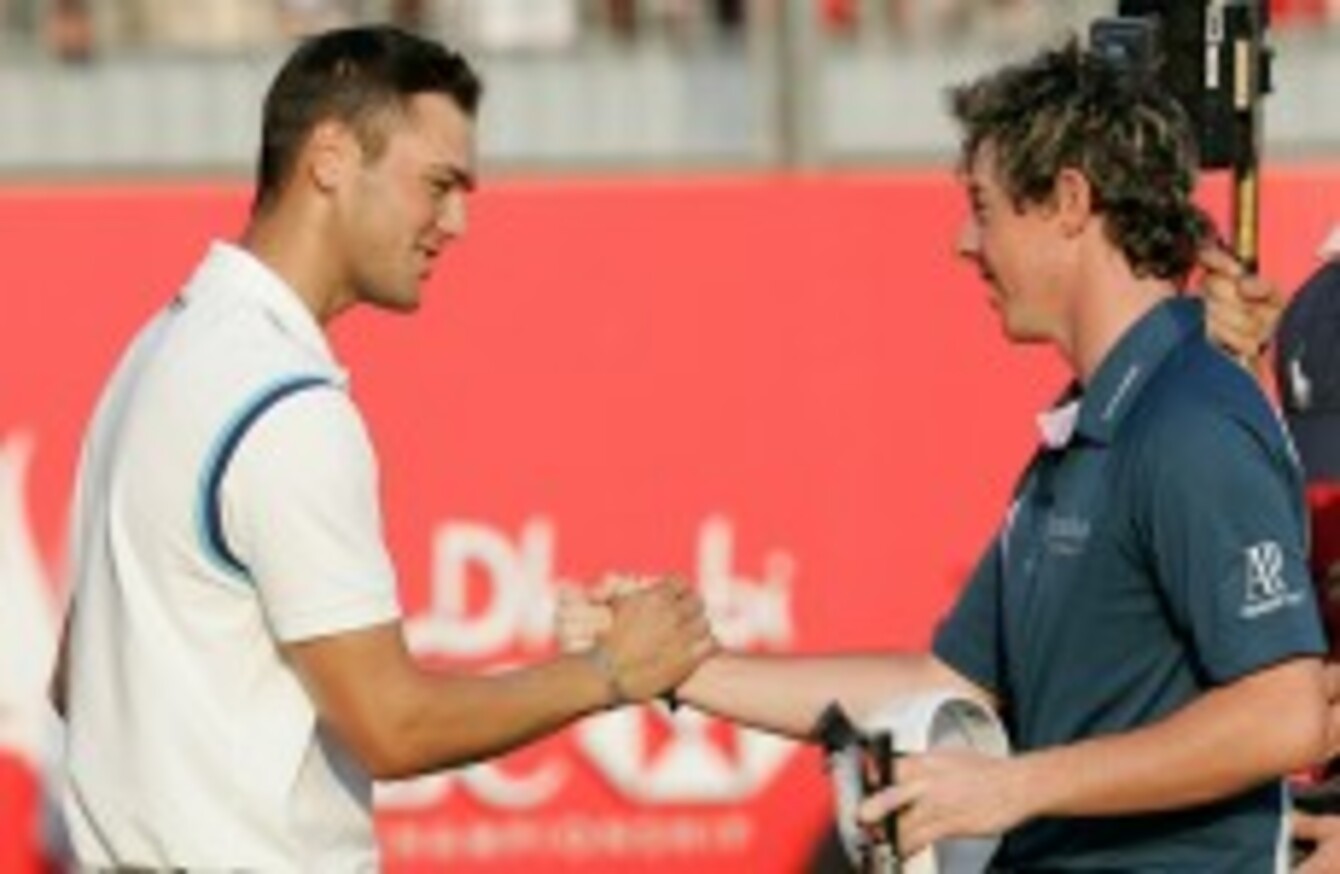 Image: Nousha Salimi/AP/Press Association Images
Image: Nousha Salimi/AP/Press Association Images
MARTIN KAYMER MADE it three wins in the last four years at the Abu Dhabi Championship on Sunday with a stunning eight-shot victory. In doing so, he moved up to number two in the world rankings on a weekend that saw a number of changes in the top 10.

Kaymer was unstoppable and got himself into a situation summed up best by Rory McIlroy:  "There was nothing I could have done to catch him." McIlroy, of course, finished runner-up to Kaymer, but it wasn't just the fact that Kaymer won by eight shots, it was the manner in which he did it.

He just didn't put a foot wrong. In fact, he only made one bogey in 72 holes, a feat which last occurred on the European Tour in 2002 as Tiger Woods picked up the WGC CA Championship. Comparing people to Tiger Woods in golfing terms is rarely flattering, but the standard of Kaymer's putting is noteworthy.

Tiger's putting is largely what has separated him from the rest and enabled him to win 14 Major championships. Kaymer's putting over the weekend was exceptional. You don't make 25 birdies without sinking a few, but even those that he didn't make were only whiskers away dropping and from long-range he sent the ball stone dead.

It was also his putting ultimately that brought Kaymer his first Major last year at the USPGA. He held a clutch 12-footer to get into the playoff and was also ruthless from on the second playoff hole in making a 20 footer to keep the pressure on Bubba Watson.  Kaymer has kicked off his season with a win and one feels it is going to be the first of many this year.

Our Boys

It wasn't a bad weekend for the Irish either. Rory McIlroy moved up to seventh from 12th in the world rankings after his second-place finish, an encouraging performance on his first appearance of the season.

Graeme McDowell carried the form he showed in Hawaii and finished third. In doing so, he also moved into fourth place on his own in the rankings, having shared the position last week with Phil Mickleson. Honourable mention also for Gareth Maybin who finished tied for fifth and will be very grateful for the €112,955 pay cheque as he looks to improve on his 40th place in last year's Race to Dubai.

Let's not forget about poor Pádraig Harrington, disqualified for a minor infringement which lead to him signing for the wrong score.



The debate on the rules of golf, trial by television viewers, retrospective two-shot penalties and everything goes on with that could take up endless reams of space in the media, so let's not go there. Harrington's disappointment can be counterbalanced by the fact that he played very good golf in the first round and was actually leading the tournament.

Golf's most notorious tinkerman has made multitude of changes over the winter period and his good showing, albeit a curtailed one, will give him confidence that the changes he has made are working.

Go West

Over in the USA on the PGA Tour, 26 year old Jhonattan Vegas, who is almost certainly going to be known as Johnny Vegas on this side of the pond, became the first player from Venezuela to win a PGA Tour event.

He beat Bill Haas and Garry Woodland in one of the more chaotic playoffs in recent memory, but just did enough to make his "dream come true," as he put it.

Next week sees Tiger Woods' first appearance of the season at the Farmer's Insurance Open at Torrey Pines, the scene of his 2008 US Open victory. It is a tournament that Woods has won six times, notching up four in a row between from 2005 and 2008.

Five talking points
Martin Kaymer wins in Abu Dhabi and has now won four of the last eight events he has played in on tour. Will he add more Majors to his trophy cabinet this year? Future world number one?
Pádraig Harrington gets disqualified after a fan emails the Euroepean Tour having spotted an infringement on television.
The top 10 in the world rankings is ordered very differently from last weekend as players jostle for position early in the season.
Irish golf continues to show its strength as three men from the Emerald Isle finish in the top 10 in Abu Dhabi.
Tiger Woods will get his 2011 season underway at next week's Farmer's Insurance Open.