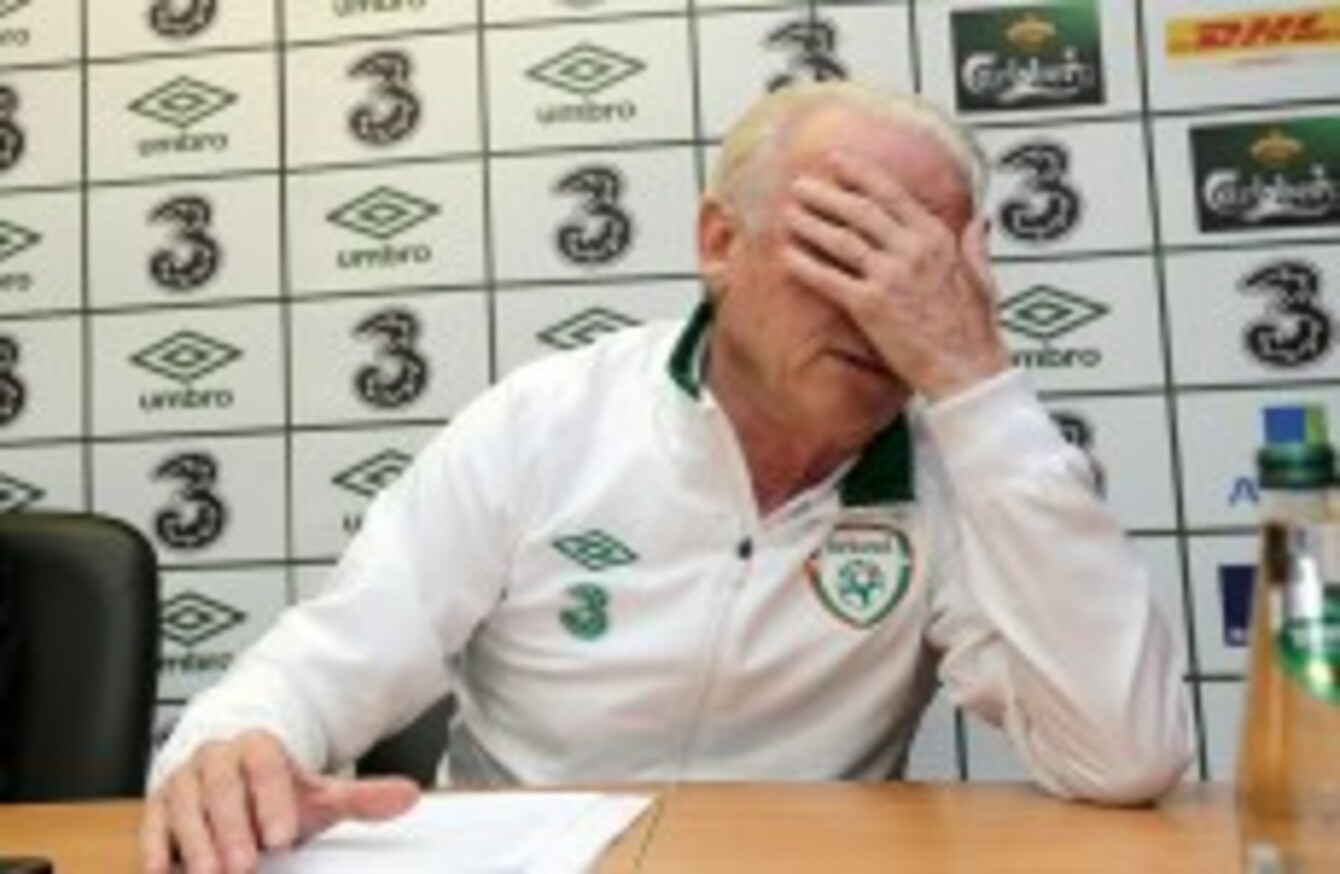 Giovanni Trapattoni does not want to linger on Ireland's record defeat.
Image: ©INPHO/Morgan Treacy
Giovanni Trapattoni does not want to linger on Ireland's record defeat.
Image: ©INPHO/Morgan Treacy
IN THAT INIMITABLE manner of his, Giovanni Trapattoni once explained the difference between the result and the performance — 'the show', as he termed it.
For him, football is always about the bottom line, the final score which decides the points and goes into the record books. Outside of that, if you want to be entertained, go to the opera.
It was a line used to defend himself from criticism when Ireland were grinding out some success with conservative tactics and a style derided as dull and uninspiring. Now in his darkest hour as Republic of Ireland manager, this differentiation between the result and the show is where Trapattoni seeks shelter from the storm.
And make no mistake about it, the Italian senses that a storm is coming; that is, if it has not already been and gone, leaving a trail of destruction in its wake.
To those who were in the Aviva Stadium last night, the German whirlwind which tore Ireland asunder was majestic and terrifying in equal measure. But speaking in Malahide today, Trapattoni was insistent that one nightmare match against world-class opposition could not define an entire campaign.
"Obviously our performance was inferior, and Germany were clearly superior to us technically… all of their players play in the Champions League — Bayern, Dortmund." He added:
Our aim is not Germany. Our aim is Sweden and Austria and the next game against the Faroes.
"We can accept defeat against Germany. Realistically, we were never going to compete against Germany for first place in the pool. Our aim is to compete against Sweden and Austria."
He added: "When there is one inferior [team], it is not possible to get angry because you have to recognise their superiority.
"We were inferior in strength, we were inferior in midfield. They were superior with the pass, technically.
"I couldn't be angry with my players. I have to charge their batteries because we need their enthusiasm, their new energy in the next game on Tuesday."
'Every player loses many, many games'
In the immediate aftermath of their 6-1 drubbing, the Irish players who faced the media spoke of their embarrassment. The scars are deep and painful, but as manager, Trapattoni is intent on boxing off the bad memories, drawing a line under a night to be forgotten and moving on to the next challenge.
The less said about last night, the better for everyone, it seems.
"Yesterday we go back to the hotel, last night. After the match I spoke immediately with the players before the dinner. They were obviously all deflated but I told them that when you lose conceding one goal or two goals or three goals, it's the same. It's three points gone. It's changing only psychologically the situation.
"I reminded them when they play in their league, they play every two days, every three days. Every player loses many, many games. They have to start again in the next game with the same enthusiasm."
There are plenty who would lose no sleep if last night's match was Trapattoni's final one in charge of the Republic of Ireland. Asked what it would take for him to throw his hat at the task and walk away, he was defiant.
"When there is no positive. When I ask the team to do some situation and the team doesn't make this situation."
Where others see only negatives — a miracle escape in Kazakhstan and a humiliation against Germany — Trapattoni still finds these positives. His critics see a shambolic near miss in Astana; he sees three points, and one win from two games in Group C.
"We have [played] two times 90 minutes. We have a victory in the group. We have to think positively about this.
I look about only after the Euros. We start with Kazakhstan, and with Oman also in the friendly — two games, six points.
"We keep again the confidence and change the players. We change the players, they play well. We continue this evolution because we have this positive reaction."