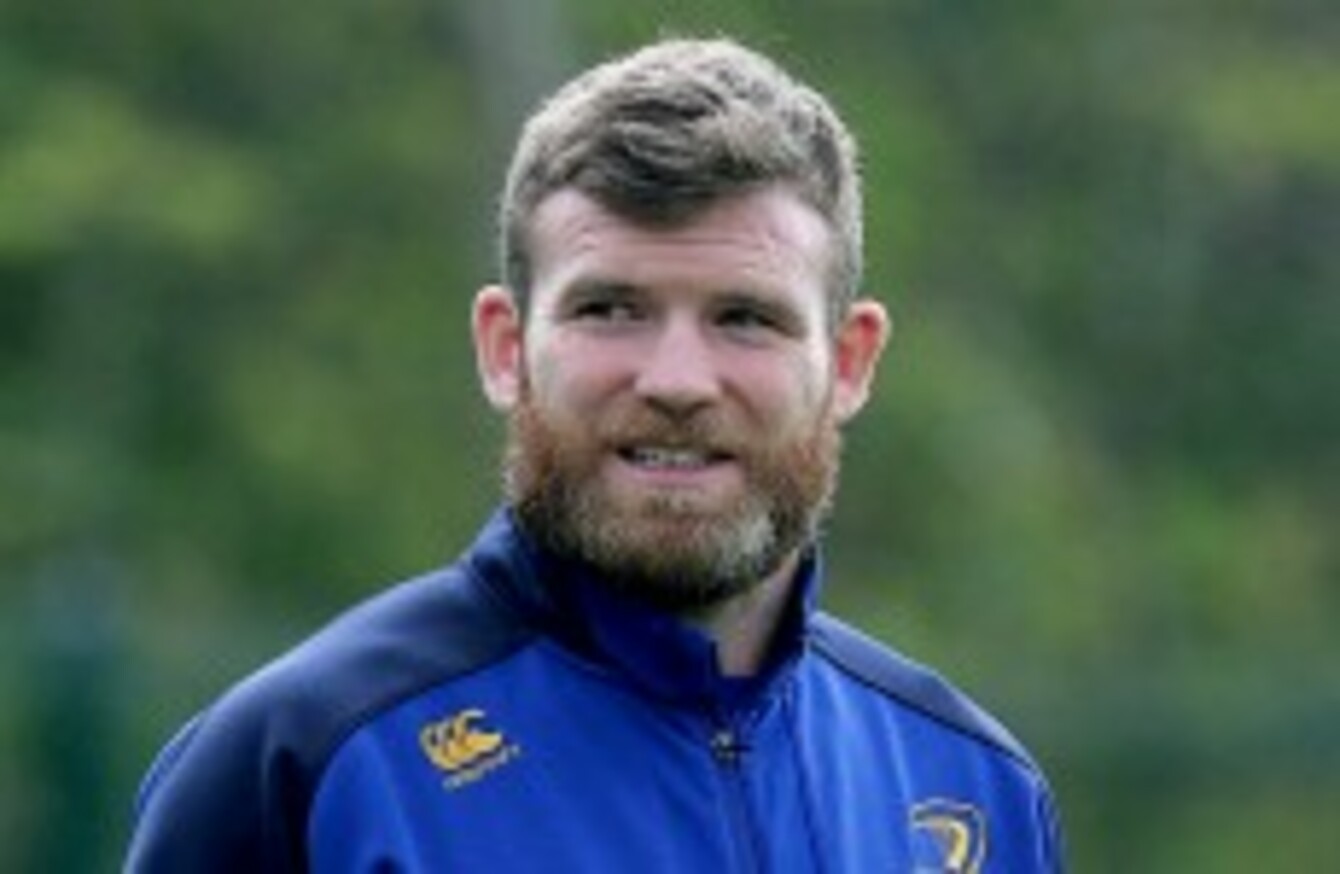 Gordon D'Arcy at Leinster's training session on Monday.
Image: Donall Farmer/INPHO
Gordon D'Arcy at Leinster's training session on Monday.
Image: Donall Farmer/INPHO
THE LEAGUE TABLE will tell you that Leinster could lose with a bonus point this weekend and still top the RaboDirect Pro12 standings. However, to Leinster centre Gordon D'Arcy, Saturday's match against Edinburgh is anything but a dead rubber.
The Scots were pummelled by Munster last Saturday but D'Arcy — his famous beard staging a post Six Nations comeback — believes Leinster would be lax to judge them on one poor outing. "A lot of teams won't use the plays they used [the previous] week when they are away from home," he said. "It's very naïve to think that if they've played one game [in a certain style], that they'll play the same the next week.
D'Arcy added, "They've obviously got a few guys moving on at the end of the season so they'll want to finish on a high. Sometimes when you're playing against a team with nothing to play for, it can be very, very hard in those games.
I remember playing Ulster in the RDS a couple of years ago. They had nothing to play for and sent down a young team but we made exceptionally hard work of that. That has happened before — we've lost to a Scarlets team that didn't have one international in it — so we have to rise to the challenge and set the standard for the game."
D'Arcy featured in last Friday's 22-20 win over 14-man Ulster and believes his teammates 'played the percentages' to win rather than overpowering their interpro rivals. He commented, "We were never in fear of not winning the game… Once we got the ball around halfway with two or three minutes to go, it is very difficult [for the opposition] to get the ball back. Particularly when the opposition pack has been playing against seven men and has changed its whole front row with about 50 minutes gone. You have to have a certain amount of confidence in your own ability."
Leinster pride themselves on peaking for the run-in and D'Arcy says the squad are fine-tuning their head-space to treat the final games like knock-out rugby. "It's about really gearing up; win the three games, you win the Pro12. It's really pretty simple. It's almost like a quarter-final, semi-final and final, the run-in. It's a nice mentality to have, going into these games."
The 34-year-old believes 'the best way to honour' departing stalwarts Brian O'Driscoll and Leo Cullen is to give them one last league winners' medal to take into their retirement. "They're good professionals so you kind of forget about the fact that it is their last game. You have to be selfish – you want to win the game," he said.
"The best way to give a player the best send-off is to win the next three games. Win those three and then say 'Hey, you've been a great servant to Leinster Rugby'. But you have to be that hungry, selfish player up until then. There is a greater reason for doing it but you have to stay professional."
As for his successful midfield partnership, the Wexford man says he has been lucky to play 15 seasons at O'Driscoll's side. "We're both very competitive individuals and were both hungry for success in the green and blue jersey. That obviously helped when it came to a bit of longevity and the fact that we complement each other quite well in the centre.
"Our natural skill-sets dovetail quite well and that trust that we've built up happened quite quickly and has lasted a long time. I've said this before but once you have that trust you can do quite well, you can cover and you can create a lot of stuff."
– Additional reporting by Cillian O'Conchuir @WordInSport