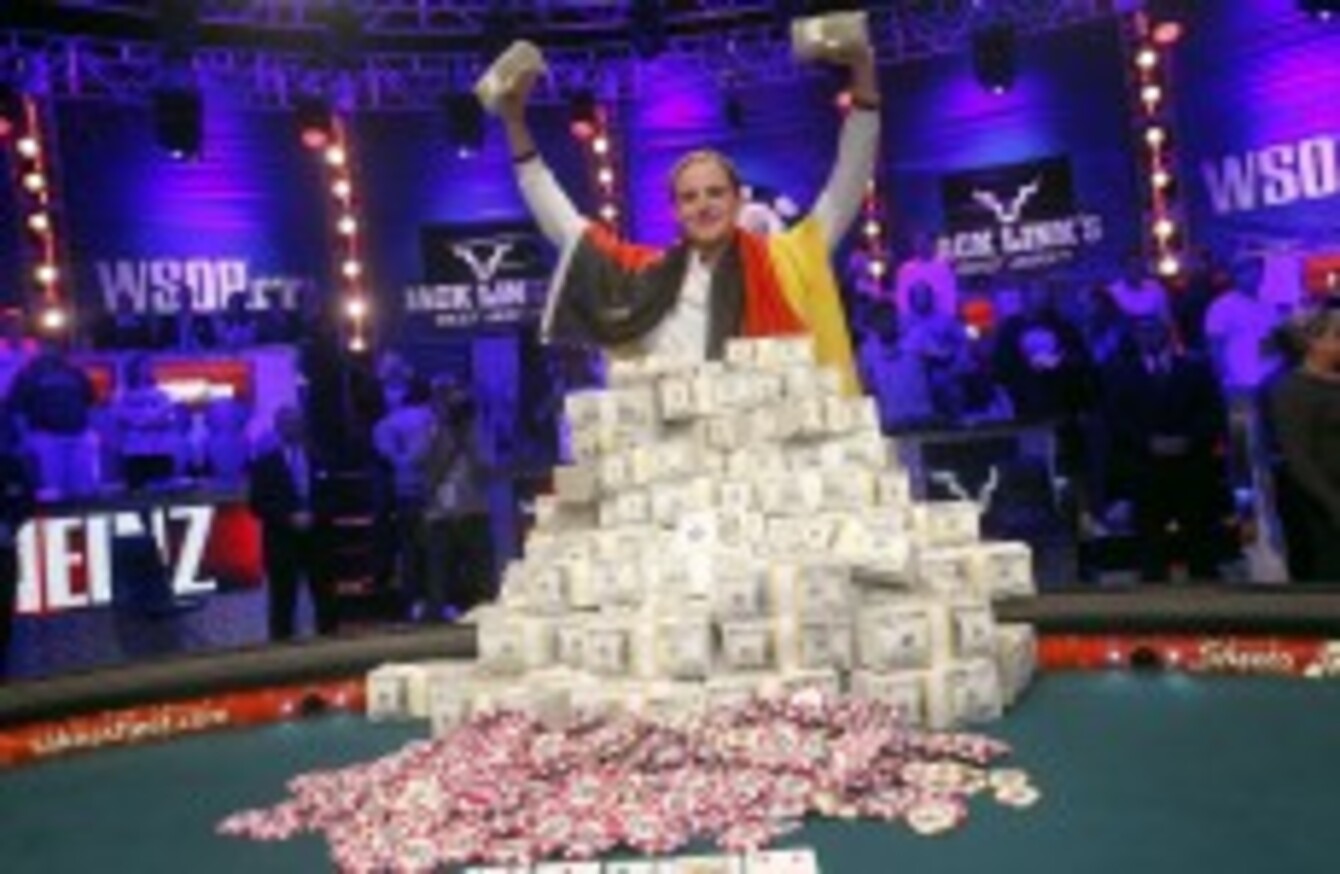 Image: Isaac Brekken/AP/Press Association Images
Image: Isaac Brekken/AP/Press Association Images
A 22-YEAR-OLD German poker professional won the World Series of Poker main event and $8.7m last night, capturing the title with an ace high.
Pius Heinz of Germany wagered the last of his chips against Martin Staszko of the Czech Republic with an ace-king. Staszko held a seven-10 of clubs.
The board was a five of clubs, deuce of diamonds, nine of spades, jack of hearts and four of diamonds, helping neither player and sealing Heinz's win.
Staskzo won $5.4m for second place.
Las Vegas poker professional Ben Lamb was eliminated earlier in the night in four hands. "I wanted to come in aggressive, and I did," Lamb said.
Every poker player dreams of having the year I had, so I don't want to sit here and have people like cry for me. I'll be OK.
The 26-year-old won $4 million for finishing in third place.
Trading places
Heinz led at the start with just over half the chips in play, but Staszko quickly took that lead away as the players began trading chips.
There were eight lead changes over the first three hours of play, the eighth coming just after a break when Staszko responded to a 20 million chip bet from Heinz by announcing a re-raise. Heinz immediately folded.
Staszko at one point had a 2-1 chip advantage, but that was gone within minutes.
Staszko regained the lead before a break in play, and had about 60 percent of all the chips in play after five hours, excluding breaks.
Each player must lose all his chips to be eliminated from the no-limit Texas Hold 'em tournament, and win all the chips in play to take the crown.
Heinz, who said he had a rough six-month run in poker before the series and was thinking about whether to go back to college, aggressively stormed from seventh in chips to first at the nine-hand final table on Sunday.
He went from 16.4 million in chips to 107.8 million in just more than 7½ hours of play, propelling to a higher finish than at least six of his competitors.
Lamb, an experienced professional who made his mark at the 58-tournament series this year by winning Player of the Year honors, had a large contingent of rowdy supporters and a smaller group of friends and poker experts feeding him information about his play and his opponents.
He didn't last long Tuesday night.
For the first time, every hand at the final table was playing out nearly live on ESPN, including tense stretches of several minutes during which players mulled difficult decisions.
The play was being aired on a 15-minute delay with hole cards revealed once hands ended — enough time to ensure gambling regulators that players couldn't cheat.
– Oskar Garcia