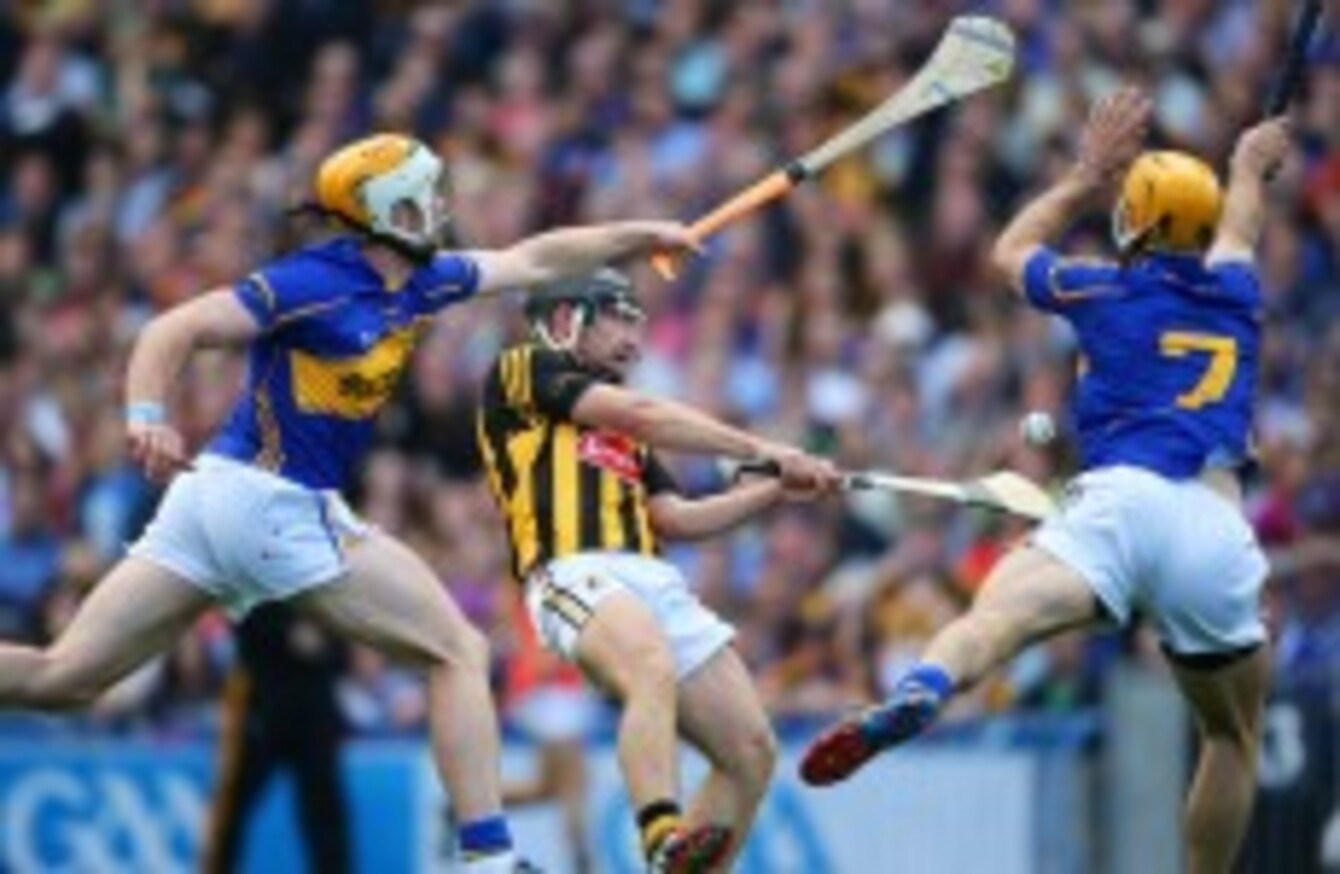 There is murder, intrigue and pure wristy hurling in our half-hour drama, "All Stars".
Image: Cathal Noonan/INPHO
There is murder, intrigue and pure wristy hurling in our half-hour drama, "All Stars".
Image: Cathal Noonan/INPHO
LAST SUNDAY'S ALL-Ireland hurling final was great, but isn't it about time Irish sports fan had a scripted inter-county hurling drama that was every bit as heart-stopping and jaw-dropping as the action on the field?
Well, we thought it was long overdue anyway. Without further ado, here is "All Stars", a new 30 minute drama (ads not included) about Kilcorkerary, a fictional Munster county who have been waiting 90 years to bring the Liam MacCarthy cup back down to….well, wherever in Munster the county is.
We have filled out some characters, using former Sky One football drama "Dream Team" as a handy guide.
The Heart-Throb – "Big" Richard Johnson (Shane O'Donnell)
There is nobody better suited to playing the Luis Amor Rodriguez sex symbol role than Shane O'Donnell, the young buck who was catapulted to fame after his All-Ireland final heroics in 2013. In 'All Stars', O'Donnell's character is an irrepressible dynamo, who scores freely both on and off the pitch.
This character is the kind of guy who would bury a ball in the net against your county and then poach your girlfriend off your arm in Big Tree after the game. Johnson (O'Donnell), never travels anywhere without a bevy of beauties on each arm.
There are a lot of true to life similarities between O'Donnell and Johnson, from the throngs of female admirers who court them, to their shared love of salsa dancing, which Johnson uses to seduce the wife of the county board chairman (who you will meet below) in the season one finale after he helps bring that coveted All-Ireland title to Kilcorkerary.
The Crazy Keeper – Bertie Barret (Davy Fitzgerald)
Bertie Barrett is your stereotypical psycho shot-stopper and at 43, has been playing for his county for 25 years without any success. Barrett is the kind of goalie who is just as comfortable using his hurl to stop a rocket as he is belting some poser in the arse with it on the Main Street on a Saturday night.
Season one sees Barrett goes through a roller coaster of emotions as a young goalkeeper from Dublin (Daniel Radcliffe) is given the nod for the championship after moving to Kilcorkerary, but Barrett wins back the job on the morning of the final, and saves a penalty on the way to victory.
He leaves the panel midway through season two after the ash in his favourite hurl is poisoned by the nefarious county board chairman and like The Bull McCabe in The Field, Barrett doesn't know what to do without his prized possession.
The aforementioned evil county board chairman – Bob "Banger" Daly (Brendan Gleeson)
"Banger" Daly has been the county board chairman for as long as anyone can remember, having inherited the position after the mysterious death of his father, "Banger" senior. Daly wants his county to do well, just not too well, lest his contribution be forgotten.
"Banger" is the man who greases the local palms and keeps the coffers full of coppers to ensure there is enough jerseys so all the subs can tog out. But beneath his beaming veneer, is an unscrupulous dictator who spirits county managers out into the woods if they cross him. He is exceedingly wealthy and has a pretty, young wife of foreign ancestry who, rumour has it, has had some dangerous liaisons with a few players.
The county board WAG – Claudia "Cici" Daly (Georgia Salpa)
Claudia Daly is a glamorous former model who is always on the arm of her powerful GAA administrator husband. Daly is a flirty minx, who thinks nothing of showing up to training in a full kit, sized extra small. Throughout season one, the sexual tension between her and 'Big' Richard Johnson is borderline unbearable, especially when they get paired together in the team's charity version of Strictly Come Dancing.
Their passionate repartee comes to a head at the All-Ireland final banquet. Having rattled a ball into the net earlier in the day, Johnson then rattles…..well, I'll let you finish that yourself. For an insight into their relationship, see the dynamic between Luis Amor Rodriguez and Linda Block from 1.50 here.
Source: harchesterutdfc/YouTube
The genial manager who leads them to the promised land – Giles Cooney (Cyril Farrell)
Having led Galway to their first All-Ireland title in 57 years back in 1980, RTE pundit Cyril Farrell is basically playing himself here. Cooney is the greatest man-manager who has ever lived. He is an expert motivator, coaxer, chastiser and cajoler and he always get results.
In the season one finale, he coaches Kilcorkerary to the title but is then tragically shot by "Banger" Daly in the bowels of Croke Park during the trophy presentation over a dispute about the price of breakfast rolls in the county clubhouse. His death is explained as an accident, an excuse that is bought completely by the authorities.
That is our pitch for a hurling drama that will be every bit as riveting as the action you'll see in the final replay on 27 September. You hear that, RTE? You can have that one for free.
Are there any other characters you would like to see in 'All Stars'? A former great hoping for one last day of glory? Perhaps, an 'Irish Mammy' to provide comic relief? Let us know who you want in the show, but most importantly, which player or actor you want in the role.