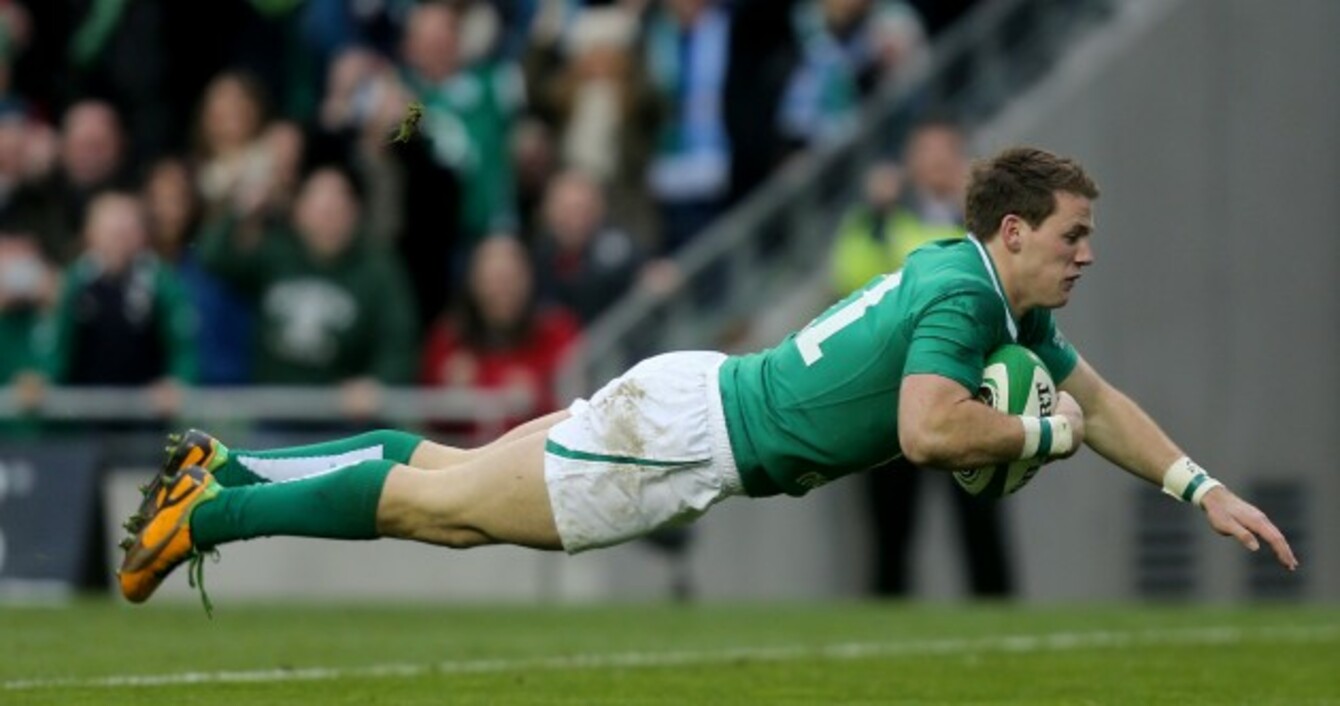 Image: ©INPHO/James Crombie
Image: ©INPHO/James Crombie
CRAIG GILROY HAS any number of reasons to be happy.
Within seven days he scored a hat-trick in a senior Irish side, signed a bumper new contract extension and was awarded his first international cap; an incredibly impressive debut adorned with the opening try of the game.
All of that has moved his career on a giant step and, as one journalist in the post-match mixed zone put it: 'you're not just the guy who scored the first try at the Aviva any more.'
"I'm glad…" Gilroy says in his chirpy northern tones. He repeats the word again as if searching for a nice way of saying he can now forget about that amalgamated province exhibition match, but moves on.
"Well, I haven't actually scored in the Aviva apart from that time. It's a real bonus to get a try on my debut, one that actually counts."
Special
His first cap wasn't exactly a case of being thrown into the deep end. The 21-year-old has been prepared for the moment by two uncapped outings in green. First, against the Barbarians last May and then last weekend in Thomond Park.
"The 'Baa Baas' and the Fiji game was a great opportunity, but today a was a bit more special. Especially as I was getting my first cap. It was a step up, a big step up."
It scarcely seems plausible in hindsight, but Ireland took to the field against the Pumas knowing that a defeat would consign them to a sub-eight IRB world ranking. There was intense pressure on those slender Co. Down shoulders.
"I was extremely nervous, more nervous than I've ever been." He said, adding, "to the point I was thinking of just jumping in my car from the Shelbourne and going back to Belfast."
Thankfully, the car keys were kept out of his reach long enough for him to be bundled onto the team bus for the short trip from Stephen's Green to Lansdowne Road. There Argentina survived just 10 minutes before his magic feet began to do their thing:
"First I just saw a gap and I was thinking, 'right, it's on.' And the rest just sort of happened, I can't really control it."

"I was really eager to take my chance. Who knows when I'll get that opportunity again? I just really wanted to take it with both hands."
After touching down the game's opening score, the winger attempted to rise to his feet but was hit by a high Jonathan Sexton tackle from behind. After five months without a Test try, the squad's relief was plain to see and they enveloped the newest member of their elite ranks.
"It's a moment I'll never forget." Said Gilroy, "after scoring that try, being surrounded by the whole team.
"That's the kind of moment you think about when you get named in the team. You know, 'I really want this to happen', and it did. It was amazing."